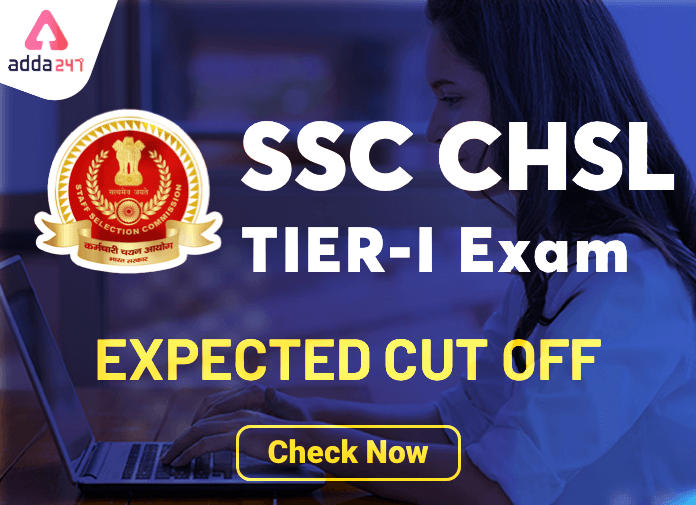 SSC CHSL Cut off 2020: SSC CHSL 2020 exam was conducted for the posts of Combined Higher Secondary Level from 17th-28th March 2020. A total of 4893 tentative vacancies are expected to be filled for which approx 50,000 candidates will be qualified for Tier 2. The result is expected to be declared in May. This post will provide you with all the information regarding SSC CHSL cut off 2020, the factors affecting the cut-off, and previous years cut off.
Get Memory Based Paper For SSC CHSL Tier 1 Exam
Exam
SSC CHSL 2019-20
Posts
DEO, Postal Assistant, LDC
and Sorting Assistant
Notification Release Date
3rd December 2019
SSC CHSL 2019 Tier 1 exam date
17th-28th March 2020
SSC CHSL 2019 Tier 1 Result Date
Tentatively in May
SSC CHSL 2019 Tier-II Exam Date
28.06.2020 (DES)
SSC CHSL Exam Analysis: All Days, All Shifts
SSC CHSL Cut Off 2020: Expected cut off for Tier 1 exam
The SSC CHSL Tier 1 cut off 2020 as per the reviews of candidates obtained can be said to be between 137-143.
SSC CHSL Cut Off 2020: Factors Affecting The Cut Off
Let's take a look at the factors responsible for the cut off of SSC CHSL exam in the coming years:
1. The Level of exam
The difficulty level of an exam is a crucial factor in deciding the cutoff. As last year, the SSC CHSL 2018-19 exam was moderate for some shifts while difficult in other and as it was conducted in over 25 shifts, the level of Tier I exam can play an important role in SSC CHSL Cut off.
2. Normalization of marks
The most important deciding factor for SSC CHSL cut off 2019-20 will be "Normalization". Last year, it was the first time when marks are normalized in SSC CHSL 2018-19 Tier I exam. To make sure that the commission is fair to all candidates, normalization of marks would be done. As we all know, SSC already adopted this earlier in its previous exam namely SSC CGL, SSC CPO etc and we have also seen an increase of over 30-40 marks after the normalization. Hence, normalization is bound to increase the SSC CHSL cut off.
3. Number of candidates appeared in the exam
Approx 13.17 lakh candidates appeared in the Tier I exam in the previous year. In SSC CHSL 2017 exam, a total of approx 26 lakh candidates appeared in Tier I out of which only 48k candidates qualified for the Tier II exam. The numbers can be seen to be pretty astonishing and hence, it can also be an important factor for SSC CHSL 2019-20 cut off.
4. The Number of Vacancies
The total number of vacancies for the SSC CHSL 2019-20 exam is 4893 declared by the commission till date.
SSC CHS Cut Off Marks For Tier-I: 2015, 2016, 2017 & 2018-19
So, one must be aware of the SSC CHSL Previous years' cut off and how it differs over the years in the past 4 years. Knowing the previous years' cut off surely helps in determining the possibility in the future and the extra efforts one needs to put in the exam preparation in order to score well. Take a look at the category wise cut off for SSC CHSL Tier 1 written exam over the years from 2015 to 2018 for the post of LDC/PA etc. The table shows a comparison between cut-offs accurately:
Cut-Off Marks
SSC CHSL
Tier-I 2015
Cut-Off Marks
SSC CHSL
Tier-I 2016-17
Cut-Off Marks
SSC CHSL
Tier-I 2017-18
Cut-Off Marks
SSC CHSL
Tier-I 2018-19
UR
119
127.50
143.5
135.60
SC
99
108.00
122.5
110.09
ST
89.50
99.00
112
99.09
OBC
110
120.00
139
133.74
Ex. S
45.50
64.50
83
56.11
OH
88
97.50
111.5
102.75
HH
55
65.00
73.5
58.43
VH
83.50
96.00
95.5
84.87
Some important points to note down from the above table:
It can be seen that the competition in the CHSL examination is getting stronger year by year.
The cut off in 2015 was 119 as compared to 143.5 in 2017. This shows an increase of 20.5%.
Although in SSC CHSL 2018-19, there has been a dip in the cut off due to the difficulty level of exam and normalization.
The cut off varies according to the category one applied from.
SSC CHSL Cut Off: Category wise 2018-19 cut-off
SSC CHSL 2018-19 Tier I exam was held from 1st July 2019 to 11th July 2019 for which a total of 13.17 Lakh candidates appeared from all over India. The detailed category wise cut off for various posts is provided in the table given below. The cut off varies according to the posts as seen below:
Did You Appear For SSC CHSL Tier 1 Exam? Share Your Attempts by Participating in the Survey
Post-Wise Cut Off Marks For SSC CHSL Tier I
Category/Posts
DEO
(Other than
C&AG)
DEO
in C&AG
LDC/JSA
and PA/SA
UR
181.47
165.93
135.60
SC
–
145.52
110.09
ST
–
136.74
99.09
OBC
178.45
161.72
133.74
EWS
–
163.75
127.25
ESM
–
117.13
56.11
OH
–
129.42
102.75
HH
–
98.86
58.43
VH
–
–
84.87
Other PWD
–
–
50.00
Total Candidates
Qualified
175
2330
45101
Post-Wise Cut Off Marks For SSC CHSL Tier 1+ Tier 2
Tier 1 was conducted by SSC from July 1 to July 11, 2019, in which 13.7 lakh candidates appeared while the Tier 2 exam was held on September 29, 2019. Based on the SSC CHSL cut off, 30822 candidates have qualified (provisionally) for Typing Test for the posts of Postal Assistant, Sorting Assistant, Junior Secretariat Assistant, LDC, etc.
Post-Wise Cut Off Marks For SSC CHSL Tier 1+ Tier 2
Category/Posts
DEO
(Other than
C&AG)
DEO
in C&AG
LDC/JSA
and PA/SA
UR
252.06
223.60
190.33
SC
#
181.48
143.93
ST
#
185.15
133.80
OBC
243.43
212.09
167.07
EWS
#
215.89
161.31
ESM
#
152.55
97.82
OH
#
184.41
139.36
HH
#
148.04
93.50
VH
#
#
123.54
Other PWD
#
#
93.07
Total Candidates
Qualified
37
1741
30822
#- no vacancy available

SSC CHSL Cut Off  Marks: [Tier 1 + Tier 2] (2015, 2016, 2017 years)
The below table depicts a comparison of the final SSC CHSL cut off for the exam held over the years. This table will give you an idea of how much you need to score in the tier II exam in order to get your name on the final merit of the SSC CHSL examination. The post wise and category wise breakup are given here:
CATEGORY
YEAR
DEO In C&AG
PS/ SA
Court Clerk
LDC
UR[cat. no.-9]
2015
202.25
185.75
–
182
2016
202.5
192.5
203.5
188
2017-18
227.50
199.00
–
199.00
OBC[cat. no.-6]
2015
197.5
181.75
–
180.5
2016
194
188
201.5
185.5
2017-18
224.50
192.00
–
192.00
SC[cat. no.-1]
2015
179.25
160.75
–
160.5
2016
182.5
170.5
186
169
2017-18
210.50
174.50
–
174.50
ST[cat. no.-2]
2015
173.5
151.25
–
149.75
2016
173.5
155
177
150.5
2017-18
206.50
167.00
–
167.00
Some important points to note down from the above table regarding SSC CHSL final cut off marks:
The final cut off for Data Entry Operator posts in C&AG is the highest among all posts.
The final cut off varies greatly from the Tier 1 cut off and hence, Tier 2 plays an important role.
Candidates need to score minimum of 50+ marks in Tier 2 for getting a good post under SSC CHSL.
SSC CHSL Final Cut Off 2017: Post Wise (After DV)
SSC CHSL Final result has been declared on 20th December 2019 where more than 5000 candidates have been selected for the allotment to various departments. The final cut off for SSC CHSL 2017 as provided by the commission is given below:
Category
DEO
in C&AG
PA/SA
LDC/ JSA/ JPA
(Minimum Marks)
UR (9)
248.5
212.0
209.5
OBC (6)
245.5
208.5
207.0
SC (1)
–
195.5
193.0
ST (2)
236.5
182.5
180.0

How is the SSC CHSL Tier 1 Cut Off Marks calculated?
The candidates are required to secure a cut off marks in each of the four sections in the question paper. Additionally, they also have to score the overall cut off score in order to pass the prelims. 
The Tier 1 cut off is calculated by marking the MCQ paper based on the correct answers given. For every correct answer, the candidate gets 2 marks. For every incorrect answer, there is a negative marking of 0.5 marks. 
The final cut off score for Tier 1 is, therefore, calculated as:
Cut off (Tier 1) = Marks obtained in (General Intelligence and Reasoning + English Comprehension + Quantitative Aptitude + General Awareness) 
SSC CHSL 2019-20 : Number Of Vacancies in the previous years
What were the total vacancies in the SSC CHSL exams held over the years? Have a look at the date given below:
Post Name

2015

2016

2017-18
2018-19
2019-20
LDC
2988
2879
2646
1855 [LDC/JSA]
1269 [LDC/JSA/JPA]
Court Clerk
–
25
–
PA/ SA
5205
3295
3222
3880
3598
DEO 
1004
510
6
54
26
Total Vacancies
9197
6709
5874
5789
4893
We hope this post was helpful in making an effective comparison among the respective cutoffs for the last 4 years in order to make headway in SSC CHSL 2019-20 Exam. Let the combination of your determination and preparation beat the competition, no matter how tougher it may be.