SSC GD Syllabus 2023
SSC GD Syllabus 2023: The Staff Selection Commission conducts the GD Constable exam for the recruitment of eligible candidates to multiple posts such as Constables (GD) in Central Armed Police Forces (CAPFs), NIA & SSF, and Rifleman (GD) in Assam Rifles (AR). SSC GD Constable 2022 Notification was released on 27th October 2022 by the Commission. This year SSC has revised the SSC GD Syllabus 2023 and candidates can find the revised syllabus in this post. SSC has scheduled the SSC GD 2022 exam from 10th January to 14th February 2023. In order to get recruited for the post of GD constable, preparation for the exam is necessary. In this article, we are providing a detailed syllabus of the SSC GD.
SSC GD Syllabus 2023: Overview
Staff Selection Commission has revised the SSC GD Exam Pattern 2023 along with the syllabus. Candidates must go through the SSC GD Constable Syllabus 2023 overview tabulated below. Check the details tabulated below.
SSC GD Syllabus 2023: Overview
Name of Examination
SSC GD 2023
Post Name
General Duty Constable
Type of Exam
• CBE – Online Test
• PET, PST & DME – Offline/ Physical Test
Language of Online Exam
• English
• Hindi
Category
SSC GD Constable Syllabus
Selection Process

Computer-Based Examination (CBE)
Physical Efficiency Test (PET)
Physical Standard Test (PST)
Detailed Medical Examination (DME)

Type of Questions (Online Exam)
All questions of CBE will be of Objective type (MCQs)
Marking Scheme
2 marks for each correct answer
Negative Marking
0.50
Exam Mode
Online
Total number of questions
80
Total marks
160
Duration
60 minutes(1hour)
Official Website
https://ssc.nic.in/
SSC GD Preparation Strategy 2022 To Crack The Exam
SSC GD Syllabus
SSC GD Constable Paper comprises four Sections/Subjects that are mentioned below:
General Intelligence and Reasoning
General Knowledge and General Awareness
Elementary Mathematics
English/ Hindi
The SSC GD Syllabus contains Computer Based Examination which includes an objective-type paper carrying 100 marks for 100 questions.
SSC GD Constable Syllabus 2022 In Hindi
The SSC GD Exam Pattern is given below:-
Parts
Name of Disciplines
Questions
Marks
Duration
Part-A
General Intelligence and reasoning
20
40
60 minutes
Part-B
General Awareness and General Knowledge
20
40
Part-C
Elementary Mathematics
20
40
Part-D
English/Hindi
20
40
Total
80
160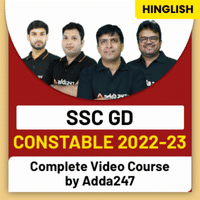 SSC GD General Intelligence & Reasoning Syllabus
This General Intelligence section consists of both verbal and non-verbal types of reasoning questions. This test particularly includes questions that test the candidate's analytical and logical reasoning skills and his/ her ability to observe and distinguish patterns. The topics included in the syllabus are as follows:
Reasoning Analogies
Arithmetic Number Series
Arithmetical Reasoning
Coding-Decoding
Discrimination
Figural Classification
Non-verbal Series
Observation
Relationship Concepts – Blood Relations
Similarities and Differences
Spatial Orientation
Spatial Visualization
Visual Memory
| Topic | No of the Questions asked in 2019 | Level |
| --- | --- | --- |
| Coding-Decoding | 1-2 | Easy |
| Seating arrangement | 4 | Easy-Moderate |
| Missing Term | 3 | Moderate |
| Matrix | 1 | Easy |
| Direction | 1 | Moderate |
| Non-Verbal (Image) | 1 | Moderate |
| Odd one out | 3-4 | Easy-Moderate |
| cube (open dice) | 1 | Easy-Moderate |
| Analogy | 2 | Easy |
| Series | 2-3 | Moderate |
| Miscellaneous | 5 | Easy-Moderate |
| Total | 25 | Easy-Moderate |
SSC GD General Knowledge and General Awareness Syllabus
This section totally depends on current news affairs and some general knowledge. These questions do not require the candidate to have special knowledge of any particular discipline. The questions in this component revolve around matters of everyday observations and test the candidate's knowledge of the environment around him/ her and topics related to India and its neighboring countries such as:
Culture
Economic Scene
General Polity
Geography
History
Indian Constitution
Scientific Research
Sports
| Topic | No of the Questions asked in 2019 | Level |
| --- | --- | --- |
| History | 4-5 | Moderate |
| Geography | 3-4 | Easy-Moderate |
| Polity | 5-6 | Easy |
| Economics | 1-2 | Moderate |
| Science | 5-6 | Easy-Moderate |
| Current Affairs | 4-5 | Moderate |
| Total | 25 | Easy |
SSC GD Elementary Mathematics Syllabus
This section is based on high-school-level mathematical problems. According to the SSC GD syllabus, the following topics are:
Averages
Computation of Whole Numbers
Decimals and Fractions
Discount
Fundamental Arithmetical Operations
Interest
Mensuration
Number Systems
Percentages
Profit and Loss
Ratio and Proportion
Ratio and Time
Relationship between Numbers
Time and Distance
Time and Work
| Topic | No Questions asked in 2019 | Level |
| --- | --- | --- |
| SI/ CI, Profit/Loss | 5 | Easy |
| Mensuration/ Geometry | 3 | Easy |
| Trigonometry | 2-3 | Easy-Moderate |
| Algebra | 2-3 | Easy |
| Time and Work | 3 | Easy-Moderate |
| Mode | 1 | Moderate |
| Time, Speed and Distance | 2 | Easy |
| Average & Percentage | 2-3 | Moderate |
| DI | 3 | Easy-Moderate |
| Total | 25 | Easy-Moderate |
SSC GD Constable Previous Year Question Paper
SSC GD English/ Hindi Syllabus
This is to check the basic knowledge of candidates in Hindi or English. The syllabus is as follows:
Error Spotting
Fill in the Blanks: Articles, Prepositions, etc.
Phrase replacements
Cloze test
Synonyms & Antonyms
Phrase and idioms meaning
One Word Substitution
Spellings
Reading comprehension
| Topic | No of the Questions asked in 2019 | Level |
| --- | --- | --- |
| Active/Passive Voice | 1 | – |
| Narration | 1 | – |
| Sentence Improvement (Fillers) | 2 | Moderate |
| Error Detection | 4-5 | Easy-Moderate |
| Idioms/Phrases | 2 | Easy |
| Para jumbles | 1 | – |
| Antonym/ Synonym | 4 | Difficult |
| One word substitution | 3 | Difficult |
| Spelling check | 2 | Easy |
| Cloze test | 5 | Easy-Moderate |
| Total | 25 | Easy-Moderate |