Delhi Police Constable Salary: The detailed information related to Delhi Police Constable Salary 2023 is released along with the official notification on the official website @www.ssc.nic.in. The Staff Selection Commission (SSC) offers an attractive salary package to candidates who make it through the selection process for the post of Head Constable in the Delhi Police. Delhi Police Constable Salary 2023 can serve as a significant motivational factor for aspirants preparing for this role.
Delhi Police Constable Salary 2023
The Delhi Police Constable Salary falls within the range of Rs. 21,700/- Rs. 69,100. Keep reading the article below to find details related to Delhi Police Constable Salary including salary structure, allowances, job profile and more.
Delhi Police Salary Structure
The initial pay of Delhi Police Head Constable per month will be 21,700/- plus allowances. Check out the basic salary structure of Delhi Police Constable 2023 Salary in the table given below.
Delhi Police Salary 2023
Particulars
Details
Pay Level
Level-03
Pay Commission
7th CPC
Grade Pay
Rs.2000/-
Basic Pay
Rs.21,700/-
Dearness Allowance (DA)
Rs.9114/-
House Rent Allowance (27%)
Rs.5,859/-
Travelling Allowance (TA)
Rs.3600/-
Total Gross Salary
Rs.35323/-
Delhi Police Head Constable In-Hand Salary
The In-hand Delhi Police Constable Salary can be calculated by using the formula given below.
Total Salary= Basic Salary + Allowances (HRA, TA, DA) – Deductions
After considering all the allowances such as DA, TA, HRA, etc., and deductions such as PF, Income Tax, etc. the in-hand salary for Delhi Police Constable will be Rs.35323/- approximately.
Delhi Police Constable Allowances
Being appointed as a Head Constable (Ministerial) in Delhi Police, one is eligible for various allowances and perks. You will be entitled to the allowances as given below:
House Rent Allowance: House Rent Allowance for X category cities is 24% of the Basic pay. Hence, for the Delhi Police head constable, it will be approximately 6120.
Transport Allowance: To make traveling convenient, the Head Constable will also be entitled to the transport allowance that will be added to the basic pay.
Dearness Allowance: The Dearness Allowance is a cost of living adjustment allowance and is currently 42% of basic Pay under the 7th Pay Commission.
Other extra allowances like petrol, diet, etc: Apart from the mentioned allowances, the Delhi Police Constable also gets various other allowances as an added benefit.
Delhi Police Syllabus 2023 – Click here to Check
Delhi Police Constable Job Profile
The job profile or job responsibilities of a candidate after being appointed for the post of Head Constable involve the following.
Desk job- The Delhi police constable desk job will require you to make daily reports and report it to the higher officers.
They are required to maintain peace and order. Hence, street patrolling is a part of the Delhi Police constable job. They must go for rounds daily.
To assist the senior officers at a crime scene and be a part of the investigation.
Take complaints from the people make reports and take necessary actions.
Delhi Police Head Constable Career Growth
The potential professional growth of a candidate appointed as Head Constable is discussed below. The post-wise chart of the career growth is provided below. As a Delhi Police Head Constable or constable, you will have immense opportunities and perks. The promotions are done at regular intervals and you may get a chance to climb up the ladder.
DCP
⇑
ACP
⇑
Inspector
⇑
Sub-Inspector
⇑
Assistant Sub-Inspector
⇑
Head Constable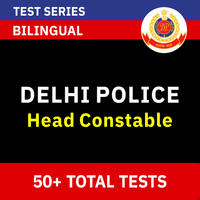 Preparing for the Delhi Police Constable Exam? Download For Free Study Material
Delhi Police Constable Salary 2023, Job Profile, Salary Structure, Read in Hindi