Neighbouring Countries of India
Do you know what are the neighboring countries of India? India is a country that is located in southern Asia. India is the second-most populous country in the world after China. India is also the 7th largest country in the world in terms of area.  India is covered by the Indian Ocean on the south, the Arabian Sea on the southwest, and the Bay of Bengal on the southeast. India has a total land border of 15,106.7 Km and a coastline of 7,516.6 Km including island territories. Neighboring countries of Indian include Afghanistan and Pakistan in North-West, China, Bhutan, and Nepal in the north,  Bangladesh in the east, and Myanmar in the far East and. Neighboring countries of India with sea borders include Sri Lanka in the southeast and Maldives in the southwest. In this article, we are providing the list of neighboring countries of India and details about them. This article will help students in enhancing their general knowledge and will help them in dealing with the questions related to the Geography of India.
Neighboring Countries of India: Bordering States
There are a total of 9 neighboring countries of India out of which 7 share their land borders. The list of states that share the borders with respective countries is given below.
| Neighbouring Country | Bordering States |
| --- | --- |
| Pakistan | Jammu and Kashmir, Punjab, Gujarat, and Rajasthan |
| Afghanistan | Jammu and Kashmir (POK Part) |
| China | Jammu and Kashmir, Himachal Pradesh, Uttrakhand, Sikkim, and Arunachal Pradesh |
| Nepal | Sikkim, West Bengal, Bihar, Uttar Pradesh, and Uttrakhand |
| Bhutan | Arunachal Pradesh, Assam, Sikkim, and West Bengal |
| Bangladesh | West Bengal, Mizoram, Meghalaya, Tripura, and Assam |
| Myanmar | Arunachal Pradesh, Manipur, Mizoram, and Nagaland |
| Srilanka [Sea border] | An island nation in the Indian Ocean, southeast of the Indian subcontinent |
| Maldives [Sea Border] | An island country in the Indian Ocean, South Asia, south-southwest of India. |
Here is the detailed list of neighboring countries of India including all India border countries:
Pakistan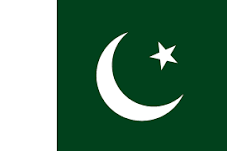 Pakistan is located to the west of India and is one of the India border countries. Pakistan has a coastline along the Arabian Sea and the Gulf of Oman. The total land area of Pakistan is 7,96,095 sq km. The Indian states which share a border with Pakistan include Gujarat, Rajasthan and Punjab, and the Union Territory of Jammu and Kashmir. Pakistan separated from  Indian after India got its independence from British rule. Pakistan celebrates its Independence Day on August 14, 1947. After the Independence, Pakistan was formed into two territories i.e. East Pakistan and West Pakistan. These two territories were geographically and culturally apart from each other. After a long conflict between these two, in 1971 a civil war occurred, as the result of which Bangladesh was formed. West Pakistan lying on the northwest of India became the Republic of Pakistan and East Pakistan became Bangladesh.
Some Important Fact About Pakistan
President
Arif Alvi
Prime Minister
Imran Khan
Official languages
Urdu, English
State/ Provinces
4 Provinces
Capital
Islamabad
Currency
Pakistani Rupee
National Game
Field Hockey
National Bird
Chukar partridge
National Fruit
Mango(Summer), Guava (Winter)
National Tree
Deodar
National Anthem
Quami Taranah
Highest peak
K2
Longest river
Indus River
Religion
Islam
Parliament
National Assembly (342 seats)
Border
Radcliffe Line
2. Afghanistan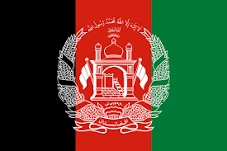 Afghanistan, also known as the Islamic Republic of Afghanistan in Central Asia. The total land area of Afghanistan spreads across 6,52,230 sq km and is known. Islam is the predominant religion in the country and the major dependence of the country's economy is on Agriculture. Countries near India include industrial activities in Afghanistan include the manufacturing of cotton textile, woolens, woven carpets, and handicrafts. Pakistan occupied Kashmir shares border with Afghanistan.
Some Important Fact About Afghanistan
President
 Ashraf Ghani
Parliament
Wolesi Jirga (Lower House) (250 members)
Official languages
Dari and Pashto
State/ Provinces
34 Provinces
Capital and largest city
Kabul
Currency
Afghan afghani
National Game
Buzkashi
National Bird
Grey Peacock-the Golden eagle
National Fruit
Prunus persica
National Tree
Afghan Pine
National animal
Snow Leopard
Border
Durand Line
3. China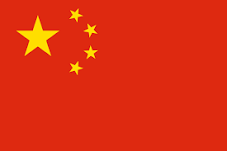 The people's Republic of China is located in East Asia and other Indian border countries. It is the most populous country in the world and also the 4th largest country in the world. The President of China is the head of the state. China lies to the north of India. Indian states that share their borders with China are Ladakh, Himachal Pradesh, Sikkim, Arunachal Pradesh, and Uttarakhand. China is one of the fastest-growing economies in the world. Both countries are connected by the Silk Road initiative and the exchange of Buddhism religion.
Some Important Fact About China
President
 Xi Jinping
Official languages
Mandarin
State/ Provinces
26 Provinces
Capital
Beijing
Currency
Sri Lankan Rupee (LKR)
National Game
Table Tennis
National Bird
Red-crowned crane
National Fruit
Kiwifruit
National Tree
Maidenhair tree
National Flower
Bluewater lily
National animal
Giant Panda
Longest river
Yangtze River
Boundaries
Jammu and Kashmir, Himachal Pradesh, Sikkim, Uttarakhand, and Arunachal Pradesh
Parliament
National Assembly (2980 members)
Border
McMahon Line
4. Nepal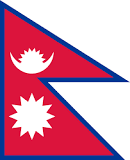 Nepal, officially known as the Federal Democratic Republic of Nepal is a landlocked country. Nepal is located to the north of India. In terms of area, Nepal is the 93rd largest country in terms of land with an area of 1,47,181 sq km. The capital of Nepal is Kathmandu which is also the largest city in the country. Nepal has eight of the ten tallest mountains in the world world, including the highest point on Earth, Mount Everest. Tourism is one of the biggest contributors to the country's economy. Nepal shares borders with Uttarakhand, Uttar Pradesh, Sikkim, West Bengal, and Bihar.
Some Important Fact About Nepal
President
Bidhya Devi Bhandari
Prime Minister
KP Sharma Oli
Official languages
Nepali
State/ Provinces
7 Provinces
Capital and largest city
Kathmandu
Currency
Nepalese rupee
National Game
Volleyball
National Bird
Himalayan monal (Lophophorus impejanus)
National Animal
Cow
National Tree
Ficus religiosa
National Flower
Rhododendron
Highest peak
Mount Everest
Longest river
Karnali
Parliament
The National Assembly (275 seats)
5. Bhutan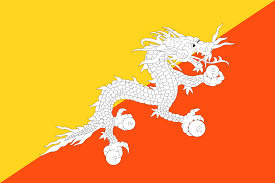 Bhutan is situated to the north of India. It is officially known as The Kingdom of Bhutan and shares a border with the Indian states of Arunachal Pradesh, Sikkim, Assam, and West Bengal. It is also a landlocked country and has an area of 38,394 sq km. The capital of Bhutan is Thimphu. The country has a constitutional monarchy. The major contributors to the economy of the country are Hydropower, agriculture, forestry, and tourism. Bhutan is the smallest neighboring country of India.
Some Important Fact About Bhutan
Name of king
Druk Gyalpo (Dragon King)
Monarch
 Jigme Khesar Namgyel Wangchuck
Prime Minister
Lotay Tshering
Upper house
National Council
Official languages
Dzongkha
State/ Provinces
20 states
Capital and largest city
Thimphu
Currency
Ngultrum (BTN)
National Animal
Takin
National Bird
 The Raven
National Game
Archery
National Tree
Cypress(Tsenden)
National Flower
Blue poppy
Religion
 77.4% Vajrayana Buddhism, 22.6% Hinduism
Lower house
National Assembly (Tshogdu) 55 seats
6. Bangladesh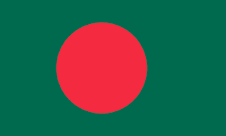 Bangladesh officially called the People's Republic of Bangladesh is situated in South Asia. Neighbors of India, Bangladesh shares one of the longest borders in the world. The capital of Bangladesh is Dhaka. Indian states of Assam, Mizoram, Tripura, Meghalaya, and West Bengal share their border of Bangladesh. Bangladesh is the eighth-most populous country in the world (161 million) and also one of the most densely populated countries in the world. Bangladesh was initially a part of Pakistan and was known as East Pakistan but after the 1971 Liberation War took place, it gained independence.
Some Important Fact About Bangladesh
President
Abdul Hamid
Prime Minister
Sheikh Hasina
Official languages
Bengali
State/ Provinces
8 Provinces
Capital
Dhaka
Currency
Bangladeshi Taka
National Game
Volleyball
National Bird
Oriental Magpie-Robin
National Fruit
Jackfruit(kathal)
National Tree
Mango Tree
National animal
Royal Bengal tiger
Highest peak
Keokradong
Longest river
Surma
Religion
70.2% Buddhism, 12.6% Hinduism
Parliament
Jatiyo Shangsad (Bengali) and House of the Nation(English) (350 Member)
Border
Radcliffe Line
7. Myanmar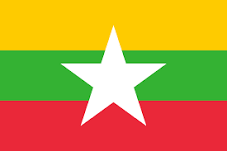 Myanmar,  also known as Burma, officially known as The Republic of the Union of Myanmar is situated in East Asia. One of the neighbors of India Myanmar shares its border with the Indian states of Nagaland, Mizoram, Arunachal Pradesh, and Manipur. Myanmar has an area of  6,76,578 sq km and is the largest of the Mainland Southeast Asian states. Naypyidaw is the capital of Myanmar. The military is now back in charge and has declared a year-long state of emergency. Military commander-in-chief Min Aung Hlaing has taken power. He has long wielded significant political influence, successfully maintaining the power of the Tatmadaw – Myanmar's military – even as the country moved towards democracy.
Some Important Fact About Myanmar
Prime Minister
Min Aung Hlaing,
National anthem
Kaba Ma Kyei
Official languages
Burmese
National animal
Tiger
Capital and largest city
Naypyidaw
Currency
Burmese Kyat
National Game
Cannibal
National Bird
Grey Peacock-Pheasant
National Fruit
Padauk
National Tree
Green Peafowl
Parliament
The House of Representatives (440 seats)
Highest peak
Hkakabo Razi
Longest river
Irrawaddy River
Famous festivals
Thingyan, Kasone, Nayon
8. Sri Lanka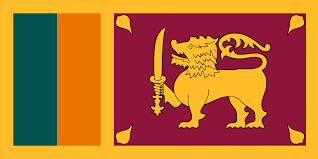 Sri Lanka officially known as the Democratic Socialist Republic of Sri Lanka lies near the southern area of India and is separated by Palk Strait. Sri Lanka has two capital, the commercial capital of the country is Colombo where on the other hand Sri Jayewardenepura Kotte is its legislative capital of the country. The president is the chief of state and the head of government in the country.  It is located in the Indian Ocean to the southwest of the Bay of Bengal and to the southeast of the Arabian Sea. Being an island nation, Sri Lanka is a choice of many and makes a pleasant tourist destination in the world.
Some Important Fact About Sri Lanka
President
Gotabaya Rajapaksa
Prime Minister
Mahindra Rajapaksa
Chief Justice
Jayantha Jayasuriya
Official languages
Sinhala, Tamil
State/ Provinces
9 states
Capital and largest city
Sri Jayawardenepura Kotte
Currency
Sri Lankan Rupee (LKR)
National Game
Volleyball
National Bird
Ceylon (Jungle Fowl)
National Fruit
Jackfruit
National Tree
Ironwood
National Flower
Bluewater lily
Highest peak
Pidurutalagala
Longest river
Mahaweli
Religion
70.2% Buddhism, 12.6% Hinduism
Parliament
Parliamenthua (225 seats)
Famous festivals
Sinhala and Tamil New Year, Vesak, Poson Festival, Kandy Esala Perahera, Kataragama Festival, Vel Festival, Deepavali
9. Maldives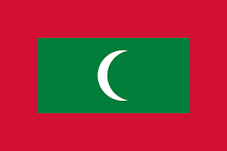 The Maldives is an island nation situated in the southwest of India officially the Republic of Maldives. Area wise it is one of the smallest countries in the world. It is spread over 298 sq km only.  The Maldives has more than a thousand coral islands. The Maldives is a presidential republic and the president is the head of the state. The capital of Maldives is Male.
Some Important Fact About Maldives
President
Ibrahim Mohamed Solih
Parliament
People's Majlis
Official languages
Dhivehi
State/ Provinces
1 Only
Capital and largest city
Male
Currency
Maldivian Rufiyaa
National Game
Football
National Bird
White-breasted Waterhen
National Fruit
Coconut
National Tree
Coconut Tree
National animal
Yellowfin Tuna
Neighboring Countries of India & their Capitals
The capitals of all neighboring countries of India are given below. Here is the list of neighboring countries of India & their capitals:-