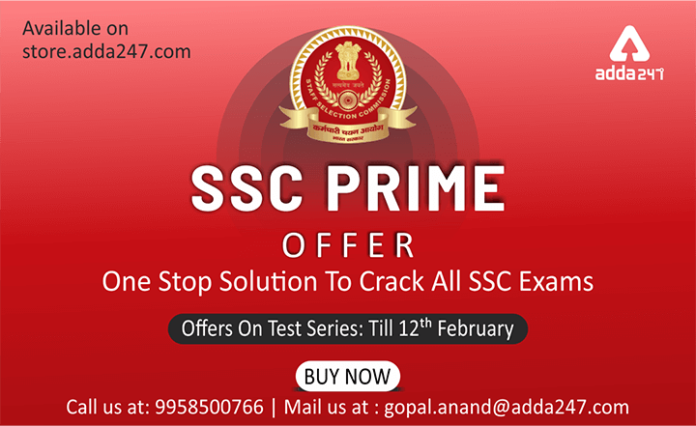 Dear aspirants,
After the release of major SSC 2018-19 Exam dates by the Commission, it is high time to wear an unwavering attitude to bring the best of your extensive practice. SSC GD Constable 2018, SSC CPO 2018, SSC CGL 2018 and CHSL 2018 are big exams to occur soon. Let us recall that GD Constable 2018 has been commenced from today to continue to take place until 11 March 2019. Also other eye-catching exams will be released by the Commission in a blink of eye. SSC has pragmatic and promising plans for 2019 where candidates will set a new touchstone for competency. In order to crack SSC Exams, one needs to be far-sighted to survive the cut-throat competition and should deal with each basic problem smartly.
A holistic preparation demands reliable study content, comprehensive Practice Sets and error free study material to outshine in SSC Exams. And that is why SSC Prime Package, a day in and day out available weapon to combat all the doubts and difficulties while facing SSC Exams, has been developed by ADDA247 under the guidance of its top-notch faculty and toppers team to assist you thoroughly making your practice session extensively productive & a sure shot guarantee to crack all the SSC exams you have opted for.
The key feature of SSC Prime Package that makes it worth buying is that loads of latest Exam Pattern Based Mock Tests (850+), Previous Year Papers, Topic wise tests comprising Detailed Solutions with 1 year validity are contained in a single Package just at Rs. 899. 
There a saying goes that once you fail, change the method of achieving your goal, not the goal. And SSC Prime Package is that new scintillating method to lead you to the success. Give a shot to SSC Prime, a package bringing out an all-rounder performance in you and crack any SSC 2018 Exam at ease.
Go through the below provided Table to get a detailed description of SSC Prime, Number of Full-length Mocks and Practice Sets. SSC PRIME has been especially developed for SSC aspirants, who are to appear in major upcoming SSC examinations. It incorporates more than 850 mocks.
Here is the detailed description of Full-Length Mocks and Practice Sets are incorporated into the package:
Full-Length Mocks:
| EXAM | No. of Mocks |
| --- | --- |
| SSC CGL TIER I (Available) | 50 |
| SSC CGL TIER I (2017 All Shift): (Available) | 43 |
| SSC CGL TIER I (2016 All Shift) (Available) | 35 |
| SSC CGL Tier – I: Challenger Test series: | 25 |
| SSC CGL TIER II (Maths) (Available) | 20 |
| SSC CGL TIER II (English) (Available) | 20 |
| SSC CGL TIER 2 PREVIOUS YEAR PAPER (2011-2016) | 12 |
| SSC CGL TIER 2 PREVIOUS YEAR PAPER (2017-18) | 13 |
| SSC CGL TIER II (Statistics): (Available in English only) | 5 |
| SSC CGL Tier II Finance & Economics: (Available in English only) | 5 |
| SSC CPO TIER I (Available) | 20 |
| SSC CPO Tier-I (2017 All Shift): (Available) | 14 |
| SSC CPO TIER II (Available) | 10 |
| SSC CHSL (Available) | 25 |
| SSC CHSL / (10+2) 2016 (All Shifts): (Available) | 74 |
| SSC CHSL / (10+2) 2017 (All Shifts): (Available) | 68 |
| SSC MTS (Available) | 10 |
| SSC GD Constable (Available) | 20 |
| SSC Junior Hindi Translator | 10 |
| SSC Stenographer (Grade C/D) | 20 |
| SSC Selection Posts Graduation Level | 10 |
Topic wise and Section wise:
| Topic Name | No. of Test |
| --- | --- |
| Advanced Mathematics | 40 |
| Advanced Mathematics (Challenger) | 20 |
| General Science | 40 |
| Indian History | 40 |
| Indian Polity | 40 |
| Geography | 20 |
| Economics | 10 |
| Miscellaneous | 10 |
| General Awareness Practice sets | 80 |
| English Language Topic Wise for SSC | 60 |
Validity: 12 Months
Offer Valid till 12th February 2019
✉ gopal.anand@adda247.com
You may also like to read: