Important Days in May: Every month of year witnesses a variety of days to mark or commemorate a particular event that happened on that day. Are you looking for the list of important days celebrated in the month of May? We are providing you with the complete list of important days in May along with the significance of each day to help you understand it in a better way.
List of Important Days In May 
Important Days of May
 In the Julian and Gregorian calendars May is the fifth month of the year and the third of seven months to have a length of 31 days. Let's look at some of the important days that are observed in the month of May.
List of Important Dates in May
1-May
International Labour Day
3-May
Press Freedom Day
4-May
Coal miner's day
May (2nd Sunday)
Mother's Day
8-May
World Red Cross Day
11-May
National Technology Day
12-May
International Nurses day
May (2nd Weekend)
World Migratory Bird day
15-May
International Day of the Family
17-May
World Telecommunication Day (Information Society Day)
21-May
Anti-terrorism day
24-May
Commonwealth Day
31-May
World No Tobacco Day
Significance of Each Day
1st May: International Labour Day
International Labour Day or Labour Day or May Day. In India, Labour Day is denoted as Antarrashtriya Shramik Diwas or Kamgar Din. This day celebrates the contribution and sacrifice of workers to and for society. The event also helps boost the dignity of the labourers who have been treated disrespectfully or ungrateful. The first LabourDay celebration in India was organized in Chennai on 1 May 1923.
---
3rd May: Press Freedom Day
Every year, on 3rd day of May the fundamental principles of press freedom are celebrated to evaluate press freedom and to defend the media from attacks on their independence around the world. On this day homage and tributes are paid to journalists who lost their lives in the exercise of their profession. In 1993, 3rd May was proclaimed World Press Freedom Day the UN General Assembly after a recommendation adopted at the26th session of UNESCO's General Conference in the year  1991.
---
4th May: Coal miner's day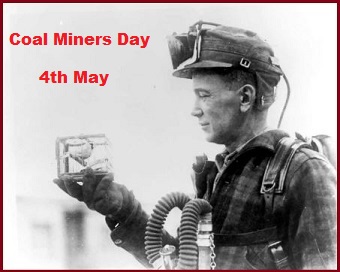 Every year on 4th  May Coal Miners Day is observed to thank and pay tribute to the toughest profession and all the people who are working in coal mines. On this day various organizations and communities raise funds and awareness for other organisations in the coal mining area and workers. The goal of celebrating Coal Miners Day is to highlight all the great amenities that this community has to offer.
---
2nd Sunday of May: Mother's Day
On the 2nd Sunday of May, the whole world celebrates Mother's Day to recognise motherhood and the contribution of mothers in society. The origin of Mother's Day is attributed to Julia Ward Howe and Anna Jarvis, who are believed to have established the idea of Mother's Day in the USA. Most countries mark the day on the second Sunday in May. However, the UK and Ireland observe it on the fourth Sunday
---
8th May: World Red Cross Day
Every year World Red Cross Day is celebrated on 8 May as the birth anniversary of the Henry Dunant the founder of the Red Cross and International Committee of the Red Cross. In 1863, Henry Dunant established the Red Cross Committee International which is known as [ (ICRI) IN] in Geneva, Switzerland. Various programmes and events are organised by the International Committee of the Red Cross and its members to facilitate and promote their humanitarian activities.
---
11th May: National Technology Day
Every year on May 11, National Technology Day is observed as a reminder of India's technological advancements. On this day India successfully tested Shakti-I nuclear missile at the Indian Army's Pokhran Test Range in Rajasthan. This project was led by former President of Indian late Dr APJ Abdul Kalam and was called Operation Shakti or Pokhran-II.
12th May: International Nurses day
International Nurses Day is celebrated around the world every on May 12 to mark the birth anniversary of Florence Nightingale, who is widely considered the founder of modern nursing. This day is all about celebrating nurse's endless contributions to society. Nurses have huge amount of knowledge and possess many diverse skills on which they spend years perfecting and developing, all the time working in decidedly tough environments where extreme stress is just a part of the job
---
2nd Weekend of May: World Migratory Bird day
This day was initiated in 2006 and it is an annual awareness-raising campaign highlighting the need for the conservation of migratory birds and their habitats. The United Nations is one of the many organizations that support this global awareness campaign about the migration of birds.
---
15th May: International Day of the Family
he International Day of Families is observed on the 15th of May every year.  International Day of Families provides an opportunity to promote awareness of issues relating to families and to increase knowledge of the social, economic and demographic processes affecting them. It has inspired a series of awareness-raising events, including national family days. This day highlights the importance of family in society
---
17th May: World Telecommunication & Information Society Day
on 17th May World Telecommunication Day and Information Society Day are celebrated. World Telecommunication Day has been celebrated annually on 17 May since 1969, marking the founding of ITU and the signing of the first International Telegraph Convention in 1865.
In November 2005, UN General Assembly declared 17 May as World Information Society Day in order to focus on the importance of ICT and the wide range of issues related to the Information Society raised by WSIS
---
21st May: Anti-terrorism day
Anti-Terrorism Day is observed across India on 21 May. This day commemorates the death anniversary of one of former  Prime Ministers of India, Late Shri Rajiv Gandhi (20 August 1944 – 21 May 1991). This day is observed to spread awareness regarding the ongoing terrorist activities and the precautions that can be taken by ordinary people to prevent these acts of terrorism.
---
24th May: Commonwealth Day
The Commonwealth Day (earlier known as the Empire Day) is observed on 24th May and is observed in countries that were once under the reign of the British Empire. This day marks the anniversary of the formation of the Commonwealth as it is configured today. The 2020 Commonwealth Day theme focuses on 'Delivering a Common Future: Connecting, Innovating, Transforming' it offers opportunities for the people, Parliaments, governments and institutions of the Commonwealth to connect and work together at many levels.
---
31st May: World No Tobacco Day

Every year, on 31 May, World Health Organization (WHO) and its global partners celebrate World No Tobacco Day to raise awareness on the harmful and deadly effects of tobacco use and second-hand smoke exposure, and to discourage the use of tobacco in any form. India is the 2nd largest consumer of tobacco in the world and approximately one-sixth of the world's tobacco-related deaths occur in India. It is really important to raise awareness about the harmful and deadly effects of tobacco use in India