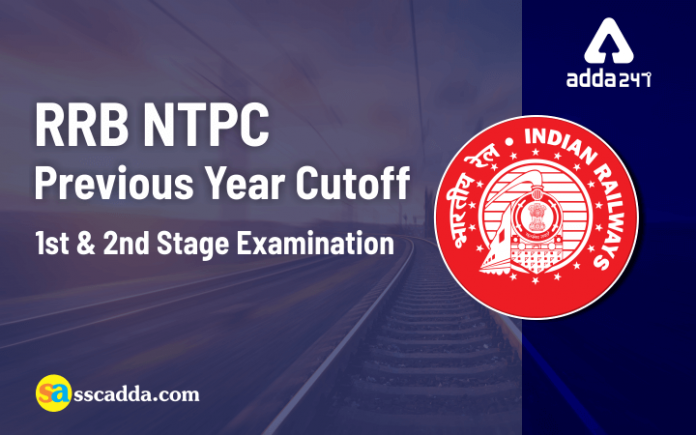 | Updated On January 17th, 2020 at 04:13 pm
Dear Aspirants,
RRB NTPC 2019 is an another opportunity by the Railway Board in the interest of govt. job aspirants. With umpteen number of 35,208 vacancies in various posts, RRB NTPC Exam requires to be explicated to the gunwales so that no interested aspirant lags behind in collecting the much needed information to prepare for RRB NTPC 2019 Exam in the best possible ways.
Cut-off for any exam you are going to appear for keeps the curiosity alive in a devoted aspirant so that his preparation matches the standard of the competition. Considering the same, the Stage 1 and Stage 2 region wise official cutoff for RRB NTPC Exam held in 2015 are being provided in the below-given table. 
With the acknowledgment of Cutoff for RRB NTPC Exam 2015, a thorough insight of strategized preparation for RRB NTPC 2019 Exam must be the foremost goal for the devoted aspirants.
RRB NTPC 2019 Exam is tentatively scheduled to be held in the month of March 2020. ADD247 with its daily subject-wise quizzes, notes, free pdfs and
RRB NTPC Prime 2019 Online Test Series
for RRB NTPC 2019 Exam is available to serve you in every aspect.
RRB NTPC 2015 STAGE 1 REGION WISE CUTOFF 
RRB NTPC 2015 Stage 1 Official Cutoff (Total Number Of Vacancies: 18252)

S.No.
Zone
General
OBC
SC
ST
No. Of Candidates Shortlisted
For 2nd Stage CBT (Approx. 15 Times)
1
Ahmedabad
72.86
64.91
57.23
48.1
17748
2
Ajmer
77.39
70.93
62.13
59.74
16321
3
Allahabad
77.49
70.47
62.85
47.02
42972
4
Bangalore
64.97
57.28
30.1
29
9088
5
Bhopal
72.9
66.31
58.61
51.16
17271
6
Bhubaneshwar
71.91
65.76
53.09
48.79
11551
7
Bilaspur
68.79
60.7
51.49
50.07
4530
8
Chandigarh
82.27
71.47
71.87
46.71
4567
9
Chennai
72.14
69.11
57.67
46.84
14642
10
Gorakhpur
77.43
69.01
56.63
47.67
4756
11
Guwahati
66.44
57.11
52.53
52.91
6136
12
Jammu
68.72
50.88
52.27
38.05
2565
13
Kolkata
79.5
71.53
67.07
52.92
21123
14
Malda
61.87
48.42
43.11
31.89
4170
15
Mumbai
77.05
70.21
63.6
54.95
34019
16
Muzaffarpur
57.97
45.57
30.06
25
6873
17
Patna
63.03
53.57
38.55
26.69
10710
18
Ranchi
63.75
57.29
45.48
48.58
8431
19
Secunderabad
77.72
72.87
63.73
59.13
24271
20
Siliguri
67.52
56.26
54.31
45.9
4185
21
Thiruvananthapuram
79.75
75.1
56.14
36.45
7321
RRB NTPC 2015 STAGE 2 REGION WISE CUTOFF 
BHOPAL RRB (Railway Recruitment Board)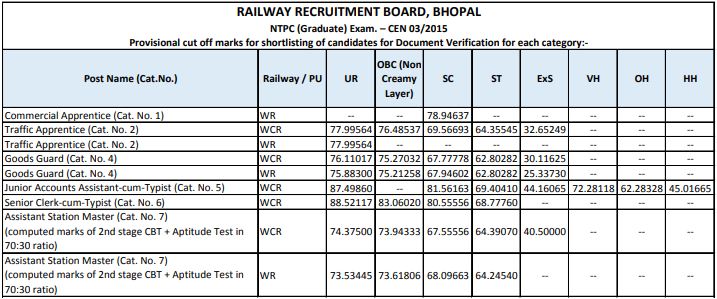 ALLAHABAD RRB (Railway Recruitment Board) 
AJMER RRB (Railway Recruitment Board) 
MALDA RRB (Railway Recruitment Board) 

MUMBAI RRB (Railway Recruitment Board) 
Patna RRB (Railway Recruitment Board) 

SILIGURI RRB (Railway Recruitment Board) 

MUZAFFARPUR RRB (Railway Recruitment Board) 

GUWAHATI RRB (Railway Recruitment Board) 

GORAKHPUR RRB (Railway Recruitment Board) 

CHENNAI RRB (Railway Recruitment Board) 

CHANDIGARH RRB (Railway Recruitment Board) 

BILASPUR RRB (Railway Recruitment Board) 

BANGALORE RRB (Railway Recruitment Board) 
THIRUVANANTHAPURAM RRB (Railway Recruitment Board) 
AHMEDABAD RRB (Railway Recruitment Board) 
JAMMU SRINAGAR RRB (Railway Recruitment Board)