What is a cloud burst?
A cloudburst is a localized but intense rainfall activity. A cloudburst is an extreme amount of precipitation in a short period of time, sometimes accompanied by hail and thunder, which is capable of creating flood conditions. Cloudbursts can quickly dump large amounts of water, e.g. 25 mm of the precipitation corresponds to 25,000 metric tons per square kilometer.
Cloudbursts are not very frequent as they occur only via an orographic lift or occasionally when a warm air parcel mixes with cooler air, resulting in sudden condensation. A rainfall of 10 cm or more in an hour over a roughly 10 km x 10 km area is classified as a cloudburst event. By this definition, 5 cm of rainfall in a half-hour period over the same area would also be categorized as a cloudburst. During a cloudburst event, a place receives about 10% of this annual rainfall within an hour.
Cloud burst Information
Here you will understand why cloudburst happens.
Most of the cloudbursts in India happen in the Himalayan states where the local topology, wind systems, and temperature gradients between the lower and upper atmosphere facilitate the occurrence of such events. Cloudbursts happen when saturated clouds are unable to produce rain because of the upward movement of the very warm current of air. Instead of dropping down, raindrops get bigger in size and get pushed up due to the air current. Eventually, they become too heavy to hold and drop down, leading to more rain than usual. This can be observed in the given picture below: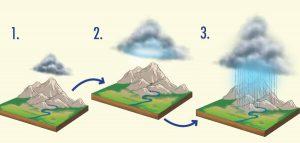 Cloud burst Incidents in India
In the Indian subcontinent, a cloudburst usually occurs when a monsoon cloud drifts northwards, from the Bay of Bengal or Arabian Sea across the plains, then onto the Himalayas and bursts, bringing rainfall as high as 75 millimeters per hour. In India, cloudburst is mainly reported in Himalayan and mountainous areas like Uttarakhand, Himachal Pradesh, Kashmir, etc.
5 Recent Incidents of Cloudburst in India
May 4, 2018: a cloudburst occurred above Belagavi, Karnataka. Weather stations in the area reported 95mm of rain in an hour. No significant casualties or damage occurred.
May 12, 2021: a cloudburst was reported from Tehri, Chamoli districts in Uttarakhand. No significant casualties or damage occurred.
July 28, 2021: Cloudburst hits Hunzar hamlet in the Dachhan area of Kishtwar district resulting in the death of 26 persons and 17 injured.
October 20, 2021: a cloudburst occurred above Pethanaickenpalayam town of Salem district, Tamil Nadu. This resulted in 213 mm of rain in a single day. Ponds in the area filled up and so did the Thennakudipalayam lake. The Vasishta Nadi became flooded, making the Attur check dam brim with water. No damages were reported.[30]
8 July 2022: Cloudburst occurred at Pahalgam en route to the Amarnath cave shrine.
August 2022: Several people have been killed in the destruction caused by cloudbursts and flash floods in different parts of Himachal Pradesh and Uttarakhand.
Can Cloudburst be Forecasted?
The India Meteorological Department forecasts rainfall events well in advance, but it does not predict the quantum of rainfall. The forecasts can be about light, heavy, or very heavy rainfall, but weather scientists do not have the capability to predict exactly how much rain is likely to fall at any given place.
To mitigate the impact of cloud bursts, early warning systems, including meteorological monitoring and radar systems, are employed to detect and forecast severe weather conditions. These warnings allow for timely evacuation of vulnerable areas and the implementation of emergency response measures. Additionally, urban planning and infrastructure development strategies that incorporate proper drainage systems and flood management techniques can help minimize the damage caused by cloud bursts.
Additionally, the forecasts are for a relatively large geographical area, usually a region, a state, a meteorological sub-division, or at best a district. Theoretically, it is not impossible to forecast rainfall over a very small area as well, but it requires a very dense network of weather instruments and computing capabilities.