West Bengal Public Service Commission conducts the state level examination for the recruitment of eligible candidates in various administrative departments under the West Bengal Government. The notification for all advertisements is released on the official site of WBPSC i.e wbpsc.gov.in. WBPSC conducts the West Bengal Civil Services Exam annually for the recruitment to Group A, B, C and D posts.
The WBPSC exam is conducted in 3 Tiers namely Preliminary, Mains and interview. The WBPSC Preliminary 2020 exam was conducted on 9th February 2020 and the preliminary answer key was released on 18th March 2020.
The WBPSC Mains examination scheduled for 27th June 2020 has been postponed. This post will provide you with all the details regarding the WBPSC Recruitment including the eligibility criteria, notification, qualifications and important latest updates as on the official site of WBPSC.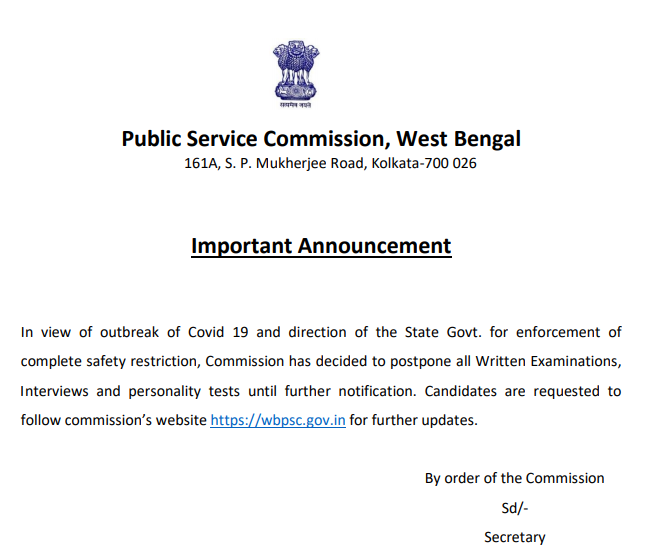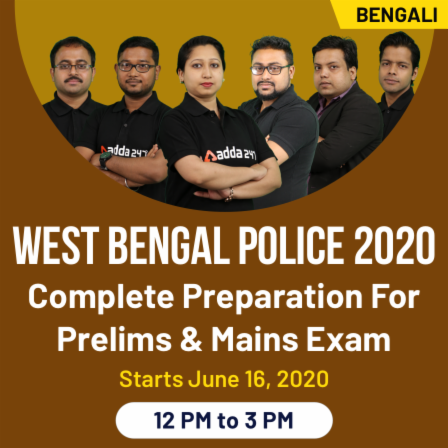 The WBPSC notification is released every year, generally in the Month of November. Know about the WBPSC overview given below:
Exam
West Bengal Civil Service examination.
Conducted by
West Bengal Public Service Commission
Post
Group A, B, C and D service posts
Vacancies
To be announced
Selection Process

Preliminary examination
Mains examination
Interview

Preliminary exam date
9th February 2020
Mains Exam Date
Postponed
Admit Card Release Date
To be announced
Official website
pscwbonline.gov.in
List of Other Examinations conducted by WBPSC:
West Bengal Civil Services Exam
West Bengal Judicial Services exam
West Bengal Audit and Accounts Service Examination
West Bengal Forest Service & Subordinate Forest Service Examination
West Bengal Police Recruitment
Recruitment Examination for Industrial Development Officer
Recruitment Examination for Clinical Instructor
Recruitment examination for Works Accountant
West Bengal Clerkship Exam
WBA & AS Examination
Miscellaneous Services Recruitment Examination
Wbpsc exam is being conducted for the state of west bengal. The pscwb conducts exam for psc clerkship, psc miscellaneous, psc food si and psc food inspector, psc fire operator & many more posts.
This page has resource related for
Wbcs preliminary exam apply online
Wbpsc result
Wpsc exam date
Wbpsc syllabus
Wbpsc Miscellaneous Resources
Wbpsc official website : https://wbpsc.gov.in
WBPSC Posts & Pay Scale
The posts under WBPSC and pay scale of each post has been provided below:
WBCS Group–A
Sr. No.
Post Name
Pay Band
Pay Scale
1.
West Bengal Civil Service (Executive)
4A
Rs.15,600/- to 42,000/- + G.P. Rs. 5,400/-
2.
Assistant Commissioner of Revenue in the integrated West Bengal Revenue Service
3.
West Bengal Co-operative Service
4.
West Bengal Labour Service
5.
West Bengal Food and Supplies Service
6.
West Bengal Employment Service [Except the post of Employment Officer (Technical)]
WBCS Group–B
Sr. No
Post
Pay Band
Pay Scale
1.
West Bengal Police Service
4A
Rs.15,600/- to 42,000/- + G.P. Rs. 5,400/-
WBCS Group C
Sr. No
Post
Pay Band
Pay Scale
1.
Superintendent, District Correctional Home / Deputy Superintendent, Central Correctional Home
4
Rs.9, 000/- to 40,500/- + G.P. Rs. 4,800/-
2.
Joint Block Development Officer
Rs.9, 000/- to 40,500/- + G.P. Rs. 4,700/-
3.
Deputy Assistant Director of Consumer Affairs and Fair Business Practices
4.
West Bengal Junior Social Welfare Service
5.
West Bengal Subordinate Land Revenue Service
6.
Assistant Commercial Tax Officer
7.
Joint Registrar (West Bengal State Consumer Disputes Redressal Commission under the Consumer Affairs Department, Government of West Bengal)
8.
Assistant Canal Revenue Officer (Irrigation)
Rs.9,000/- to 40,500/- + G.P. Rs. 4,400/-
9.
Chief Controller of Correctional Services
WBCS Group D
Sr. No
Post
Pay Band
Pay Scale
1.
Inspector of Co-operative Societies
3
Rs.7, 100/- to 37,600/- + G.P. Rs. 3,900/-
2.
Panchayat Development Officer under the Panchayat and Rural Development Department
3.
Rehabilitation Officer under the Refugee Relief and Rehabilitation Department
Click Here To Visit WBPSC Official Website
Application Fee
The online Registration Fee for the WBPSC exam is Rs.210 + applicable service charges.
Eligibility Criteria
To appear for the West Bengal Civil Service examination a candidate must satisfy the following eligibility criteria.
A candidate must hold a graduation degree from an institute or university recognized by the UGC.
Students appearing in the final year of graduation are also qualified to apply.
The candidate should be able to read, write and speak in Bengali.
The candidate must meet the required physical criteria in terms of endurance, height, weight and chest measurements, for the vacancies of Group B posts.
Selection Process
West Bengal Civil Services (Exe.) Examination will be held in three consecutive stages, includes Preliminary examination, Main Examination, and Personality Test.
WBPSC Prelims is a screening test for candidates to be selected for the Main Examination.
It is qualifying in nature, and the marks obtained by the shortlisted candidates will not be included in the final scores.
The optional papers in the Main Examination are only applicable for Group A and B posts.
The total weightage of 8 papers and the personality test is 1800 marks for Group A and B posts.
The personality test for Group B and C posts carry a weightage of 150 and 100 marks, respectively. Hence the total marks for Group C and D posts including the six main papers and the personality test are 1350 and 1300, respectively.
The table below depicts the marking scheme for all three stages.
WBCS Exam Pattern
Stage
Name of the exam
Type
Question Papers
Marks
Duration
I
Preliminary Exam
Objective
General Studies
200
II
Mains
Objective+ Conventional
·  English·  Bengali/ Hindi/ Urdu/ Nepali/ Santali ·  General Studies Paper – I ·  General Studies Paper-II ·  Constitution of India and Indian Economy ·  Arithmetic and Test of Reasoning ·  Optional Subject – Two papers of one subject
200 each for Paper-I to Paper VIII
3 hours each
III
Personality Test
Interview
–
150/ 200
–
WBPSC Exam Important links