TNPSC Group 4 Syllabus
TNPSC Group 4 Syllabus: Tamil Nadu Public Service Commission (TNPSC)  will release the notification for the Group 4 posts namely Village Administrative Officer (VAO), Junior Assistant, Bill Collector Grade-I, Typist, Surveyor, etc in September. Before applying for recruitment, you must go through the complete topic-wise group 4 syllabus in detail. This post has compiled the TNPSC Group 4 official syllabus that will guide you on how to study for the upcoming examination.TNPSC
4 (Group-IV) for direct recruitment of candidates in the following services in the state of Tamil Nadu:
Tamil Nadu Ministerial Service
Tamil Nadu Judicial Ministerial Service
Tamil Nadu Survey and Land Records Subordinate Service
Tamil Nadu Secretariat Service
Tamil Nadu Legislative Assembly Secretariat Service
Prepare from Home for TNPSC GROUP 4 
TNPSC Group 4 Written Exam Pattern
Paper
Subject
Questions
Duration
Maximum Marks
Min. Qualifying Marks for Selection (All Communities)
Paper – I
General Studies
75
3 Hours
300
90
Aptitude Test
25
Paper-II
General Tamil/ English
100
Candidates can choose either General Tamil or General English for answering the last 100 items apart from answering the first 100 items on General Studies and Aptitude
The questions on General Studies will be set both in English and Tamil and the questions on General Tamil/ General English will be set in the respective
The TNPSC Group 4 Prelims Exam will be conducted in offline mode.
After conducting the exam successfully, the TNPSC Answer Key is released. It gives the candidates to tally their answers and thereby raise objections if any.
There is no negative marking in the TNPSC Group 4 exam.
Two types of question papers will be set.
Type- 1:-: General Studies (75 items) + Aptitude & Mental Ability Test (25 items) and General
English (100 items).
Type-2:-: General Studies (75 items) + Aptitude & Mental Ability Test (25 items) and General
Tamil (100 items)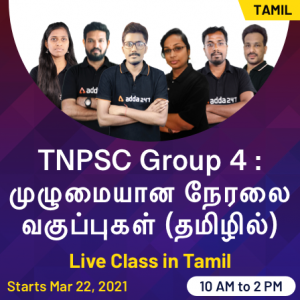 TNPSC Group 4 Syllabus For General Studies
The General studies will comprise of 5 topics namely General Science, Current Events, Geography, History and culture, Indian polity, Indian Economy, and Indian National Movement. The detailed topic wise syllabus is given below:
1. TNPSC Group 4 Syllabus For General Science
Subject
Topics
Physics
Nature of Universe
General Scientific laws
Inventions and discoveries
Mechanics and Properties of Matter
National scientific laboratories
Physical quantities
standards and units
Force, motion and energy
Magnetism, electricity and electronics
Heat, light and sound
Chemistry
Elements and Compounds
Acids, bases and salts
Fertilizers, pesticides, insecticides
Botany
Main Concepts of life science
Nutrition and dietetics
Respiration
Classification of a living organism
Zoology
Reproductive system
Blood and blood circulation
health and hygiene
Environment, ecology
Human diseases including communicable and non – communicable diseases- prevention and remedies
plants and human life
2. TNPSC Group 4 Syllabus For Current Events
Subject
Topics
History
Latest diary of events-national
National symbols
Profile of States
Sports & games
Eminent persons & places in the news
Awards & honours
Books & authors
India and its neighbors
Political Science
Problems in conduct of public elections
Public awareness & General administration
Political parties and political system in India
Welfare oriented govt. schemes, their utility
Geography
Geographical landmarks
Economics
Current socio-economic problems
Science
Latest inventions on science & technology
For free study material in Tamil language for TNPSC exam you can download "Adda247 app" or register here:-
3. TNPSC Group 4 Syllabus For Geography
Earth and Universe
Solar system
Water resources
Monsoon, rainfall, weather & climate
Rivers in India
Social geography- population, density and distribution
Soil, minerals & natural resources
Forest & wildlife
Agricultural pattern
Transport including surface transport & communication
Natural calamities – Disaster Management.
4. TNPSC Group 4 Syllabus For History and Culture of India And Tamil Nadu
Indus valley civilization
Guptas,
Delhi Sultans,
Mughals and Marathas
India since independence
Characteristics of Indian culture
Age of Vijayanagaram and the brahmans
South Indian history
Culture and Heritage of Tamil people
Unity in diversity –race, colour, language, custom
Political parties and populist schemes
India-as secular state
Growth of rationalist,
Dravidian movement in TN
5. TNPSC Group 4 Syllabus For Indian Polity
Constitution of India
The preamble to the constitution
Salient features of the constitution
Citizenship-rights, amendment, duties
Union, state and territory
Fundamental rights
Fundamental duties
Human rights charter
Union legislature
State executive and State Legislature assembly
Parliament
Local government
Panchayat raj
Tamil Nadu
Judiciary in India – Rule of law/Due process of law
Elections- Official language and Schedule-VIII
Corruption in public life- Anti-corruption measures –CVC,
Lok-adalats, Ombudsman,
CAG
Right to information
Empowerment of women
Consumer protection forms
6. TNPSC Group 4 Syllabus For Indian Economy
Nature of the Indian economy
Five-year plan models and assessment
Land reforms & agriculture
Application of science in agriculture
Industrial growth
Rural welfare oriented programmers
Social sector problems – population, education, health, employment, poverty
Economic trends in Tamil Nadu
7. TNPSC Group 4 Syllabus For Indian National Movement
National renaissance
Emergence of national leaders- Gandhi, Nehru, Tagore
Different modes of agitations
Role of Tamil Nadu in the freedom struggle
Rajaji, VOC, Periyar, Bharathiar & others
TNPSC Group 4 Syllabus For Aptitude Test
Conversion of information to data
Collection, compilation and presentation of data
Tables, graphs, diagrams
Analytical interpretation of data
Percentage
Simplification
Highest Common Factor (HCF) and Lowest Common Multiple (LCM)
Simple interest and Compound interest
Ratio and Proportion
Time and Work
Area and Volume
Logical Reasoning- Puzzles, Dice, Alphanumeric, Number Series.
Visual Reasoning
Click here for TNPSC Group 4 Notification, Eligibility 
TNPSC Group 4 Syllabus For General English
The General English Syllabus will comprise of 3 parts as mentioned below. For detailed sub-topics of the following topics, download the syllabus PDF provided at the end.
PART
TOPICS
PART A
Grammar
1. Match the following words and Phrases
2. Synonyms
3. Antonyms
4. Prefix, Suffix
5. Article
6. Preposition
7. Question Tag
8. Tense
9. Voice
10. Infinitive, Gerund, Participle
11. Subject, Verb,
12. Error
13. Comprehension
14. Odd Words
15. Plural forms
16. Simple, Compound, Complex Sentences
17. Degree of comparison
18. compound words
Part B
Literature
1. .Figures of speech observed in the given Poems
2. Appreciation Questions from Poetry
3. Important lines from Poems.
4. Questions on the Biography of personalities
5. Questions on Shakespeare's novels
6. Questions from Oscar Wilde's books
7. Dr.Karl Paulnack Music-The Hope Raiser
8. Comprehension Questions from Motivational Essays
9. Comprehension Questions from the description of Places
10.British English – American English
Part C
Authors and their Literary Works
1. Match the Poems with the Poets
2. Which Nationality does the story belong to?
3. Identify the Author with the short story
4. Whose Autobiography / Biography is this?
5. Which Nationality does Poet belong to?
6. Characters, Quotes, Important Lines from the following works of Indian
Authors
7. Drama Famous lines, characters, quotes from Julius Caesar, The Merchant of Venice
8. .Match the Places, Poet, Dramatist, Painter with suitable option
9. Match the following Folk Arts with the Indian State / Country
10. Match the Author with the Relevant Title/Character
11. Match the Characters with Relevant Story Title
12. About the Poets
13. About the Dramatists
14. Mention the Poem in which these lines occur
15. Various works of the given Authors
16. What is the theme observed in the Literary works?
17. Famous Quotes – Who said this?
18. To Which period the Poets belong
19. Matching the Poets and Poems
20.Nature centered Literary works and Global issue Environment and Conservation
Prepare from Home for TNPSC GROUP 4 with live classes and video courses