Questions Asked in EPFO SSA Exam 2023
Questions Asked in EPFO SSA Exam 2023: The Employees' Provident Fund Organization (EPFO) conducts the SSA (Social Security Assistant) exam to recruit candidates for the post of Social Security Assistant. For the graduate candidates who have applied for the Social Security Assistant posts, EPFO SSA 2023 Exam is being conducted on the 18th, 21st, 22nd, and 23rd of August 2023. In this post, we will discuss all the Questions asked in the EPFO SSA Exam 2023 on the 18th of August 2023 in (Shift 1 and Shift 2)
Questions Asked in EPFO SSA Exam 2023:

18 August (Shift 1)Difficulty Level

The candidates have appeared for EPFO SSA Phase 1 Exam on 18 August 2023 for (Shift 1 and Shift 2) and according to their exam review the level of the questions asked was Moderate. To know the Shift 1 difficulty level of each section as well as the overall aspirants can refer the below table.
EPFO SSA Exam Analysis 2023, 18 August (Shift 1 and Shift 2) : Difficulty Level
Sections 
Difficulty Level
Reasoning Ability
Easy-Moderate
General Knowledge/General Awareness
Moderate-Tough
Quantitative Aptitude
Easy-Moderate
General English
Easy
Computer Literacy
Moderate
Overall
Moderate
The exam is a computer-based test (CBT).
The exam is of 2 hours duration and has a total of 150 questions.
Each question carries 4 marks, and there is a negative marking of 0.25 marks for every wrong answer.
Types of Questions Asked
The questions asked in the EPFO SSA exam are of varying difficulty levels. Some of the common types of questions asked include in (Shift 1 and Shift 2) are listed below.
EPFO SSA Exam Analysis 2023, 18 August (Shift 1 and Shift 2) : Difficulty Level
Sections 
Questions Asked
General Aptitude
Shift 1

Day Based Puzzle
Diagram
Number Series
Syllogism
Statement & Conclusion
Dice
Counting Triangles
Relational
Cube
Mirror based puzzle
Figures
Number Series
Mirror Image
Embedded image
Missing numbers

Shift 2

Statement Assumption
Argumentation
Seat Allocation

Monday to Friday Puzzle (Game Based – 7 Coach)

Number Series 

Figure Counting

Figure Series 

Syllogism (

Venn Diagram 

Mirror Based 

Alphabetical Order 

Statement & Conclusion 

Dice (1 Q)

Calendar
Clock

General Knowledge/General Awareness
Shift 1

Statement Based Question-Battle Of Panipat
Appointments
Father Of Geography
Blue Moon, Super Moon
Polity-2 Questions(Finance Commission Article)
Brass is a combination of
Non Metals Properties
1st Female Prime Minister
G20 Presidency Of India-Time Period
Men's Hockey World Cup
G20 Time period in 2023 for India
Geography – 5
Lunar eclipse 2
NHRC Established on which date?
Who is the Father of Geography?
Questions were asked from appointments
Manipur
Goa trend
Inventor/Invention
America Independence Day
Article 344
Niti Ayoga

Shift 2

FIFA World Cup 2022
Name and Field (Grant Contribution)
History 2
Polity (105 Amendment in constitution)
Article 44
Fundamental Duties
Part of Article
Election
organic Farming
Cooperative Farming Country
Naval Day
Questions on festivals
Labour Day
Location of Dance Form –
​P
Amendments In Constitution
Questions on Articles – Abolition of Titles
Elections related – articles and amendments
Question on Black Soil
Malaria – What is it?
Question on Cooperative Farming
Questions On Appointment
Tribes of Mizoram
Infectious Disease
44th Amendment

Quantitative Aptitude
Shift 1

DI
Profit & Loss(Maximum Questions)
Time & Work
Pipe & Cistern
Simplification-2 Questions
Time and Work
Average
Speed
Algebra
1 Polynomial
 Ratio
Simple Interest
Compound Interest

Shift 2

Data Interpretation (Pie Chart, Table DI)
Percentage
Series
Algebra
Time & Work
Average Speed
Polynomial
Profit & Loss
Pipes & Cisterns
Trigonometry
Simplification (2 Q)
Mixture and Allegation
Simple Interest And Compound Interest

General English
Shift 1

Reading Comprehension-10 Questions
Direct/Indirect Speech
Para Jumble
Cloze Test-5 Questions
Synonyms, Antonyms
Narration & Passage
Interrogative Sentence
Error Detection-3 Questions
Active & Passive-4-5 Questions
One Word Substitution-1 Question
Idiom
Vocabulary

Shift 2

Direct indirect speech
Phrases
Grammatical Error
There were 10 questions from active passive
Cloze Test Topic (10 questions)
Antonym
Synonym: Worship
One word Substitution
Idiom
Direct-Indirect
Error Detection: 2
Rearrangement: 1
Vocabulary
Narration

Computer Literacy
Shift 1

Operating System
Hardware
Topology
Question-related to Microsoft Office 365
Question-related to RAM
Questions were asked from shortcut keys

Shift 2

Questions on Basics of MS Office
File Management
Convert Binary to Hexadecimal
Layers of Computer System
Logic Gates
Topology

Overall
Moderate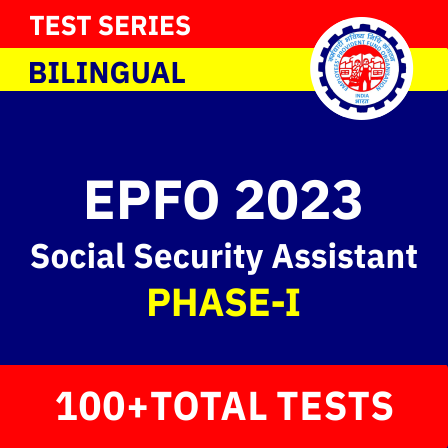 Employees' Provident Fund Organization (EPFO) has announced a golden opportunity for unemployed graduates and 12th pass to fulfill their dream of joining the prestigious Government Sector (EPFO) in India. The EPFO SSA exam is a challenging exam, but it is not impossible to crack. With these Questions you can increase your chances of success. SSCADDA wishes you Good luck with your preparation!