Hello Dear Aspirants, 
Candidates preparing for various Govt Jobs in 2023  for the following year must be looking for a one-stop solution for the most important of all competitive exams. General Knowledge, General Science are integral sections of almost all competitive Exams, without having the understanding and mastery of these subjects should not dream of success in any competitive Exam. These are the primary subjects that can lead to success in every exam and can provide you with tremendous knowledge in this one medium. Ashutosh Sir and Pawan Sir have launched the Yogdan Samanya Adhyan GK GS Book. Candidates can order this book with the following Coupon Code to avail of the exciting offer.
Coupon Code:  "MAY15"
This book will provide you with General Knowledge and General Science Notes and Question which will help candidates to prepare for all the competitive exams. In each chapter, first of all, emphasis is put on the basic concepts and then only those tips are introduced which are really helpful and can be applied in most situations.
Click here to download a sample PDF of Yogdan Samanya Adhyan GK GS Book
GK and GS are important in government competitive exams due to their syllabus coverage, scoring potential, emphasis on current affairs, understanding of the system, development of decision-making skills, and their relevance in interview and personality assessment rounds. Candidates who have a strong foundation in GK and GS have a competitive edge and are better equipped to excel in these exams. This book will help candidates to build their scores more and get high scores in less time.
Candidates who dedicate sufficient time to preparing for GK and GS can significantly improve their scores and enhance their chances of success in competitive exams.
We launched the book on 18th May 2023 on our SSCAdda247. Candidates must avail of this offer now most amazing and large surprise of SSCAdda for their dear students. This Book covers 2500+ bilingual MCQs which cover Current Affairs, Static GK, Economics, Polity, Physics, Biology, Chemistry, History, and Geography.
कोर्स की मुख्य विशेषताएं:
2500+ द्विभाषी MCQs
SSC CGL, CHSL, GD, MTS और अन्य प्रतियोगी परीक्षाओं के लिए उपयोगी
एक्सपर्ट्स द्वारा डिज़ाइन की गई बुक
द्विभाषी माध्यम (Bilingual Medium)
Click here for Yogdan Samanya Adhyan GK GS Book Launch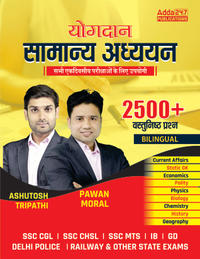 Course Highlights:
2500+ Bilingual MCQs
Useful for SSC CGL, CHSL, GD, MTS & other competitive Exams
Book design by an Expert
Bilingual Medium