What is Solar Orbiter?
Solar Orbiter is a space mission of collaboration between two international agencies namely ESA, European Space Agency and NASA, National Aeronautics and Space Administration. The mission was launched to observe the inner atmosphere of the sun and perform close observations of the other regions. In the latest news, the first images from the Solar Orbiter have been released where miniature solar flares are seen on the surface of the biggest closest star.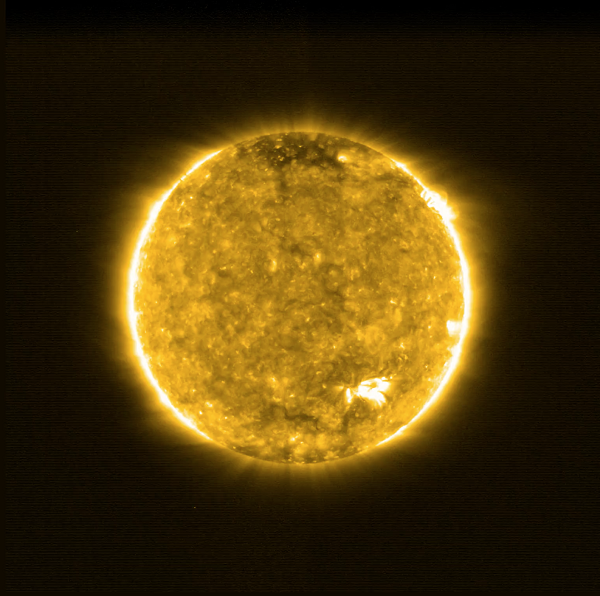 Click here to get General Awareness Notes
Solar Orbiter was launched on 10 February 2020 that carries six remote-sensing instruments, or telescopes, that image the Sun and its surroundings, and four in situ instruments that observe the environment around the spacecraft. By comparing the data from both sets of machines, scientists will get insights into the generation of the solar wind, the stream of charged particles from the Sun that determines the entire Solar System. Until now, there is no instrument that has been able to take images of the Sun's surface from a closer distance.
The scientists are trying to figure out whether the miniature flares are tiny versions of the big flares or driven by different mechanisms within the Sun. The solar corona is the outermost layer of the Sun extending to millions of kilometres into the outer space. Its temperature is more than a million degrees Celsius. The sun releases bursts of energetic particles emanating into the surrounding space. The Solar Orbiter will help the scientists to study the phenomenon of the Star and how it affects the earth's atmosphere. It will observe the strength of the solar magnetic field varying across the sun.
List of All President of India: From 1947 to 2020; Eligibility, Election and Powers