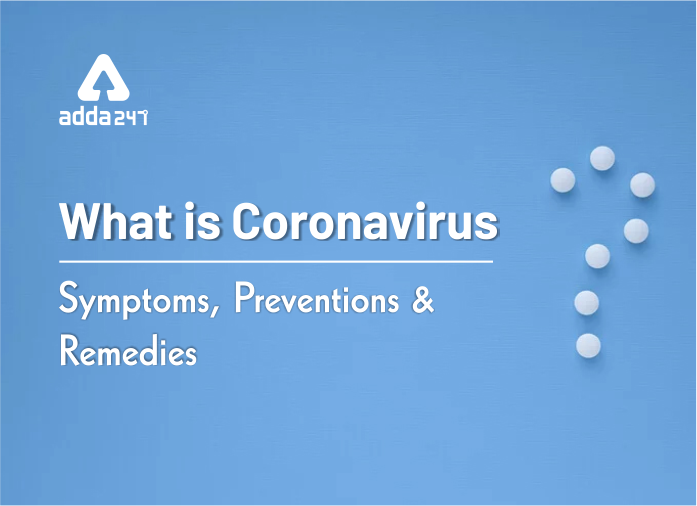 Novel Coronavirus epidamic has continued to grow and as on 13th Feb, 2020 in China 1367 people have been killed in China because of this deadly virus. The total number of infected people is 59,805. On Thursday, China removed its top political leadership in Hubei, the province at the centre of the escalating coronavirus outbreak,
According to the Indian Health Ministry till now 3 positive cases of coronavirus have been recorded, all of them in Kerala and all three have a travel history to Wuhan in China.
What is Coronavirus?
The Wuhan coronavirus, or 2019-nCoV, is a type of common virus that can cause an infection in your nose, sinuses or upper throat. Coronaviruses are a family of viruses that get their name from the way it looks under a microscope – they are spherical and their surfaces have "crown"-like spikes. Coronavirus can cause illnesses like the common cold and more severe diseases like Middle East Respiratory Syndrome (MERS-CoV) and Severe Acute Respiratory Syndrome (SARS-CoV). Some detailed investigation shows that SARS-CoV was transmitted from civet cats to humans and MERS-CoV from dromedary camels to humans.
Symptoms
Coronavirus infections have a wide range of symptoms which include fever and breathing difficulties, runny nose and sore throat. A mild case of coronavirus can cause cold-like symptoms, while a severe case can cause pneumonia, severe acute respiratory syndrome (SARS), kidney failure and can even lead to death.
What Preventions Should You Take?
To prevent and avoid coronavirus infection, do the same things you do to avoid the common cold:
Wash your hands thoroughly with soap, warm water or using a medical-grade alcohol-based sanitizer.
Avoid contact with people who are infected.
If you are having infection, use face mask or cover your face while coughing and sneezing to prevent it from spreading.
Avoid eating eggs and meat.
Keep drinking water and fluids.
Take proper rest and avoid overexertion
Remedies
Till now no confirmed and specific antiviral treatment recommended for coronavirus infection. You can take pain and fever medications to reduce the effects of the infection and give proper rest to your body.
Several confirmed cases of coronavirus have been reported in countries including the US, Japan, South Korea, Thailand, Taiwan, Singapore, Sri Lanka, Cambodia, Malaysia, Australia, France, Hong Kong, Macau, Vietnam, and Nepal. Indian govt has advised people to avoid non-essential travel to China to avoid getting infected from the virus

You may also like to check:
Union Budget 2020: Know About Halwa Ceremony
Pariksha Pe Charcha 2020 Highlights: PM Modi's Motivational Pep Talk
T20 Cricket Leagues All Over The World : All you need to know
List Of BJP Presidents From 1980 to 2020
SSC CGL | SSC CHSL 2020 | Free Marathon Class English, Science, Maths, Reasoning