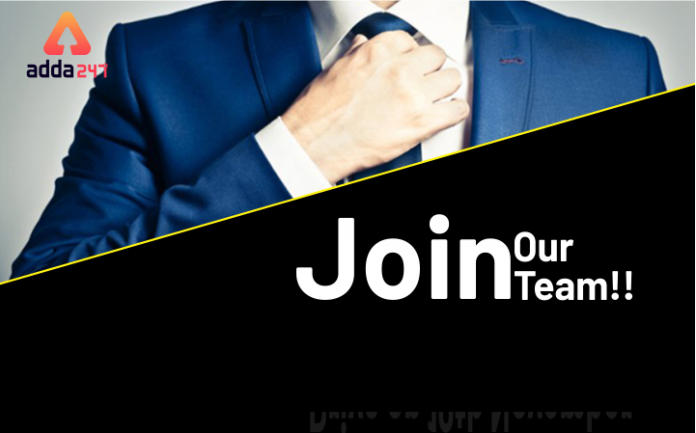 | Updated On March 12th, 2020 at 01:27 pm
Dear Readers,

We are a team of over 400 dedicated minds curating content specialised for every Bank, SSC, Railways, Defence and Teaching Jobs. Established in 2010 with the name of Career Power, Adda247 has been focusing on the growth and proper training of the brightest minds in the country preparing for SSC, Bank PO, CGL exams, etc.
Adda247 is the largest and fastest-growing education-technology company that houses multiple platforms such as Adda247 mobile app, Adda247 Youtube channel, bankersadda.com, sscadda.com, teachersadda.co.in, defenceadda247.com and Career Power. It mainly focuses on helping the unemployed youth of the country to land up with a decent job in both Government Sectors as well as Public Sectors. Now, Adda247 is hiring to include more young individuals to its team. Check out the profiles given below and walk-in for the mentioned posts on the given address. 
Discover a world of opportunities by getting onboard with Team Adda247! Are you ready for this?
When is the hiring taking place?
Walk-ins are taking place on 11th Jan 2020 from 10:30 a.m to 4:00 pm.
Where should you come for the walk-ins?
Candidates must come to the address given below:
1005, 10th Floor, Tower C, Unitech Cyber Park, Sector 39, Gurugram, Haryana 
Near Huda City Centre Metro Station 
What are the posts open in this Mega Recruitment Drive by Adda247?
The following are the profiles we are hiring for, you can apply for any 1 among them:
CONTENT DEVELOPERS (Subject Experts)
Choose from the following subjects (any 1) :
Content Developer- Technical Exams
Mechanical Stream
Civil Stream
Electrical Stream
Electronics Stream
CS & IT Stream
Content Developer- Bank Exams
Quantitative Aptitude for Bank Exams
English Language for Bank Exams
Content Developer- SSC Exams
Quantitative Aptitude for SSC Exams
GS for SSC Exams
English Language for SSC Exams
Content Developer- Teaching Exams
Social Studies & GA for Teaching Exams
Maths and Science for Teaching Exams
Child Pedagogy for Teaching Exams
Hindi Language for Teaching Exams
English Language for Teaching Exams
Article Writing – Content Writer for Teaching Exam
Content writers (English)
Should be well aware of the banking and SSC exams along with their exam pattern, criteria etc
Should be proficient in English
Should be creative & Innovative with their writing
Translators (English to Hindi)
What will be in the recruitment process?
The recruitment process will include a test and/or interview(s) depending upon the profile you are applying for.
Please also send your CV to us on content.hiring@adda247.com