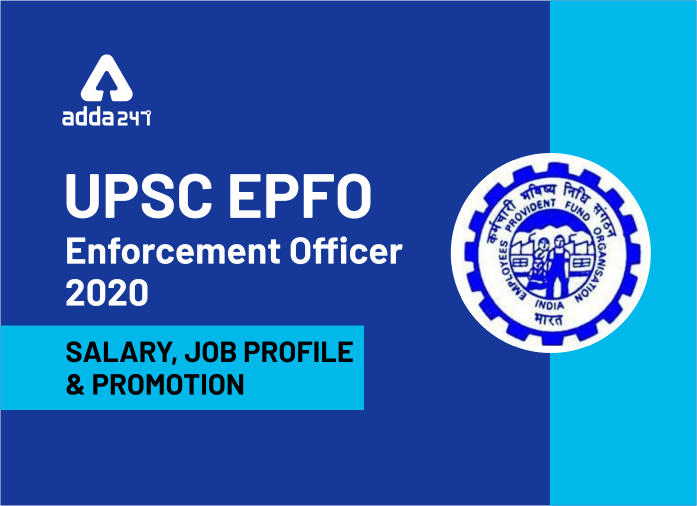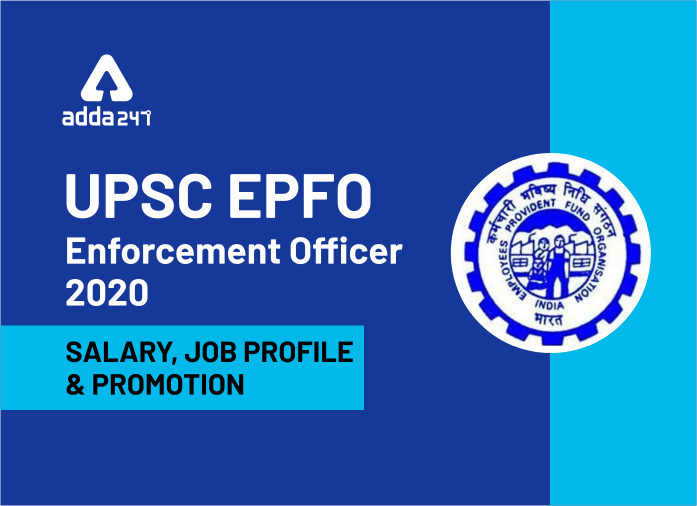 | Updated On March 11th, 2020 at 02:54 pm
UPSC EPFO Salary: The total in-hand UPSC EPFO salary received by the Enforcement Officers appointed in Employees' Provident Fund Organisation is provided in this post. What are the duties and job profile of Enforcement Officer? What is the level of promotions? You must be curious to know about the salary structure, job profile, and promotions of EPFO Enforcement Officer. Before appearing for the recruitment test on 4th October 2020, you must know everything about UPSC EPFO Salary.
Union Public Service Commission (UPSC) is recruiting 421 Vacancies of Enforcement Officer or Accounts Officer, in Employees' Provident Fund Organisation. The allowances to be provided are a matter of curiosity for many eligible aspirants. You must have knowledge of salary structure and pay that will be received after getting appointed as Enforcement Officer.
Are You Preparing for UPSC EPFO 2020? Register Here For Free Study Material
UPSC EPFO Salary 2020: Total Salary of Enforcement Officers At The Time Of Initial Appointment
The post of Enforcement Officer comes under Level-8 as per the Pay Matrix of 7th CPC. The post is categorized as General Central Service Group 'B', Non-Ministerial. The total salary drawn by an EPFO Enforcement Officer is Rs. 53312 excluding the HRA, TA and other allowances received based on the city posted in. Considering the city, an Enforcement Officer is also liable to receive up to 60,000 or more as the total in-hand salary.
Post Name
EPFO Enforcement Officer/Accounts Officer
Group
Group 'B', Non-Ministerial Post
Pay Matrix Level
Level 8
Pay Band
Pay Band 2
Pay Scale
Rs. 9300-34800/-
Grade Pay
Rs. 4800/-
Entry Pay
Rs. 47600/-
Total emoluments Initially
(Excluding TA, HRA & Other
Allowances)
Rs. 53312/-

Click here to check UPSC EPFO Exam Pattern and Syllabus
Probation Period of Enforcement Officer 
The Enforcement Officer appointed in EPFO will be initially on the probation period of 2 Years.
Are You Preparing for UPSC EPFO 2020? Register Here For Free Study Material
Duties of UPSC EPFO Enforcement Officers 
The job profile of Enforcement Officer/Accounts Officer includes various parameters such as to look after the work of Enforcement, Recovery, Administration Cash, Legal, Accounts, Pension, and Computer including various other statutory and administrative functions to be performed on a daily basis. Check out the duties to be performed by the Enforcement Officers as given in the official EPFO handbook:
1. To make sure employer compliance with the provisions and schemes under the Employees' Provident Funds and Miscellaneous Provisions Act, 1952
2. Address the grievances of employees and report cases to Regional Provident Fund Commissioner for further action
3. To conduct surveys whenever required, assess coverage potential to new categories of establishment
4. Educate the employers about prescribed forms and their proper completion and punctual submission
5. To attend to prosecution cases;
6. To serve summons/warrants on the defaulting employer
7. To verify facts and documents required by the Regional Office.
8. All the Enforcement Officers are notified as Assistant Public Prosecutors.
9. Required to conduct inquiry settlement of claims, general administration maintenance of Cash Book/Reconciliation of Bank Statement, MIS returns etc
UPSC EPFO Previous Year Paper 2020: Download PDF
UPSC EPFO Enforcement Officer Promotion
The Enforcement Officers are upgraded in Level-9 in the pay matrix of Rs. 53100- 167800 on successful completion of 4 years of regular service in level-8 in the pay matrix Rs.47600- 151100. The promotional hierarchy of EPFO has been provided below:
Additional Central PF Commissioner- II
PB-4; 37,400- 67,000 plus GP 8700 [Level 13]
⇑
Regional PF Commissioner-I
PB-3; 15,600- 39,100 plus GP 7600 [Level 12]
⇑
Regional PF Commissioner-II
PB-3; 15,600- 39,100 plus GP 6600 [Level 11]
⇑
Assistant PF Commissioner
PB-3; 15,600- 39,100 plus GP 5400/ [Level 10]
⇑
Enforcement Officer/Accounts Officer
PB-2; 9300-34800 plus GP 4800 [Level 8]
UPSC EPFO Enforcement Officer Posting
The EPFO head Quarters is located in New Delhi. The Officers recruited as Enforcement Officers are liable to be posted anywhere all over India based on the requirements.
Click here to check official notification for UPSC Enforcement Officer/Accounts Officer
Click here to buy online test series for UPSC EPFO Enforcement Officer