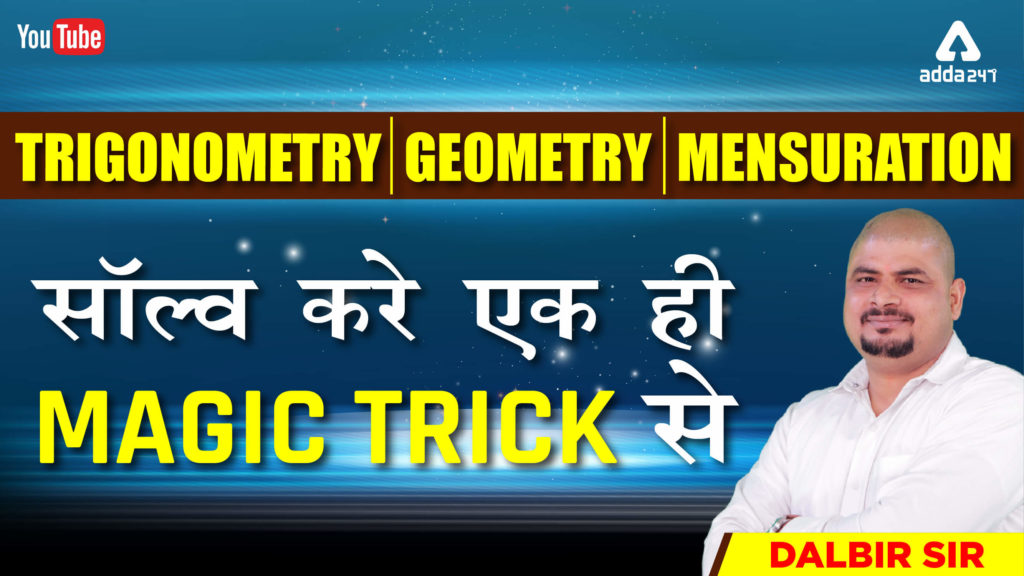 Dear Aspirants,
SSC CGL 2018-19 exam will be conducted from 4th June 2019 and it is high time for all the aspirants to level up their preparation for the exam. Your preparations must be at its peak but the question is: Are you doing smart work along with your hard work? Short-tricks are an important part of the Mathematics section and when it comes to Advance Maths, you can not deny the time it takes in the exam. In today's time when the competition has skyrocketed, everyone is in the dire need to use short tricks while solving questions that can increase their chance to score high marks. 
When it comes to SSC CGL exam, Trigonometry, Mensuration, and Geometry contribute a high weightage of marks comprising of 9-10 questions out of 25. You have to attempt these questions within the stipulated time and it can be made effortless by using short tricks. With the same motive to make it a piece of cake for you, Dalbir Sir will be taking a class on 18th May 2019, Saturday where he will be teaching short tricks for Trigonometry, Mensuration, and Geometry. Below are the details for the event:
WHAT: Magical Tricks for Trigonometry, Mensuration, and Geometry
WHEN: Saturday, 18th May
FACULTY: Dalbir Sir
TIMINGS: 11 A.M to 1 P.M
WHERE: Our Youtube Channel- ADDA247: SSC & Railways
Attend the class on this Saturday and polish your concepts with magical short-tricks that you may have not encountered before. Stay tuned on sscadda for further updates and the latest notifications.
You may also like to read: