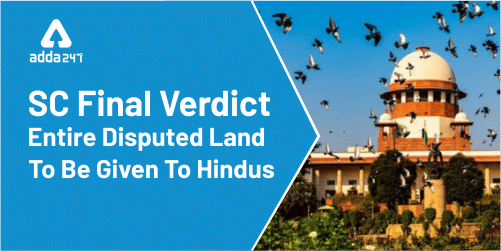 Dear Aspirants,
Updates on Ayodhya Final Verdict: After a long period of 30 years (Approx) Supreme court has brought down the curtains on the Ram Janam Bhoomi and Babri Masjid Issue, one of the longest and burning issues of India. According to official report, the land will be given to Janam Bhoomi trust as the Muslims side was unable to prove their possession for the inner courtyard. In a unanimous judgment of five judges constitution bench headed by Ranjan Gogoi Pronounces regarding the disputed land, and announced to give 5 acres of land to build Mosque as an alternative.
About Course:
Prepare for all SSC exams like SSC CGL,CHSL,CPO,Stenographer,MTS,Selection post and GD Constable etc from India's Best Teaching Educators!

About SSC ka Maha Pack:
SSC ka Maha Pack is a full-fledged course which incorporates all the essentials like Live online classes, Test series, Video courses, eBooks & countless unprecedented features that will help you excel in all the upcoming Teaching exams like SSC CGL,CHSL,CPO,Stenographer,MTS,Selection post and GD Constable etc

Includes:
You get access to:
200+ Hours of Live Classes

300+ Recorded Videos

500+ Total Tests

100+ Ebooks

Teacher's Class Notes/Slides.

Course Language
Classes: Hindi and English (Bilingual)
Study Material: English and Hindi
Tests: English and Hindi

Validity: 1 Month

Offer available for ADDA247 APP. Download the APP Now.
SSC Test Pack Online Test Series


1400+ Tests
Detailed Solutions and Analysis
Content by Expert Faculties
Validity
14 Months
1 Month
3 Months
BUY NOW
The verdict that has spanned several decades for the longest-running religious history issue and legal system almost for more than 450 years that, is finally expected a closure. After the announcement of the final result by the supreme court, thousands of military force, police officers have been deployed in Ayodhya and several parts of the country covering the major areas of Mumbai, Bhopal, UP, Jammu Kashmir, Delhi, and Madhya Pradesh. Section 144 has been raised in Uttar Pradesh, Uttrakhand, Bangalore, Karnataka, And Delhi.
Highlights of the Ayodhya Verdict:
#The entire 2.77 acres land to be handed over to the trust and temple to be formed in Three months.
# Muslims will get the alternate land of 5 acres to build the Mosque.
#Muslims could not prove their possession on the outer Courtyard of the land also Inner courtyard to remain with Hindus.
#Supreme court says, every person even under the different religion is same for them They can not distinguish between them.
#A huge structure like a temple under the Masjid can't be the basis of claiming ownership now Says Supreme court.
#Supreme court also announced that there is no evidence of ownership between 13th to 16th Century.
#Supreme Court: ASI has not pronounced whether a temple was destroyed to make the mosque or not. Although the mosque was built on a temple and have used its ruins.
#Ranjan Gogoi was leading the Judgment among all five bench of judges named CJI Ranjan Gogoi, Justice D Y Chandrachud, Justice S A Bobde, Justice S Abdul Nazeer, Justice Ashok Bhushan.
#The Nirmohi Akhara also suffered a setback with the Supreme court saying it is not a 'shebait' or devotee of the deity Ram Lalla.