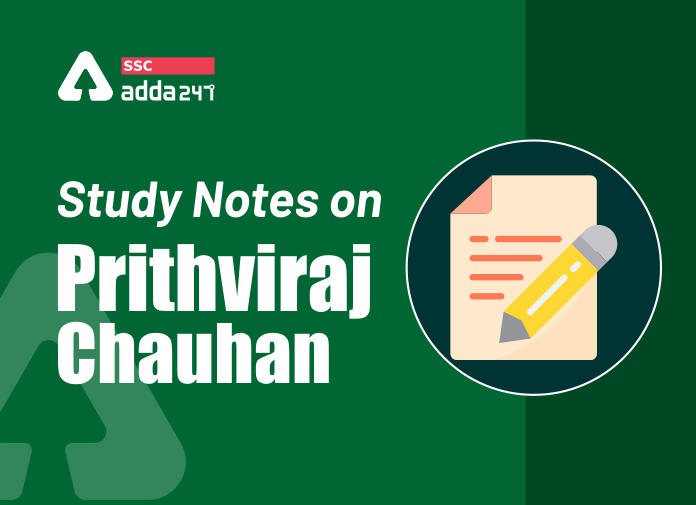 | Updated On May 21st, 2020 at 01:30 pm
Prithviraj Chauhan was born in 1166 as the son of Someshwar Chauhan, the king of Ajmer. He was the last ruler of the Chauhan dynasty to sit on the throne of Delhi. After the death of his father, Prithviraj Chauhan's grandfather Angam declared him as the heir to the throne of the kingdom in Delhi. A true Rajput ruler by nature, Prithvi Raj expanded his empire mainly towards northwest India. These regions mainly included the regions of Punjab, Haryana, Rajasthan, and Uttar Pradesh. It is an important topic of Static GK for all the aspirants who are preparing for govt. recruitment exams.
About Course:
Prepare for all SSC exams like SSC CGL,CHSL,CPO,Stenographer,MTS,Selection post and GD Constable etc from India's Best Teaching Educators!

About SSC ka Maha Pack:
SSC ka Maha Pack is a full-fledged course which incorporates all the essentials like Live online classes, Test series, Video courses, eBooks & countless unprecedented features that will help you excel in all the upcoming Teaching exams like SSC CGL,CHSL,CPO,Stenographer,MTS,Selection post and GD Constable etc

Includes:
You get access to:
200+ Hours of Live Classes

300+ Recorded Videos

500+ Total Tests

100+ Ebooks

Teacher's Class Notes/Slides.

Course Language
Classes: Hindi and English (Bilingual)
Study Material: English and Hindi
Tests: English and Hindi

Validity: 1 Month

Offer available for ADDA247 APP. Download the APP Now.
SSC Test Pack Online Test Series


1400+ Tests
Detailed Solutions and Analysis
Content by Expert Faculties
Validity
14 Months
1 Month
3 Months
BUY NOW
Early Life
Prithvirāja III who is popularly known as Prithviraj Chauhan was an Indian king from the Chahamana (Chauhan) dynasty. From the very early years Prithvi Raj showed his sharpness and brilliance by learning all military skills. It was believed he mastered the skills of aiming the target on the basis of its sound, known as the "Shabdbhedi" technique. He succeeded to the throne of Ajmer at the age of thirteen, in 1179, after the demise of his father in a battle. Prithviraj's grandfather Angam, the ruler of Delhi, declared Prithviraj Chauhan as the heir to the throne of Delhi.
Battles
As Prithviraj was still a minor when he ascended the throne, his mother, Karpuradevi, was made his regent. Karpuradevi, who was assisted by a regency council, managed the administration of the kingdom during Prithviraj's early years as the king. Prithviraj's historical wars and victories over Chandela kings in 1182 A.D. were significant in fetching immense riches to his treasury. But the Chandella king reclaimed his kingdom back soon from Prithvi Raj. History also tells about his lost battle with the Chalukyas in 1187 A.D.
Study Notes On Tughlaq Dynasty: Rulers, Dynasty and a Complete Overview
Prithvi Raj battled against Mohammed Ghori the Afghan ruler in 1191 at the first battle of terrain and emerges victorious. He made a blunder mistake of freeing Mohammad Ghori who later prepared his army to strike back again in 1192 in the second battle of terrain, Mohammad Ghori captured Prithvi Raj and tortured him by blinding him.
Death
After capturing Prithviraj Chauhan, Muhammad of Ghor reinstated him as a Ghurid vassal. This theory is supported by the fact that coins issued by Prithviraj after the battle of Tarain had his own name on one side and Muhammad's name on the other. According to several sources, Prithviraj was later killed by Muhammad of Ghor for treason. However, the exact nature of the treason differs from one source to another.
Legacy
During its peak, the empire of Prithviraj Chauhan extended from the foothills of the Himalayan in the north to the foothills of Mount Abu in the south. The empire extended from Betwa River to Sutlej River. In current times this means his empire included present-day Rajasthan, western Uttar Pradesh, northern Madhya Pradesh, and southern Punjab. After the demise of Prithviraj Chauhan, he was largely portrayed as a powerful Hindu king, who was successful in keeping the Muslim invaders at bay for many years. He is also often portrayed as a symbol of Indian power before the beginning of the Islamic rule in medieval India.
Frequently Asked Questions
Q. First Battle of Tarain was fought between?
Ans. Prithviraj Chauhan defeated Mohd. Ghori (1191).
Q. Prithviraj Raso was written by?
Ans. Chand Bardai
Q. Who was defeated at the second battle of Tarain?
Ans. Prithviraj Chauhan
Q. When was Prithviraj Chauhan declared as the heir to the throne of Delhi.
Ans. Prithviraj Chauhan was declared as the heir to the throne of Delhi in the year 1179