All Government Job Aspirants now have a 
grand opportunity to get into the prestigious Indian Railway 
as Junior Engineer (JE) and Depot Material Superintendent but what makes opportunity a success story is the hard work done amid. 
RRB JE 2019 is tentatively scheduled in the month of April/May 2019 for whopping 14000+ vacancies. 
Adda247 makes Live Batches With Doubt Clearance For Various Exams keeping in mind the need for a systematic and more accountable way of learning.
The Batches generally have a size of 100-150 students which helps the Faculty in addressing doubts of every student and a more focused approach towards lecture delivery.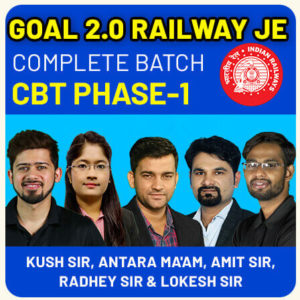 Goal 2.0 RRB JE CBT-1 Batch was created due to the following reasons :
1. Batch Size of the 1st Goal Batch was already achieved and we were helpless in taking more admissions.
2. The Exact Exam Dates have not yet been released, giving us more time for a 2nd Batch.
3. Majority of Our Subscribers are Engineers and since RRB JE and NTPC notifications have already been published, it is Our Duty to make more such batches catering to the Engineers.
4. Lastly, The Batch has a New Set of Core Faculties of Maths (Amit Pandey Sir) ( 5+ Years Experience and Reasoning (Radhey Sir) (10+ Years of Experience)
Adda247 provides us with one such opportunity to be well prepared, aligned with the RRB JE & NTP2018. Online Batch, Unlike the Local Centres, gives you the benefits of :
a. Basics To Advance Approach for exams
b. Exam Based/Updated Latest Pattern
c. Best Set of Faculties at the National Level
d. Exhaustive Hours with Doubt Clearing sessions
e. Anytime Anywhere Learning
We think Adda247 is Worth Your Time Because:
a. Adda247 is a National Leader in terms of preparing Content/Test Series/Videos for the past 3 years.
b. We have taught around 50,000 students in 2018 and more than 1 lakh have availed Our Video Courses.
c. With 2.5 Million+ Youtube Subscribers, we have the trust and experience behind us for providing the best learning for RRB JE and Others.
15 Mocks for First Stage
7 Mocks for Second Stage
20 Topic wise Tests for First Stage
5 Previous Years Practice sets for Mechanical & Allied Engineering
20 Section wise Practice sets for First Stage
20 Topic wise Tests for Mechanical & Allied Engineering
Study notes Ebooks
15 Mocks for First Stage
7 Mocks for Second Stage
20 Topic wise Tests for First Stage
5 Previous Years Practice sets for Electrical & Allied Engineering
20 Section wise Practice sets for First Stage
20 Topic wise Tests for Electrical & Allied Engineering
Study notes eBooks
15 Mocks for First Stage
7 Mocks for Second Stage
20 Topic wise Tests for First Stage
5 Previous Years Practice sets for Electronics& Allied Engineering
20 Section wise Practice sets for First Stage
20 Topic wise Tests for Electronics & Allied Engineering
Study notes eBooks
15 Mocks for First Stage
7 Mocks for Second Stage
20 Topic wise Tests for the First Stage
5 Previous Years Practice sets for CS & IT & Allied Engineering
20 Section wise Practice sets for First Stage
20 Topic wise Tests for CS & IT& Allied Engineering
Study notes eBooks
15  Mocks for First Stage
7 Mocks for Second Stage
20 Topic wise Tests for First Stage
5 Previous Years Practice sets for Civil & Allied Engineering
20 Section wise Practice sets for First Stage
20 Topic wise Tests for Civil & Allied Engineering
Study notes eBooks