Dear aspirants,
SSC CGL 2018 Exam is a supreme opportunity to acquire a desirable job post under the Commission and a supreme opportunity turns into a grand success only by the means of supreme preparation. This is where SSC Exams 2018-19 Super Prime based on TCS Pattern developed under the guidance of the best faculty of ADDA247 and toppers' team, helps you out thoroughly to crack SSC CGL 2018 Exam. SSC Exams Super Prime is an advanced effort which facilitates you with bunches of exam leveled Test Series, Comprehensive E-books and unbeatable printed edition books.
At Rs.3,499, SSC Super Prime 2019 Online Test Series – eBooks – Printed Books comprises every single ingredient of the recipe of success. Printed Edition books to make you comprehend concepts, rules, formulae, definitions, terms etc., E-books to learn and revise every subject to the core anywhere & anytime you find yourself fitting in and Full Length Mocks along with Topic wise and section wise Test to analyze your performance via various latest exam pattern based questions, are the essential tools which enhance the quality and quantity of this package and makes it Super Prime!
Get 25 % Discount |Coupon Code: EXAM25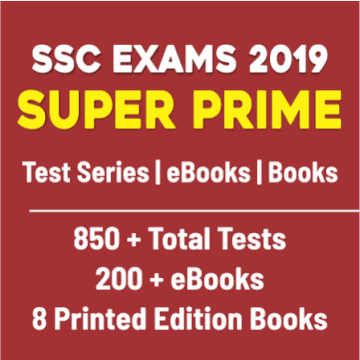 Package Includes
850 + Total Tests for SSC Exams 2019 (510 + FULL LENGTH MOCKS & 350+ TOPIC WISE AND SECTION WISE TEST)
200 + eBooks (SSC Digital Library , Descriptive eBook, Hindu One Liner ( Jan – December 2019)
8 Printed Edition English Books
Salient Features of Online Test Series
– In English & Hindi Medium.
– Bi-monthly current Affairs ( January 2019 to December 2019)
– Accessible on Adda247 store and Adda247 Mobile App
– Detailed Solutions.
– Analysis of The Attempted Tests in Detail (All India Rank, comparison with toppers etc.)
Note: 8 Printed Edition Books will be delivered at doorstep within 12-15 days after the confirmation of your order.
                            Click here to buy SSC Exams 2018-19 Super Prime
You may also like to read: