SSC MTS Vacancy 2019
Dear Aspirants,
Staff Selection Commission conducted the SSC MTS exam (Multitasking Staff) for  the recruitment to various posts General Central Service Group 'C' Non-Gazetted, Non-Ministerial post in various Central Government Ministries / Departments / Offices, in different States/ Union Territories. The SSC MTS Vacancy 2019 has been declared. The tentative SSC MTS Vacancy 2019 is uploaded on the official website. The vacancies have been released in 2 groups namely 18-25 age group and 18-27 age group. A total of 7,099 vacancies are released. Check the Region wise vacancy for SSC MTS 2019 given below.
SSC MTS Vacancy 2019: For Age Group – 18-25 & 18-27
The total vacancy of SSC MTS 2019 is 7,099 which has been divided into 2 groups of 18-25 and 18-27 years. For 18-25 years, total SSC MTS Vacancy is 5,415 and for 18-27 years age group, the total SSC MTS Vacancy is 1684. Check out the table for the vacancies of all states.
| State Name | 18-25 Years | 18-27 years |
| --- | --- | --- |
| Delhi | 1244 | 622 |
| Rajasthan | 102 | 16 |
| Uttarakhand | 188 | 18 |
| Karnataka | 78 | 28 |
| Kerala | 54 | 29 |
| Lakshadweep Islands | 0 | 0 |
| Jharkhand | 29 | 0 |
| Odisha | 143 | 39 |
| West Bengal | 638 | 62 |
| A&N Islands | 46 | 0 |
| Sikkim | 0 | 0 |
| Andhra Pradesh | 5 | 0 |
| Puducherry & Tamil Nadu | 0 | 0 |
| Daman & Diu and Goa | 7 | 5 |
| Gujarat, Dadra & Nagar Haveli | 52 | 234 |
| Maharashtra | 1336 | 121 |
| Chattisgarh | 21 | 7 |
| Jammu & Kashmir | 12 | 9 |
| Haryana | 0 | 9 |
| Himachal Pradesh | 1 | 0 |
| Punjab | 4 | 2 |
| Bihar | 223 | 47 |
| UP | 687 | 97 |
| Arunachal Pradesh | 0 | 5 |
| Assam | 104 | 39 |
| Manipur | 0 | 1 |
| Meghalaya | 34 | 17 |
| Mizoram | 0 | 0 |
| Nagaland | 28 | 0 |
| Tripura | 14 | 0 |
| Chandigarh | 34 | 4 |
| Madhya Pradesh | 62 | 233 |
| Telangana | 15 | 10 |
| Tamilnadu | 254 | 30 |
| TOTAL | 5415 | 1684 |
Click on the below link to Get A Guide To Descriptive Writing: Practice eBook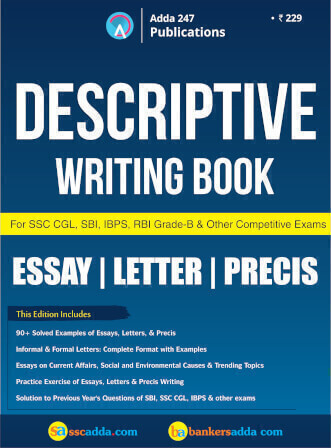 Watch: SSC CGL 2019 | Science | Classification of Plant Kingdom | Gymosperm & Angiosperm (Part 5)