SSC CHSL 2018-19 is to be conducted from 1 to 26 July 2019. Today, in this Reasoning quiz we are providing reasoning practice Questions Quiz with detailed Solutions to make your practice effective for reasoning Section for SSC CHSL 2018-19 Exam. Attempt this quiz and prepare yourself flawlessly. We wish you good luck for all the upcoming.
Direction(1-4): Select the related word/letters/number from the given alternatives.
दिए गये विकल्पों में से सम्बंधित शब्द/वर्ण/संख्या का चयन करें
Q1. GI : HJ : : PR : ?
(a) QR
(b) PO
(c) QS
(d) NO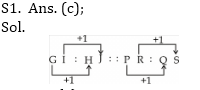 Q2. AIDS : VIRUS : : MALARIA : ?
एड्स: विषाणु:: मलेरिया:?
(a) Protozoa / प्रोटोजोआ
(b) Bacteria/ जीवाणु
(c) Fungi / कवक
(d) Algae/ शैवाल
S2. Ans. (a);
Sol. Malaria is caused by Protozoa
Q3. JKL : LKJ : : YZA : ?
(a) AZY
(b) XZY
(c) CBA
(d) JKL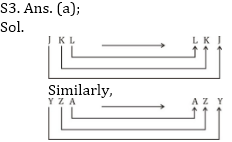 Q4. 37 : 21 : : 29 : ?
(a) 17
(b) 28
(c) 18
(d) 19
S4. Ans. (c);
Sol. 3 × 7 = 21
2 × 9 = 18
Direction(5-7): Select the odd word/letters/number/number pair from the given alternatives.
दिए गए विकल्पों में से विषम शब्द/वर्ण/संख्या का चयन करें
Q5. (a) Daman and Diu/ दमन और दीव
(b) Puducherry/ पुडुचेरी
(c) Delhi/ दिल्ली
(d) Chennai/चेन्नई
S5. Ans. (d);
Sol. Except Chennai, all are union territories.
Q6. (a) 636
(b) 749
(c) 864
(d) 989
S6. Ans. (d);
Sol. 6² = 36
7² = 49
8² = 64
9² = 81 not 89
Q7. (a) EV
(b) GT
(c) JQ
(d) MO
S7. Ans. (d);
Sol. Except MO; all are opposite pairs of letter
Q8. If 1st January 2013 was Tuesday, then what day of the week will be 31st December 2013?
यदि 1 जनवरी 2013 को मंगलवार था, तो 31 दिसम्बर को सप्ताह का कौन सा दिन होगा?
(a) Wednesday /बुधवार
(b) Thursday/गुरुवार
(c) Tuesday / मंगलवार
(d) Monday/सोमवार
S8. Ans. (c);
Sol. 1st Jan 2013 → Tuesday
1st Jan 2014 → Wednesday
31st Dec 2013 → Tuesday
Q9. Introducing a girl, a man says, "She is the daughter of the daughter of my wife". How is man related to the girl?
एक लड़की का परिचय देते हुए, एक आदमी कहता है, "वह मेरी पत्नी की बेटी की बेटी है"। आदमी लड़की से कैसे संबंधित है?
(a) Maternal uncle/मामा
(b) Son/बेटा
(c) Maternal grandfather/नाना
(d) Father/पिता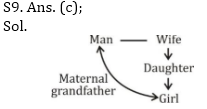 Q10. A word is represented by only one set of numbers as given in any one of the alternatives. The sets of numbers given in the alternatives are represented by two classes of alphabets as shown in the given two matrices. The columns and rows of Matrix-I are numbered from 0 to 4 and that of Matrix-II are numbered from 5 to 9. A letter from these matrices can be represented first by its row and next by its column, for example, 'F' can be represented by 32, 42 etc., and 'M' can be represented by 88, 68 etc. Similarly, you have to identify the set for the word 'DOWN'.
एक शब्द को केवल एक संख्या सेट से दर्शाया जा सकता है जैसा कि नीचे दिया है. विकल्पों में दिए गए संख्याओं के सेट दो वर्णों के द्वारा प्रस्तुत किए जाते हैं जैसा कि नीचे दिए गए मैट्रिकस में दिखाया गया है. मैट्रिक्स-I को 0 से 4 तक संख्या दी गई हैं और उसी प्रकार मैट्रिक्स II को 5 से 9 तक संख्याएं दी गई हैं. एक वर्ण को पहले उसकी पंक्ति द्वारा फिर उसके स्तम्भ द्वारा दर्शया जा सकता है, उदाहरण 'F' को 32,42 आदि. और 'M' को 88,68 आदि द्वारा दर्शाया जा सकता है उसी प्रकार आपको शब्द 'DOWN' के लिए संख्या सेट ज्ञात करना है.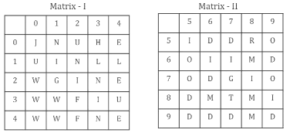 (a) 76, 59, 21, 33
(b) 95, 79, 40, 43
(c) 99, 57, 30, 42
(d) 69, 65, 20, 85
S10. Ans. (b)
Sol. 95, 79, 40, 43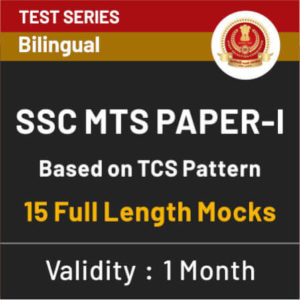 You may also like to read: