SSC MTS Exam 2019 is to be conducted from 2nd August to 22nd August 2019. Today, we are providing Reasoning Quiz with Solutions to make your practice effective for Reasoning Section for SSC MTS 2019 Exam. Attempt this quiz and prepare yourself flawlessly. We wish you good luck for all the upcoming Exams.
Q1. Navjot starts moving towards the west. After covering some distance, he turns left and then takes a right. Which direction is he facing now?
नवजोत पश्चिम की ओर चलना शुरू करता है। कुछ दूरी तय करने के बाद, वह बायें मुड़ता है और फिर दायें मुड़ता है। वह किस दिशा की ओर उन्मुख है?
(a) South/ दक्षिण
(b) North/उत्तर
(c) West/ पश्चिम
(d) East/पूर्व
Ans.(c)
Sol.
He is facing towards the west.
Q2. Pointing to a woman, a girl says,"She is mother of the only child of my father-in-law." How is the woman related to the girl?
एक महिला की ओर संकेत करते हुए, एक लड़की कहती है, "वह मेरे ससुर की इकलौती संतान की माँ है।" वह महिला, लड़की से किस प्रकार सम्बन्धित है?
(a) Mother-in-law/ मदर-इन-लॉ
(b) Granddaughter/ग्रैंडडॉटर
(c) Mother/माँ
(d) Cousin/कजिन
Ans. (a)
Sol.
Woman is the mother-in-law of the girl
Q3. From the given options, which answer figure can be formed by folding the figure given in the question?
दिए गये विकल्पों में से, प्रश्न में दी गयी आकृति को मोड़कर कौन सी उत्तर आकृति बनायी जा सकती है?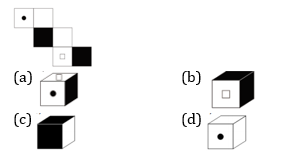 Ans.(a);
Sol. opposite faces are
Q4. In the given figure, how many cardboard boxes are not white?
दी गयी आकृति में, कार्डबोर्ड के कितने डिब्बे सफेद नहीं हैं?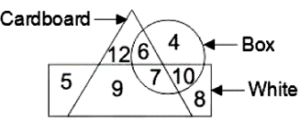 (a) 6
(b) 13
(c) 7
(d) 9
Ans. (a);
Sol. 6
Q5. Which answer figure will complete the pattern in the question figure?
कौन सी उत्तर आकृति प्रश्न आकृति में दिए गये प्रारूप को पूरा करेगी?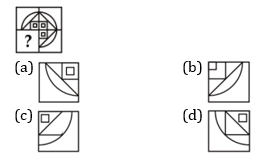 Ans. (a);
Sol.
Q6. From the given answer figures, select the one in which the question figure is hidden/embedded.
दी गयी उत्तर आकृतियों में से उस आकृति का चयन कीजिये जिसमें प्रश्न आकृति छिपी/निहित है?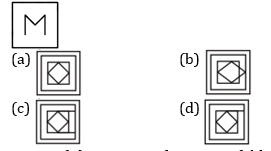 Ans.(c)
Direction (7): A piece of paper is folded and punched as shown below in the question figures. From the given answer figures, indicate how it will appear when opened?
दर्शायी गई आकृति के अनुसार एक कागज को मोड़ कर पंच किया जाता है, कागज़ को खोलने पर किस उत्तर आकृति जैसा दिखाई देगा?
Q7.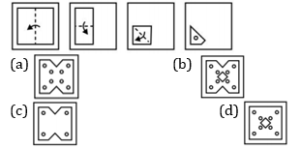 Ans.(a)
Direction (8): In the following question, select the word which cannot be formed using the letters of the given word.
निम्नलिखित प्रश्न में, दिए गए विकल्पों में से उस शब्द का चयन कीजिये जो दिए गए शब्द के अक्षरों का प्रयोग करके नहीं बनाया जा सकता है:
Q8. ENCOURAGING
(a) GRAIN
(b) RAGING
(c) GAUGE
(d) ENCOURAGE
Ans.(d);
Sol. 'ENCOURAGE'; there is no double 'E' in the given word.
Q9. In a row of cars, red car is 14th from left and 23rd from right. How many cars are there in the row?
कारों की एक पंक्ति में, लाल कार बायें से 14 वें और दायें से 23 वें स्थान पर है। पंक्ति में कितनी कार हैं?
(a) 36
(b) 37
(c) 35
(d) 34
Ans.(a);
Sol. Total cars in the row = 14 + 23 –1 = 36
Q10. A word is represented by only one set of numbers as given in any one of the alternatives. The sets of numbers given in the alternatives are represented by two classes of alphabets as shown in the given two matrices. The columns and rows of Matrix-I are numbered from 0 to 4 and that of Matrix-II are numbered from 5 to 9. A letter from these matrices can be represented first by its row and next by its column, for example, 'A' can be represented by 68, 99 etc. and 'V' can be represented by 21, 32 etc. Similarly, you have to identify the set for the word 'NORM'.
एक शब्द को दिए गए विकल्पों में से केवल एक संख्या समूह द्वारा दर्शाया जाता है। विकल्पों में दिए गए संख्याओं के समूह को अक्षरों के दो वर्गों द्वारा दर्शाया जाता है, जैसा कि नीचे दिए गए दो आव्यूह में दर्शाया गया है। आव्यूह I के स्तम्भ और पंक्ति की संख्या 0 से 4 तक दी गई है और आव्यूह II के 5 से 9 तक, इन अव्यूहों से एक अक्षर को पहले उसकी पंक्ति और बाद में स्तम्भ संख्या द्वारा दर्शाया जा सकता है। उदहारण के लिए 'A' को 68, 99 आदि द्वारा दर्शाया जा सकता है तथा 'V' को 21, 32 आदि द्वारा दर्शाया जा सकता है। इसी तरह से दिए शब्द 'NORM' के लिए समूह ज्ञात कीजिये।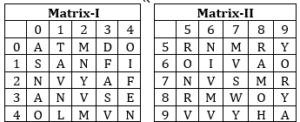 (a) 44,04,58,86
(b) 75,88,22,57
(c) 12,33,55,78
(d) 20,40,85,96
Ans.(a);
Sol. 44, 04, 58, 86
You may also like to read: