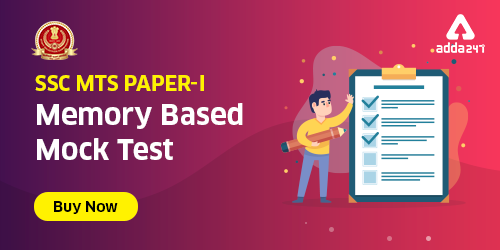 SSC MTS 2019 Exam, conducting from today is to be held in different shifts till 22 August 2019. To fulfill our motive which is to avail you with every single tool that ensures your success in the exam, SSC MTS Paper-I | Memory Based Mock Test is being provided to you at an affordable price of Rs. 49 & Rs.99 only.
There is no denying that facilitating you with Memory Based Mock Test with detailed Solutions is going to make your performance better and your approach smarter than before.
Getting aware of the exact questions appearing in SSC MTS Exam will boost your preparation to meet the requirements of level of exam questions. 
Questions' authenticity is doubt free, based on the genuine candidates' real exam experience and solutions provided by our team are enriched in details.
Mock test format is the most effective step to judge your performance and test your exam facing aptitude. Buy SSC MTS Paper-I | Memory Based Mock Test and instantly check your speed, accuracy and the position where you stand among your competitors.
You may also like to read: