SSC MTS 2018-19 is to be conducted from 2nd August to 27th September 2019. Today, in this Quantitative Aptitude quiz we are providing quantitative aptitude practice Questions with detailed Solutions to make your practice effective for quantitative aptitude Section for SSC MTS 2018-19 Exam. Attempt this quiz and prepare yourself flawlessly. We wish you good luck for all the upcoming Exams.
Q1. If the income tax is increased by 19%, the net income is reduced by 1%. The rate of income tax is:
यदि आय कर में 19% की वृद्धि होती है, तो शुद्ध आय में 1% की कमी होती है. आय कर की दर ज्ञात कीजिये?
(a) 6%
(b) 4%
(c) 5%
(d) 7.2%
S1. Ans.(c)
Sol. Old Income = 100
Old Rate = x
Old Net Income = 100 – x
New Rate = x+x×19/100
=199x/100
New Income = (100-119x/100)
(100-x)×99/100=(100-119x/100)
99-99x/100=(10000-119x)/100
9900 – 99x = 10000 – 119x
20x = 100
x = 5%
Q2. The ratio of the number of boys and girls in a school is 3 : 2. If 20% of the boys and 25% of the girls are scholarship holders, then the percentage of the students, who do not get the scholarship, is:
स्कूल में लड़कों और लड़कियों की संख्या का अनुपात 3: 2 है. यदि 20% लड़के और 25% लड़कियां छात्रवृत्ति धारक हैं. तो कितने प्रतिशत छात्र छात्रवृत्ति नहीं प्राप्त करते हैं.
(a) 78%
(b) 75%
(c) 60%
(d) 55%
S2. Ans.(a)
Sol
.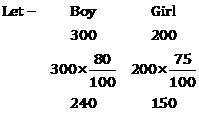 390/500×100
= 78%
Q3. Tickets for all but 100 seats in a 10,000 seat stadium were sold. Of the tickets sold, 20% were sold at half price and the remaining tickets were sold at the full price of Rs. 20. The total revenue from the ticket sales, (in Rs.) was:
एक 10,000 सीट स्टेडियम में 100 सीटों को छोड़कर सारी टिकेट बिक जाती हैं. बेचीं गई टिकिटों में, 20% आधी कीमत पर बेचीं गेन और शेष को 20रूपये की पूरी कीमत पर बेचीं गई थी.
(a) 158400
(b) 178200
(c) 180000
(d) 198000
S3. Ans.(b)
Sol. 10000 – 100
Sold = 9900
9900×80/100×20+9900×20/100×10
1600 × 99 + 200 ×99
158400 + 19800
178200
Q4. A saleable article passes successively in the hands of three traders. Each trader sold it further at a gain of 25% of the cost price. If the last trader sold it for Rs. 250 then what was the cost price for the first trader?
एक बिक्री योग्य वस्तु तीन व्यापारियों के हाथों से क्रमागत रूप से गुजरता है. प्रत्येक व्यापारी ने इसे लागत मूल्य के 25% के लाभ पर बेचा. यदि अंतिम व्यपारी इसे 250रूपये पर बेचता है तो पहले व्यपारी के लिए लागत मूल्य कितना था?
(a) Rs. 128
(b) Rs. 150
(c) Rs. 192
(d) Rs. 200
S4. Ans.(a)
Sol. 250 = x × 125/100×125/100×125/100
200=x×5/4×5/4×5/4
x = 128
Q5. A reduction of 20% in the price of salt enabled a purchaser to obtain 4 kg. more for Rs. 100. The reduced price of salt per kg is:
नमक की कीमतों में 20% की कमी होने से एक खरीदार 100रूपये में 4कि.ग्रा अधिक खरीद सकता है. नमक की कीमत में कितने रूपये प्रति कि.ग्रा की कमी हुई है?
(a) Rs. 4
(b) Rs. 5
(c) Rs. 6.25
(d) Rs. 6.50
S5. Ans.(b)
Sol.
Trick = a/x×reduction/100
100/4×20/100
= 5
Q6. A milkman makes 20% profit by selling milk mixed with water at Rs. 9 per litre. If the cost price of 1 litre pure milk is Rs. 10, then the ratio of milk and water in the said mixture is
एक दूधिया दूध और पानी के मिश्रण को 9रूपये प्रति लीटर पर बेच कर 20% का लाभ अर्जित करता है. यदि 1 लीटर शुद्ध दूध का लागत मूल्य 10रूपये है, तो दिए गए मिश्रण में दूध और पानी का अनुपात कितना है?
(a) 3 : 1
(b) 4 : 1
(c) 3 : 2
(d) 4 : 3
S6. Ans.(a)
Sol. 9 = C.P. × 120/100
C.P. = 90/12
C.P. = 15/2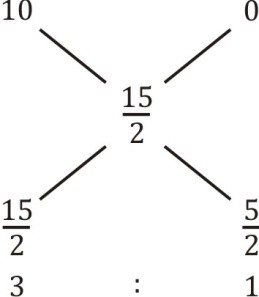 Q7. If A : B = 1/2 ∶3/8, B : C = 1/3 ∶5/9 and C : D = 5/6 ∶3/4, then the ratio A : B : C : D is
यदि A : B = 1/2 ∶3/8, B : C = 1/3 ∶5/9 और C : D = 5/6 ∶3/4, तो अनुपात A : B : C : D है:
(a) 6 : 4 : 8 : 10
(b) 6 : 8 : 9 : 10
(c) 8 : 6 : 10 : 9
(d) 4 : 6 : 8 : 10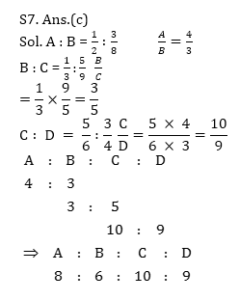 Q8. By selling 14 watches of equal cost price at the rate of Rs. 450 each, there is a profit equal to the cost price of 4 watches. The cost price of a watch is
समान लागत वाली 14 घड़ियों को प्रत्येक 450रूपये पर बेचने से, 4 घड़ियों के लागत मूल्य के समान लाभ प्राप्त होता है. एक घडी का लागत मूल्य है:
(a) 350 रूपये
(b) 360 रूपये
(c) 375 रूपये
(d) 400 रूपये
S8. Ans.(a)
Sol. S.P. of 14 clock – C.P. of 14 clock = C.P of 4 clock
S.P. of 14 clock = C.P. of 18 clock
450 × 14 = C.P. of 18 clock
C.P. of 1 clock = (450 × 14)/18
C.P. of 1 clock = 25 × 14
= 350
Q9. A merchant marks his goods 40% above the cost price and sells them at a discount of 15%. Find his gain %.
एक व्यपारी अपनी वस्तुओं पर लागत मूल्य से 40% अधिक मूल्य अंकित करता है और उन्हें 15% की छूट पर बेचता है. उसका लाभ प्रतिशत ज्ञात कीजिये:
(a) 25%
(b) 22%
(c) 19%
(d) 20%
S9. Ans.(c)
Sol. Trick–
40=((P+15)×100)/85
40 × 85 = (P + 15) × 100
3400 = (P + 15) × 100
P = 19%
Q10. Jesmine allows 4% discount on the marked price of her goods and still earns a profit of 20%. What is the cost price of a shirt if its marked price is Rs. 850?
जासमीन अपनी वस्तुओं पर अंकित मूल्य पर 4% की छूट प्रदान करती है और उसके बाद भी वह 20% लाभ अर्जित करती है. यदि उसका अंकित मूल्य 850रूपये है तो शर्ट का लागत मूल्य क्या है?
(a) Rs. 650
(b) Rs. 720
(c) Rs. 700
(d) Rs. 680
S10. Ans.(d)
Sol. 850 × 96/100=120/100 C.P.
C.P. = 85 × 8
C.P. = 680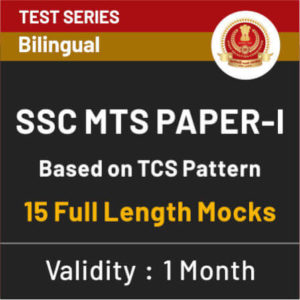 You may also like to read: