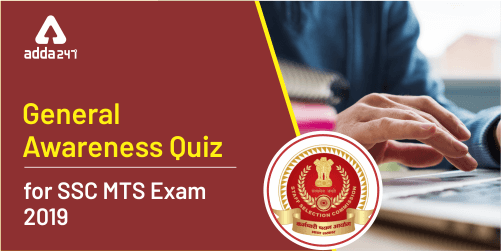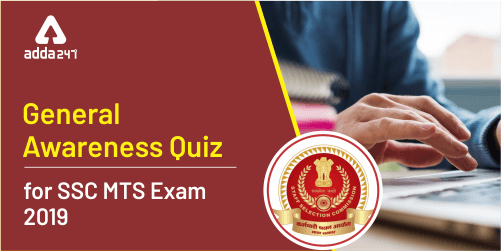 Dear Readers, GA section is taken on the light note but plays a vital role in achieving the score required to cross the cut off marks. We are providing important History Questions for this, it will help you to score well in GA section if you regularly follow the contents provided on scaffold website and Adda247 app regarding general knowledge important questions. We wish you the best wishes for all the upcoming exams.
Q1. The Objective Resolution to guide the deliberations of the Assembly was moved by –
सभा की विवेचना को निर्देशित करने के लिए उद्देश्य संकल्प किसके द्वारा लाया गया था?
(a) Jawaharlal Nehru /जवाहरलाल नेहरु
(b) Kiran Desai/किरण देसाई
(c) K Natwar Singh/के नटवर सिंह
(d) K.M. Munshi/ के. एम. मुंशी
About Course:
About SSC Maha Pack
If you are preparing for more than 1 SSC exams then this is the pack we recommend you buy.
It is most cost-effective and you get access to 100% digital content for all SSC exams on Adda247.
SSC Exams Covered in this Pack
SSC CGL, SSC CHSL, SSC CPO, Stenographer, MTS, Selection Post and GD Constable, etc.
What all You Get
All Interactive Live Classes by best teachers
All Recorded Video Courses designed by experts
All Tests Series
All eBooks
Doubt Clearing by experts
Personality Development Courses like Spoken English, Interview Techniques, and more…
SSC Maha Pack Highlights
Structured course content
Recorded classes available if you miss any live class
Previous Years' Papers of all upcoming exams.
Full Length Mocks based on the latest pattern with detailed solutions (video solutions for certain topics)
Topic level knowledge tests
Strategy sessions, time management & Preparation tips from the experts
Language: English & Hindi Medium
SSC Maha Pack


Unlimited Live Classes & Recorded Video Courses
Unlimited Tests and eBooks
1 Lakh+ Selections
Validity
14 Months
8 Months
3 Months
1 Month
BUY NOW
Show Answer
S1. Ans.(a)
Sol.Before the framing of the constitution started, an Objectives Resolution (the resolution that defined the aims of the Assembly) was moved by Jawaharlal Nehru in 1946. This resolution enshrined the aspirations and values behind the Constitution making.
Q2. Rajya Sabha member has tenure of ______ years.
राज्यसभा के सदस्य का कार्यकाल______ वर्ष होता है।
(a) 8
(b) 6
(c) 4
(d) 2
Show Answer
S2. Ans.(b)
Sol.Rajya Sabha member has tenure of 6 years.
Q3. During an emergency all of the following fundamental rights are suspended, except –
आपातकाल के दौरान निम्नलिखित मौलिक अधिकारों को निलंबित कर दिया जाता है, सिवाय –
(a) Freedom of association/ संघ की स्वतंत्रता
(b) Freedom of speech and expression/ बोलने और अभिव्यक्ति की स्वतंत्रता
(c) Right to Life and Personal Liberty/जीवन जीने तथा व्यक्तिगत स्वतंत्रता का अधिकार
(d) Freedom of assembly without arms/ हथियारों के बिना सभा करने की स्वतंत्रता
Show Answer
S3. Ans.(c)
Sol. During an emergency Right to Life and Personal Liberty cannot be suspended.
Q4.Where is the origin of Ganga and Brahmaputra rivers are situated respectively?
गंगा और ब्रह्मपुत्र नदियों का उद्गम क्रमशः कहाँ स्थित है?
(a) In Nepal and Tibet/नेपाल और तिब्बत
(b) In Tibet and Sikkim/तिब्बत और सिक्किम
(c) In Uttar Pradesh and Tibet/उत्तर प्रदेश और तिब्बत
(d) Uttarakhand and Tibet/उत्तराखंड और तिब्बत
Show Answer
S4.Ans.(d)
Sol. The river Ganga has its origin in the Western Himalayan Ranges in the state of Uttarakhand. The Brahmaputra River, also called Yarlung Tsangpo in Tibetan language, originates on the Angsi Glacier located on the northern side of the Himalayas in Burang County of Tibet.
Q5. Which of the following rivers flows from south to north?
निम्नलिखित में से कौन सी नदी दक्षिण से उत्तर की ओर बहती है?
(a) Godavari/गोदावरी
(b) Cauvery/ कावेरी
(c) Krishna/कृष्णा
(d) Betwa/बेतवा
Show Answer
S5.Ans.(d)
Sol. The Betwa or Betravati is a river in Northern India, and a tributary of the Yamuna. Also known as the Vetravati, the Betwa rises in the Vindhya Range just north of Hoshangabad in Madhya Pradesh and flows north-east through Madhya Pradesh and Orchha to Uttar Pradesh. Betwa River flows from South to North.
Q6. Burzil Pass is situated in which of the following states?
बुर्जिल दर्रा निम्नलिखित में से किस राज्य में स्थित है?
(a) Himachal Pradesh/हिमाचल प्रदेश
(b) Jammu and Kashmir/जम्मू – कश्मीर
(c) Sikkim /सिक्किम
(d) Uttarakhand/उत्तराखंड
Show Answer
S6.Ans.(b)
Sol. The Burzil Pass is an ancient pass and caravan route between Srinagar in Kashmir and Gilgit. This route was active up to Pakistan's independence.
Q7. Who was given the title of "The Ambassador of Hindu – Muslim Unity" for being the architect and mastermind of the historic Lucknow Pact?
ऐतिहासिक लखनऊ पैक्ट के वास्तुकार और मास्टरमाइंड होने के लिए "हिंदू – मुस्लिम एकता के राजदूत" का खिताब किसे दिया गया था?
(a) Sir Sayyid Ahmad Khan/ सर सैय्यद अहमद खान
(b) Fazl-ul-Haq / फजल-उल-हक
(c) Syed Mohammad Sharfuddin Quadri/ सैयद मोहम्मद शरफुद्दीन कादरी
(d) Muhammad Ali Jinnah / मुहम्मद अली जिन्ना
Show Answer
S7. Ans.(d)
Sol.Muhammad Ali Jinnah himself was the mastermind and architect of Lucknow pact. Due to the reconciliation brought about by Jinnah between the Congress and the League, the Nightingale of India, Sarojini Naidu, gave him the title of "the Ambassador of Hindu-Muslim Unity".
Q8. In ends and means relationship, Gandhiji believed___
साधन और साध्य संबंधों में, गांधीजी का मानना था कि ___
(a) Means determine the ends/साधन साध्य को निर्धारित करते है
(b) Means become good if they serve the ends/ यदि वे साध्य को पूरा करते हैं तो साधन अच्छे हो जाते हैं
(c) Ends is everything no matter what or how the means are/ साध्य सब कुछ है चाहे साधन कोई भी या कैसा भी हो
(d) Ends and means are watertight compartments/ साध्य और साधन वाटरटाइट कम्पार्टमेंट हैं
Show Answer
S8. Ans.(a)
Sol. Gandhi's ideas is that there is no ends justifying the means, it's the means that justify the ends. Gandhi is quoted as saying, "For me it is enough to know the means. Means and end are convertible terms in my philosophy of life".
Q9. In 1917, which movement was launched by Mahatma Gandhi from Champaran?
1917 में, चंपारण से महात्मा गांधी ने कौन सा आंदोलन शुरू किया था?
(a) Champaran Satyagraha/ चंपारण सत्याग्रह
(b) Non co-operation movement/ असहयोग आंदोलन
(c) Quit India movement/ भारत छोड़ो आंदोलन
(d) Swadeshi Movement/ स्वदेशी आंदोलन
Show Answer
S9. Ans.(a)
Sol.The Champaran Satyagraha of 1917, in the Champaran district of Bihar, India during the period of the British Raj, was the first Satyagraha movement inspired by Mahatma Gandhi and a major revolt in the Indian Independence Movement. Another important Satyagraha just after this revolt was Kheda Satyagraha.
Q10. Who decides the Minimum Support Price (MSP) for agricultural crops in India?
भारत में कृषि फसलों के लिए न्यूनतम समर्थन मूल्य (MSP) कौन तय करता है?
(a) Ministry of Agriculture/ कृषि मंत्रालय
(b) NABARD/नाबार्ड
(c) Commission on Agriculture Cost and Price (CACP)/ कृषि लागत और मूल्य आयोग (CACP)
(d) Ministry of Commerce/ वाणिज़़य़ मंत्रालय़
Show Answer
S10.Ans.(c)
Sol. The minimum support prices are announced by the Government of India at the beginning of the sowing season for certain crops on the basis of the recommendations of the Commission for Agricultural Costs and Prices (CACP)
You may also like to read: