Dear Aspirants,
SSC Maths Question 2019 : SSC CGL 2019 Exam notification is on its way to once again raise the bar of competition. All the four sections bag impeccable practice when it comes to SSC Exams. Considering the same, at ADDA247 we are prompted to make SSC MATHS Quiz accessible to you, aiming at a cut above preparation of latest SSC MATHS section latest pattern based questions. You are asked to practice Daily SSC MATHS Quiz at SSCADDA which encapsulates the exam like environment facilitated with extraordinary content for SSC Maths. To make headway in upcoming SSC CGL Exams, go the extra mile with our SSC Maths Quiz.
Q1. 50 litres of mixture of alcohol and water is in the ratio of 1 : 4 respectively. If 10 litres of mixture is taken off and replaced with 10 litres of water. Then what is the new ratio of alcohol and water respectively?
अल्कोहल और पानी का 50 लीटर मिश्रण क्रमशः 1: 4 के अनुपात में है। अगर 10 लीटर मिश्रण निकल लिया जाता है और 10 लीटर पानी से बदल दिया जाता है। तो क्रमशः अल्कोहल और पानी का नया अनुपात क्या है?
(a) 1 : 4
(b) 2 : 11
(c) 1 : 5
(d) 4 : 21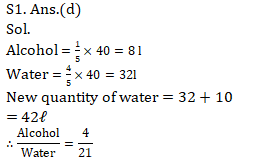 Q2. Average of 7 consecutive odd numbers is 31. If the previous and next odd number to these 7 odd numbers are also included, then what will be the new average?
7 क्रमागत विषम संख्याओं का औसत 31 है। यदि इन 7 विषम संख्याओं में पिछली और अगली विषम संख्याओं को भी शामिल किया जाता है, तो नया औसत क्या होगा?
(a) 33
(b) 31
(c) 35
(d) 29

Q3. Average weight of a class of boys is 24 kg. When a boy having weight 36 kg leaves the class and a new boy having weight 30 kg joins the class, then the average weight become 23.5 kg. How many boys are there in the class?
लड़कों की कक्षा का औसत वजन 24 किलोग्राम है। जब 36 किलो वजन वाला एक लड़का कक्षा छोड़ देता है और 30 किलो वजन वाला एक नया लड़का कक्षा में शामिल होता है, तो औसत वजन 23.5 किलोग्राम हो जाता है। कक्षा में कितने लड़के हैं?
(a) 12
(b) 8
(c) 6
(d) 16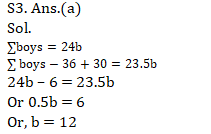 Q4. An article is sold at a profit of 50%. If the cost price is doubled and the selling price is halved, then what will be the new profit or loss percentage?
एक वस्तु 50% के लाभ पर बेची जाती है। यदि क्रय मूल्य दोगुना और विक्रय मूल्य आधा कर दिया जाता है, तो नया लाभ या हानि प्रतिशत क्या होगा?
(a) 62.5 Loss/ हानि
(b) 62.5 Profit/ लाभ
(c) 37.5 Loss/ हानि
(d) 37.5 Profit/ लाभ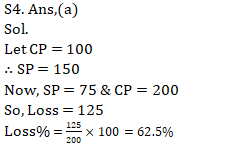 Q5. By selling a pen for Rs 105 there is a loss of 30%. At what price (in Rs) the pen must be sold in order to gain 30%?
एक पेन को 105 रुपये में बेचने से 30% का नुकसान होता है। 30% लाभ प्राप्त करने के लिए पेन को किस कीमत पर (रु में) बेचना चाहिए?
(a) 215
(b) 165
(c) 195
(d) 200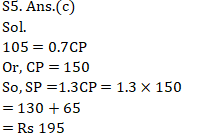 Q6. Population of a town increases by 12% every year. If the population of town will be 188160 after 2 years, then what is its present population?
किसी शहर की जनसंख्या में हर वर्ष 12% की वृद्धि होती है। यदि 2 वर्ष बाद शहर की जनसंख्या 188160 होगी, तो इसकी वर्तमान जनसंख्या क्या है?
(a) 150000
(b) 160000
(c) 155000
(d) 165000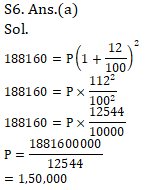 Q7. A 120 litres mixture of milk and water contains 40% milk. How much milk (in litres) must be added so that milk becomes 50%?
दूध और पानी के 120 लीटर मिश्रण में 40% दूध है। इसमें कितना दूध (लीटर में) मिलाया जाना चाहिए ताकि दूध 50% हो जाए?
(a) 28
(b) 30
(c) 24
(d) 32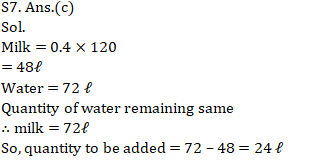 Q8. A person goes to his office by scooter at the speed of 50 km/hr and reaches 10 minutes earlier. If he goes at the speed 40 km/hr, then he reaches 20 minutes late. What will be the speed (in km/hr) of the scooter to reach on time?
एक व्यक्ति 50 किमी / घंटा की गति से स्कूटर से अपने कार्यालय जाता है और 10 मिनट पहले पहुंचता है। यदि वह 40 किमी / घंटा की गति से जाता है, तो वह 20 मिनट देरी से पहुंचता है। समय पर पहुंचने के लिए स्कूटर की गति (किमी / घंटा में) क्या होगी?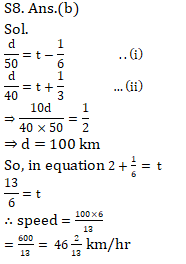 Q9. One third of a certain journey is covered at the speed of 40 km/hr, one fourth at the speed of 25 km/hr and the rest at the speed of 50 km/hr. what will be the average speed(in km/hr) for the whole journey?
एक निश्चित यात्रा का एक तिहाई 40 किमी / घंटा की गति से कवर किया जाता है, एक चौथाई 25 किमी / घंटा की गति से और शेष 50 किमी / घंटा की गति से कवर किया जाता है। पूरी यात्रा के लिए औसत गति (किमी / घंटा में) क्या होगी?
(a) 37.5
(b) 33.5
(c) 33.33
(d) 38.33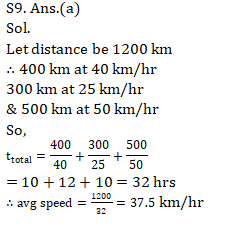 Q10. What is the simple interest (in Rs) on a principle sum of Rs 1440 for 3 years at the rate of 8% per annum?
8% प्रति वर्ष की दर से 3 वर्ष के लिए 1440 रुपये की राशि पर साधारण ब्याज (रु में) क्या है?
(a) 345.6
(b) 230.4
(c) 367.8
(d) 312.2

You May Also Like To Read :
Special Class | Trigonometry | 2 घंटे लगातार