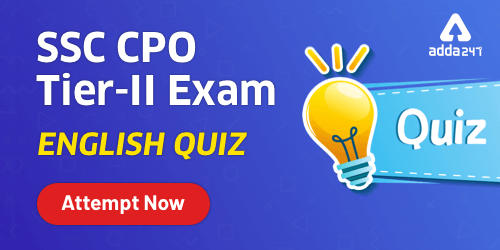 Direction (1-5): In the following question, sentences are given with blanks to be filed in with an appropriate word(s). Four alternatives are suggested for each question. Choose the correct alternative out of the four as your answer.
Q1. The cafe is a good place to take a breather with the family post shopping or to even leave __________ dads to relax with your tot, while you shop uninterrupted.
(a) Preposterous
(b) Reluctant
(c) Lanky
(d) Sturdy
Ans.(b)
Sol. Preposterous: utterly absurd or ridiculous.
Reluctant: not willing to do something and therefore slow to do it.
Lanky: ungracefully thin and tall.
Hence Option B fits in the context.
About Course:
Prepare for all SSC exams like SSC CGL,CHSL,CPO,Stenographer,MTS,Selection post and GD Constable etc from India's Best Teaching Educators!

About SSC ka Maha Pack:
SSC ka Maha Pack is a full-fledged course which incorporates all the essentials like Live online classes, Test series, Video courses, eBooks & countless unprecedented features that will help you excel in all the upcoming Teaching exams like SSC CGL,CHSL,CPO,Stenographer,MTS,Selection post and GD Constable etc

Includes:
You get access to:
200+ Hours of Live Classes

300+ Recorded Videos

500+ Total Tests

100+ Ebooks

Teacher's Class Notes/Slides.

Course Language
Classes: Hindi and English (Bilingual)
Study Material: English and Hindi
Tests: English and Hindi

Validity: 1 Month

Offer available for ADDA247 APP. Download the APP Now.
SSC Test Pack Online Test Series


1400+ Tests
Detailed Solutions and Analysis
Content by Expert Faculties
Validity
14 Months
1 Month
3 Months
BUY NOW
Q2. ___________ of fraud have prompted Ayushman Bharat administrators to announce that some key treatments should be availed through public sector institutions.
(a) Amalgamation
(b) Animosity
(c) Apprehensions
(d) Austerity
Ans.(c)
Sol. Apprehension: anxiety or fear that something bad or unpleasant will happen.
Austerity: sternness or severity of manner or attitude.
Hence Option C fits in the context.
Q3. A reader wrote to us wondering whether discussions on technological disruptions and their impact on the news ecology are a _____ to deflect attention from the failings of the news media.
(a) Problem
(b) Protest
(c) Promotion
(d) Ploy
Ans.(d)
Sol. Ploy: a cunning plan or action designed to turn a situation to one's own advantage.
Hence option D fits in the context.
Q4. This is what distinguishes it not only from tabloids, __________ numerous websites where the focus is on views.
(a) but also through
(b) but also from
(c) but from
(d) yet from
Ans.(b)
Sol. 'But also from' is the correct choice as 'not only'……'but also' is the correct conjunction pair. Also the 'preposition' used in precedent part will be used in subsequent part as well.
Hence option B fits in the context.
Q5. The Rules mandates DoT to take __________ action under the license norms and also seize the equipment, if a telecom operator fails to adhere to them,
(a) Discreet
(b) Refined
(c) Punitive
(d) Venial
Ans.(c)
Sol. Punitive: inflicting or intended as punishment.
Venial: (of a fault or offence) slight and pardonable.
Hence option C fits in the context.
Direction (6-10): In these questions some of the sentences have errors and some have none. Find out which part of a sentence has an error and indicate it corresponding to the appropriate letters. If there is no error, indicate corresponding to the last option.
Q6. After we were driving for miles (A) / on the winding road (B) / I was suddenly sick. (C) / No error (D)
(a) A
(b) B
(c) C
(d) D
Ans.(c)
Sol. Replace "I was suddenly sick" with "I suddenly felt sick".
Q7. The forecast was for fair (A) / and warm weather (B) / and the day dawned dark and chill. (C) / No error (D)
(a) A
(b) B
(c) C
(d) D
Ans.(c)
Sol. Replace 'and the day dawned dark and chill' with 'and the day turned dark and chill'. As 'Dawn' refers to the first appearance of light in the sky before sunrise. Hence 'Dawn' and 'Dark and chill' will be contrary to each other.
Q8. Beside (A) / his mother he has two aunts (B) / who stay with him. (C) / No error (D)
(a) A
(b) B
(c) C
(d) D
Ans.(a)
Sol. Replace 'beside' with 'besides'.
Q9. Either the operator (A) / or the foreman are (B) / to blame for the accident. (C) / No error (D)
(a) A
(b) B
(c) C
(d) D
Ans.(b)
Sol. Replace 'are' with 'is'. As subject 'foreman' after 'or' is singular. Hence singular verb will be used.
Q10. She dislikes (A) / you being most organized (B) / than she is. (C) / No error (D)
(a) A
(b) B
(c) C
(d) D
Ans.(b)
Sol. Replace 'most' with 'more'. As the comparison is between only 'two persons'.
You may also like to read:
All Exam | English | Bites of Grammer | 50 Most Important Rules For All Exam:-