SSC CHSL 2018-19 is to be conducted from 1 to 26 July 2019. Today, in this Reasoning quiz we are providing reasoning practice Questions Quiz with detailed Solutions to make your practice effective for reasoning Section for SSC CHSL 2018-19 Exam. Attempt this quiz and prepare yourself flawlessly. We wish you good luck for all the upcoming Exams.
Direction (1-4): Select the related word/letters/number from the given alternatives.
दिए गए विकल्पों में से संबंधित शब्द/वर्ण/संख्या का चयन कीजिये.
Q1. Hirakund : Mahanadi : : Tehri Dam : ?
हीराकुंड: महानदी:: टिहरी बाँध:?
(a) Damodar/दामोदर
(b) Bhagirathi/ भागीरथी
(c) Yamuna/यमुना
(d) Son/सोन
S1. Ans (b);
Sol. Hirakund is built on the river Mahanadi
Tehri dam is built on the river Bhagirathi
Q2. LG : WM:: DC:?
(a) IJ
(b) EF
(c) GE
(d) LI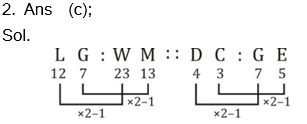 Q3. IM: RZ:: HF:?
(a) MP
(b) OK
(c) PL
(d) QR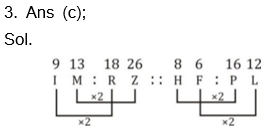 Q4. 16 : 40 : : 20 : ?
(a) 29
(b) 21
(c) 50
(d) 60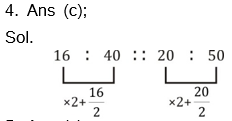 Direction (5-8): Find out the odd word/letters/ number/number pair from the given alternatives.
दिए गए विकल्पों में से विषम शब्द/वर्ण/संख्या का चयन कीजिये
Q5. (a) Mohammad Azharuddin/ मोहम्मद अजहरुद्दीन
(b) Sunil Gavaskar/ सुनील गावस्कर
(c) Dhyan Chand/ध्यानचंद
(d) Yuvraj Singh/ युवराज सिंह
S5. Ans (c);
Sol. Dhyan Chand is a Hockey Player and rest are cricketers.
Q6. (a) EV
(b) GT
(c) JQ
(d) MO
S6. Ans (d);
Sol. Except MO; all are opposite pairs of letter
Q7. (a) 4246
(b) 8314
(c) 9546
(d) 7284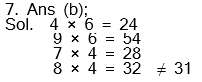 Q8. (a) 78, 26
(b) 19, 20
(c) 20, 40
(d) 36, 12
S8. Ans (b);
Sol. 19 is odd no.
Direction (9-10): A series is given with one term missing. Choose the correct alternative from the given ones that will complete the series.
नीचे एक श्रंखला दी गई है जिसमें एक पद अज्ञात है. दिए गए विकल्पों में से सही विकल ज्ञात कीजिये जो इस श्रंखला को पूरा करेगा.
Q9. Constable, Head constable, ?, Inspector
कांस्टेबल, हेड कांस्टेबल;, इंस्पेक्टर
(a) Deputy Superintendent of Police/ पुलिस उप अधीक्षक
(b) Superintendent of Police/ पुलिस अधीक्षक
(c) Sub-inspector/ सहायक निरीक्षक
(d) Assistant Commissioner of Police/ सहायक पुलिस आयुक्त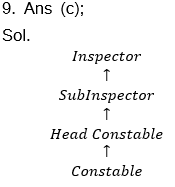 Q10. 3, 6, 9, 36, 41, ?
(a) 244
(b) 225
(c) 246
(d) 410