SSC CHSL 2018-19 is to be conducted from 1 to 26 July 2019. Today, in this Reasoning quiz we are providing reasoning practice Questions Quiz with detailed Solutions to make your practice effective for reasoning Section for SSC CHSL 2018-19 Exam. Attempt this quiz and prepare yourself flawlessly. We wish you good luck for all the upcoming.
Direction (1-4) :Select the related word/letters/number from the given alternatives.
दिए गए विकल्पों में से सम्बंधित शब्द/वर्ण/संख्या का चयन करें
Q1. Opposite : Identical : : Lengthy : ?
विपरीत: समान:: लंबा:?
(a) Tedious/ थकाऊ
(b) Longish/ दीर्घाकार
(c) Elongated/ लम्बी
(d) Short/ कम
S1. Ans(d);
Sol.
Opposite—Identical Lengthy —Short }Antonyms
Q2. GT : IV : : KX : ?
(a) FS
(b) MZ
(c) DQ
(d) BO

Q3. BCD : YXW : : FGH : : ?
(a) UTS
(b) RQP
(c) STU
(d) TUS
S3. Ans (a);
Sol.
Pair of opposite letters
Q4. 66 : 36 : : 99 : ?
(a) 18
(b) 27
(c) 81
(d) 108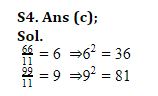 Direction (5-8) : Find out the odd word/letters/number/number pair from the given alternatives.
दिए गए विकल्पों में से विषम शब्द/वर्ण/संख्या का चयन करें
Q5 (a) Tiger/ बाघ
(b) Jaguar/ जैगुआर
(c) Leopard/ तेंदुआ
(d) Fox/ लोमड़ी
S5. Ans (d);
Sol.
Fox belongs to other family
And rest three belong to one family.
Q6. (a) YXW
(b) LKJ
(c) RQP
(d) MNO
S6. Ans(d);
Sol.
–1 series in all the three except MNO (+1 series)
Q7. 7 : 50 : : 9 : ?
(a) 37
(b) 82
(c) 17
(d) 90
S7. Ans(b);
Sol.
7² + 1 = 50
9² + 1 = 82
Q8. 23 : 8 : : 62 : ?
(a) 8
(b) 36
(c) 12
(d) 40
S8. Ans (b);
Sol.
2³ = 8 6² = 36
Q9. Rearrange the jumbled letters to make a meaningful word and then select the one which is different.
एक सार्थक शब्द बनाने के लिए जंबल किए गए अक्षरों को फिर से व्यवस्थित करें और फिर एक का चयन करें जो अलग है।
(a) ENNI
(b) NEO
(c) EPPI
(d) REETH
S9. Ans. (c)
Sol. ENNI → NINE
NEO → ONE
EPPI → PIPE
REETH → THREE
Except pipe, rest are numbers
Q10. If GUITAR = HTJSBQ, then VIOLIN = _________
यदि GUITAR = HTJSBQ, तो VIOLIN = _________
(a) WHPKHM
(b) WHPKJM
(c) WHKPHM
(d) WHKPJM
S10. Ans. (b)
Sol. +1, –1, +1, –1 …… series
You may also like to read: