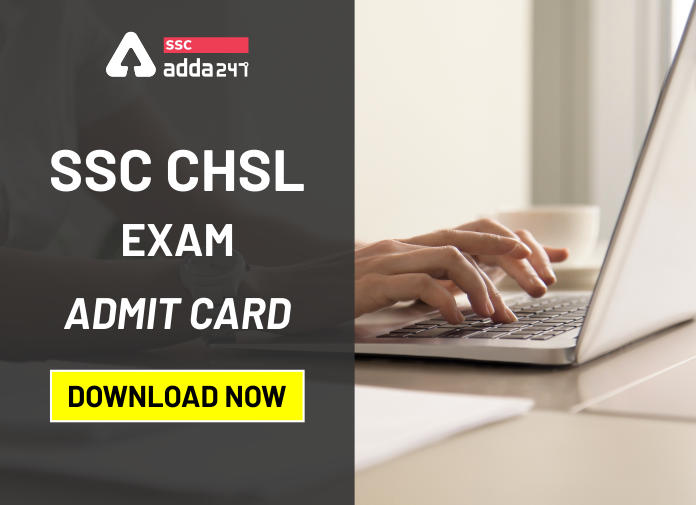 | Updated On March 18th, 2020 at 02:37 pm
SSC CHSL Admit Card 2020: Staff Selection Commission has released the admit card for SSC CHSL 2020 Tier 1 exam to be held from 17th to 28th March 2020. More than 10 lakh candidates will appear for the SSC CHSL exam where an overall 4893 vacancies were released. The exam will be held in 3 shifts each day. The direct link to download admit card for all regions (MP Sub-Region, Western Region, North Western Sub-Region, Central Region, KKR Region, Eastern Region, Southern Region, North Region, and North Eastern Region) has been provided in this post.
Click here for best SSC mock tests, video course, live batches, books or eBooks
Important Dates: SSC CHSL Admit Card 2020
SSC CHSL Admit Card 2019-2020
Organization
Staff Selection Commission (SSC)
Post Name
LDC, PA, SA, DEO
Exam Name
SSC CHSL (Combined Higher Secondary Level)
SSC CHSL Tier 1 Admit Card Release Date
4 days before the exam date
SSC CHSL Tier-I Exam Dates
17th to 28th March 2020
SSC CHSL Tier-II Admit Card
June 2020
SSC CHSL Tier-II Exam Date
28th June 2020
All Region SSC CHSL Tier 1 Admit Card 2020 Link Available
Get the direct regional website link to download the SSC CHSL Tier 1 admit card 2020. The official region wise link to download admit card for SSC CHSL 2020 Tier 1 Exam has provided below:
Region Names
State Names
SSC Zonal Websites
Admit Card
MP Sub-Region
Madhya Pradesh (MP), and Chhattisgarh
www.sscmpr.org
Download Admit Card
Western Region
Maharashtra, Gujarat, and Goa
www.sscwr.net
Download Admit Card
North Western Sub-Region
J&K, Haryana, Punjab,
and Himachal Pradesh (HP)
www.sscnwr.org
Download Admit Card
Central Region
Uttar Pradesh (UP) and Bihar
www.ssc-cr.org
Download Admit Card
KKR Region
Karnataka Kerala Region
www.ssckkr.kar.nic.in
Download Admit Card
Eastern Region
West Bengal (WB), Orrisa, Sikkim, A&N Island, and Jharkhand
www.sscer.org
Download Admit Card
Southern Region
Andhra Pradesh (AP),
Puducherry, and Tamilnadu
www.sscsr.gov.in
Download Admit Card
North Region
Delhi, Rajasthan, and Uttarakhand
www.sscnr.net.in
Download Admit Card
North Eastern Region
Assam, Arunachal Pradesh, Meghalaya, Manipur, Tripura, Mizoram, and Nagaland
www.sscner.org.in
Download Admit Card
How to download SSC CHSL Admit Card for Tier 1 exam?
The SSC CHSL Tier 1 Admit Card 2020 can be easily downloaded by following the steps provided below:
Click on the links provided redirecting you to the official regional websites of SSC.
Enter your details containing the roll number, date of birth or name, registration number etc.
Click on submit.
You can download your admit card 4 days before your exam date.
SSC CHSL Admit Card 2020 Important Instructions
In addition to the SSC CHSL Admit Card, it is mandatory to carry at least 2 passport size recent color photographs, and Original valid Photo-ID proof having the Date of Birth as printed on the Admit card. The following documents can be produced as ID proof:
Aadhaar Card/ Printout of E-Aadhaar
Voter's ID Card
Driving License
PAN Card
Passport
ID Card issued by University/ College/ School
Employer ID Card (Govt./ PSU)
Ex-serviceman Discharge Book issued by the Ministry of Defence
Any other photo-bearing valid ID card issued by the Central/ State Government
Important Points For SSC CHSL Exam Day
Note: Make sure you do not carry any accessories/prohibited items which are listed below to the examination hall:
Watches
Books
Pens
Paper chits
Magazines
Electronic gadgets (mobile phones, headphones, Bluetooth devices, pen/buttonhole cameras, scanner, storage devices, calculator,  etc)
SSC CHSL Tier 1 Exam pattern
Section
Subject
No of Questions
Max Marks
Exam Duration
1
General Intelligence
25
50
60 minutes
2
General Awareness
25
50
3
Quantitative Aptitude (Basic Arithmetic Skill)
25
50
4
English Language (Basic Knowledge)
25
50
Total
100
200
Click here to check SSC CHSL Cut off in detail
SSC CHSL Exam Centres For Tier 1 exam
SSC Region and States/ UTs under the jurisdiction of the Region
Examination Centers &
Center Code
Address of the Regional
Offices/ Website
Central Region (CR)/
Bihar and Uttar
Pradesh
Agra(3001), Allahabad(3003),
Bareilly(3005), Gorakhpur(3007) ,
Kanpur(3009), Lucknow(3010),
Meerut(3011), Varanasi(3013),
Bhagalpur(3201), Muzaffarpur(3205),Patna(3206)
Regional Director (CR),
Staff Selection
Commission,
21-23, Lowther Road,
Allahabad,
Uttar Pradesh-211002.
(http://www.ssc-cr.org)
Eastern Region (ER)/
Andaman &
Nicobar Islands,
Jharkhand, Odisha,
Sikkim and West
BengalRegional Director (ER),
Gangtok(4001), Ranchi(4205),
Barasat(4402), Berhampore
(WB)(4403), Chinsurah (4405),
Jalpaiguri(4408), Kolkata(4410),
Malda(4412), Midnapur(4413),
Siliguri(4415), Berhampore(Odisha)
(4602), Bhubaneshwar(4604),
Cuttack(4605), Keonjhargarh(4606),
Sambalpur(4609), Port Blair (4802)
Regional Director (ER),
Staff Selection
Commission,
1st MSO Building,(8th
Floor), 234/4,
Acharya Jagadish
Chandra Bose
Road, Kolkata,
West Bengal-700020
(www.sscer.org)
Karnataka, Kerala
Region (KKR)/
Lakshadweep,
Karnataka and
Kerala
Bangalore(9001), Dharwar(9004),
Gulbarga(9005), Mangalore(9008),
Mysore(9009), Kochi(9204),
Kozhikode(Calicut)(9206),
Thiruvananthapuram(9211), Thrissur(9212)
Regional Director (KKR),
Staff Selection Commission, 1st Floor,
"E" Wing, Kendriya
Sadan, Koramangala,
Bengaluru,
Karnataka-560034
(www.ssckkr.kar.nic.in)
Madhya Pradesh
Sub-Region (MPR)/
Chhattisgarh and
Madhya Pradesh
Bhopal(6001), Chindwara(6003),
Guna(6004), Gwalior(6005),
Indore(6006), Jabalpur(6007),
Khandwa(6009), Ratlam(6011),
Satna(6014), Sagar(6015),
Ambikapur(6201), Bilaspur(6202)
Jagdalpur(6203), Raipur(6204),
Durg(6205)
Dy. Director (MPR),
Staff Selection
Commission,
J-5, Anupam Nagar,
Raipur,
Chhattisgarh-492007
(www.sscmpr.org)
Northern Region (NR)/
NCT of Delhi,
Rajasthan and
UttarakhanRegional Director (NR),
Staff Selection Commission,
Block No. 12,
CGO Complex, Lodhi
Road, New Delhi-110003
(www.sscnr.net.in)
Almora(2001), Dehradun(2002),
Haldwani(2003), Srinagar
(Uttarakhand)(2004),
Haridwar(2005), Delhi(2201),
Ajmer(2401), Alwar(2402),
Bharatpur(2403), Bikaner(2404),
Jaipur(2405), Jodhpur(2406),
Kota(2407), Sriganganagar(2408),
Udaipur(2409)
Regional Director (NR),
Staff Selection Commission,
Block No. 12,
CGO Complex, Lodhi
Road, New Delhi-110003(www.sscnwr.org)North Western
North Western
Sub-Region (NWR)/
Chandigarh,
Haryana, Himachal
Pradesh, Jammu
and Kashmir and
Punjab
Anantnag(1001), Baramula(1002),
Jammu(1004), Leh(1005),
Rajouri(1006),
Srinagar(J&K)(1007), Kargil(1008),
Dodda (1009), Hamirpur(1202),
Shimla(1203), Bathinda(1401),
Jalandhar(1402), Patiala(1403),
Amritsar(1404), Chandigarh(1601)
Dy. Director (NWR),
Staff Selection
Commission,
Block No. 3, Ground
Floor, Kendriya Sadan,
Sector-9, Chandigarh160009
(www.sscnwr.org)
Southern Region (SR)/
Andhra Pradesh,
Puducherry, Tamil
Nadu and
Telangana.
Guntur(8001), Kurnool(8003),
Rajahmundry(8004), Tirupati(8006),
Vishakhapatnam(8007),
Vijaywada(8008), Chennai(8201),
Coimbatore(8202), Madurai(8204),
Tiruchirapalli(8206), Tirunelveli(8207),
Puducherry(8401),Hyderabad(8601),
Nizamabad(8602), Warangal(8603)
Regional Director (SR),
Staff Selection
Commission, 2nd Floor, EVK
Sampath Building,
DPI Campus,
College Road, Chennai,
Tamil Nadu-600006
(www.sscsr.gov.in) Western Region
Western Region
(WR)/
Dadra and Nagar
Haveli, Daman and
Diu, Goa, Gujarat
and Maharashtra
Ahmedabad(7001),
Vadodara(7002), Rajkot(7006),
Surat(7007), Bhavnagar(7009),
Kutch(7010), Amravati(7201),
Aurangabad(7202),
Kolhapur(7203), Mumbai(7204),
Nagpur(7205), Nanded (7206),
Nashik(7207), Pune(7208),
Thane(7210), Bhandara(7211),
Chandrapur(7212), Akola(7213),
Jalgaon(7214), Ahmednagar(7215),
Alibaug(7216), Panaji(7801)
Regional Director (WR),
Staff Selection
The commission,1st Floor,
South Wing,
Pratishtha Bhawan,
101, Maharshi Karve
Road, Mumbai,
Maharashtra-400020
(www.sscwr.net)
North Eastern
Region (NER)/
Arunachal Pradesh,
Assam, Manipur,
Meghalaya,
Mizoram, Nagaland
and Tripura.
Itanagar(5001), Dibrugarh(5102),
Guwahati(Dispur)(5105),
Jorhat(5107), Silchar(5111),
Kohima(5302), Shillong(5401),
Imphal(5501),
Churachandpur(5502),
Ukhrul(5503), Agartala(5601),
Aizwal(5701)
Regional Director (NER),
Staff Selection
Commission,
Housefed Complex,
Last Gate-Basistha
Road, P. O. Assam
Sachivalaya, Dispur,
Guwahati, Assam781006
(www.sscner.org.in)
FAQ related to SSC CHSL Admit Card 2020 
Q. Is it compulsory to carry the admit card to the exam centre?
Yes, you will not be allowed to sit for the examination without the print out of the admit card.
Q. What are the details mentioned in the SSC CHSL Tier 1 admit card?
The admit card will contain details of the candidates such as exam date, timings, exam centre, roll number, registration number, password etc.
Q. What should I carry to the exam centre along with the admit card?
You must carry 2 passport sized photographs and One original Photo identity proof. The date of birth mentioned on the ID proof must contain the date, month and year.
Q. Can I change my test centre after the release of the admit card?
No, you can't change the test community once distributed by the authorities.
Click here for Free Study Material For SSC Exams 2019-2021
Click here for best SSC mock tests, video course, live batches, books or eBooks