New Vendor TCS and Normalisation, isn't this year full of excitement for SSC aspirants! And no devoted aspirant would like to miss it for sure. When you are pulling out all the stops to sail through a competitive examination, you cannot give a cold shoulder to objective type exam that catapults you to a seat in the government sector.
ADDA247 provides you an opportunity to prepare for such cut-throat competitive exams anytime and anywhere through our unbeatable video courses.
Our video course is facilitated with Detailed video lessons to make you clear your concepts to the core. With 500+ Video Lectures, 400+ Mock Tests, 200+ E-Books, Comprehensive SSC CGL Supreme(Hindi Medium) Video Course makes you a winner at just Rs.5,999. Containing Test series and Ebooks to practice more and more level based various types of questions, this Video Course is all you need to utilize your time in the best possible way. Also we provide doubt resolving facility too to clear your doubts on the go.
We think it's Worth Your Time Because:
a. Adda247 is a National Leader in terms of preparing Content/Test Series/Videos for the past 3 years.
b. We have taught around 50,000 students in 2018 and more than 1 lakh have availed Our Video Courses.
c. With 2.7 Million Youtube Subscribers we have the trust and experience behind us for providing the best learning for SSC CGLE and Others.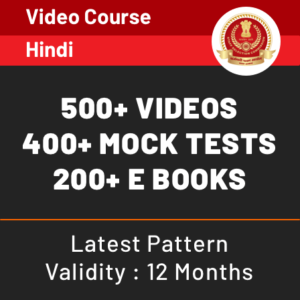 You may also like to read: