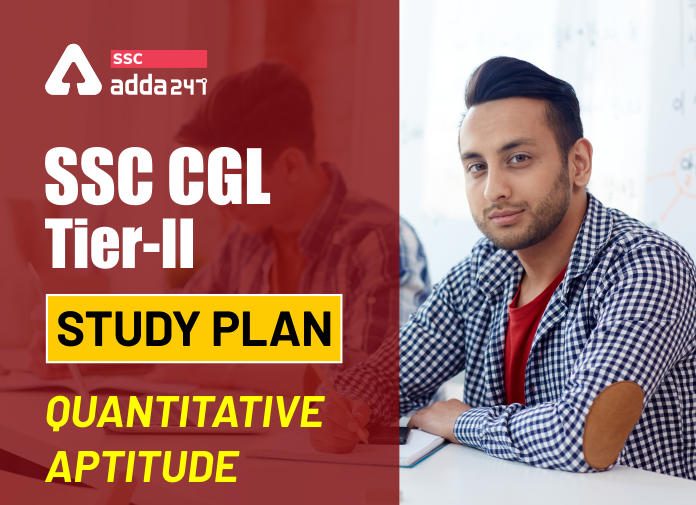 SSC CGL Tier 2 Study Plan For Quantitative Aptitude
SSC CGL Study Plan Tier 2 For Quantitative Aptitude: SSC CGL Tier 2 is scheduled to be held from 22nd to 25th June 2020 for the students qualifying in the SSC CGL Tier 1 exam held from 3rd to 9th March 2020. The SSC CGL Tier 2 exam will comprise of 2 compulsory papers namely Paper 1 and Paper 2. Paper 1 will consist of 100 questions from the Quantitative Aptitude section from various topics of arithmetic and advance Maths carrying 2 marks each to be completed in 2 hours. Paper 2 will contain 200 questions from the English Language carrying one mark each to be attempted in 2 hours.
As scoring high marks in Quantitative aptitude can be a daunting task for many aspirants, we are providing you with the SSC CGL Tier 2 study plan for Quantitative aptitude. Take a look at the number of questions asked from each topic over the years and start practising with the help of daily quizzes provided in the table below from 23rd March 2020. The study plan for the SSC CGL Tier 2 English language will also be provided separately.
About Course:
Prepare for all SSC exams like SSC CGL,CHSL,CPO,Stenographer,MTS,Selection post and GD Constable etc from India's Best Teaching Educators!

About SSC ka Maha Pack:
SSC ka Maha Pack is a full-fledged course which incorporates all the essentials like Live online classes, Test series, Video courses, eBooks & countless unprecedented features that will help you excel in all the upcoming Teaching exams like SSC CGL,CHSL,CPO,Stenographer,MTS,Selection post and GD Constable etc

Includes:
You get access to:
200+ Hours of Live Classes

300+ Recorded Videos

500+ Total Tests

100+ Ebooks

Teacher's Class Notes/Slides.

Course Language
Classes: Hindi and English (Bilingual)
Study Material: English and Hindi
Tests: English and Hindi

Validity: 1 Month

Offer available for ADDA247 APP. Download the APP Now.
SSC Test Pack Online Test Series


1400+ Tests
Detailed Solutions and Analysis
Content by Expert Faculties
Validity
14 Months
1 Month
3 Months
BUY NOW
Get Best Study Material for SSC CGL Tier 2 Exam
SSC CGL EXPECTED Cut Off | Comparison with Previous Years
SSC CGL Tier 2 Quantitative Aptitude Study Plan: Topic Wise Quizzes
DAY/DATE
Topic & Link Of Quiz
App Link
Web Link
23rd March
Number System/HCF/LCM
[14-16 Marks]
Attempt Now
Attempt Now
24th March
Number System/HCF/LCM
[14-16 Marks]
Attempt Now
Attempt Now
25th March
Ratio, Mixture & Allegation
[12-14 Marks]
Attempt Now
Attempt Now
26th March
Ratio, Mixture & Allegation
[12-14 Marks]
Attempt Now
Attempt Now
27th March
Percentage, Average
[12-20 Marks]
Attempt Now
Attempt Now
28th March
Percentage, Average
[12-20 Marks]
Attempt Now
Attempt Now
29th March
FREE PDF
Questions PDF
Solutions PDF
30th March
Time & Work, Pipe & Cistern
[10-12 Marks]
Attempt Now
Attempt Now
31st March
Profit & Loss, Discount
[18-20 Marks]
Attempt Now
Attempt Now
1st April
Profit & Loss, Discount
[18-20 Marks]
Attempt Now
Attempt Now
2nd April
Interest (CI & SI)
[8-10 Marks]
Attempt Now
Attempt Now
3rd April
Interest (CI & SI)
[8-10 Marks]
Attempt Now 
Attempt Now
4th April
Partnership & DI
[8-10 Marks]
Attempt Now
Attempt Now
5th April
Partnership & DI
Attempt Now
Attempt Now
6th April
Surds & Indices, Simplification
Attempt Now
Attempt Now
7th April
Algebra
[10-20 Marks]
Attempt Now
Attempt Now
8th April
Algebra
[10-20 Marks]
Attempt Now
Attempt Now
9th April
Algebra
[10-20 Marks]
Attempt Now
Attempt Now
10th April
Algebra
[10-20 Marks]
Attempt Now
Attempt Now
11th April
Algebra
[10-20 Marks]
Attempt Now
Attempt Now
12th April
Free PDF
Attempt Now
Attempt Now
13th April
Trigonometry, Height & Distance
[18-22 Marks]
Attempt Now
Attempt Now
14th April
Trigonometry, Height & Distance
[18-22 Marks]
Attempt Now
Attempt Now
15th April
Trigonometry, Height & Distance
[18-22 Marks]
Attempt Now
Attempt Now
16th April
Trigonometry, Height & Distance
[18-22 Marks]
Attempt Now
Attempt Now
17th April
Geometry
[24-30 Marks]
Attempt Now
Attempt Now
18th April
Geometry
[24-30 Marks]
Attempt Now
Attempt Now
19th April
FREE PDF
Question PDF
Solution PDF
20th April
Geometry
[24-30 Marks]
Attempt Now
Attempt Now
21st April
 Mensuration
[22-30 Marks]
Attempt Now
Attempt Now
22nd April
 Mensuration
[22-30 Marks]
Attempt Now
Attempt Now
23rd April
 Mensuration
[22-30 Marks]
Attempt Now
Attempt Now
24th April
DI
[10-14 Marks]
Attempt Now
Attempt Now
25th April
Misc Quiz
[10-14 Marks]
Attempt Now
Attempt Now
27th April
Mensuration
[22-30 Marks]
Attempt Now
Attempt Now
28th April
Mensuration
[22-30 Marks]
Attempt Now
Attempt Now
29th April
Height And Distance
[6-10 Marks]
Attempt Now
Attempt Now
30th April
Mensuration
[22-30 Marks]
Attempt Now
Attempt Now
Click here to check SSC CGL Salary
SSC CGL 2020 Study plan : Topic Wise Distribution Of Questions in Quantitative Aptitude Over the years
SSC CGL Tier 2: Topic Wise Distribution Of Questions in Quantitative Aptitude
S.No
Topic
2012
2013
2014
2015
2016
2017
2018
1
Number System/HCF/LCM
7
8
7
7
10
7
8
2
Percentage, Average
10
8
10
9
10
7
6
3
Time & Work, Pipe & Cistern
6
6
6
5
6
5
4
4
Profit & Loss, Discount
10
11
11
10
10
9
9
5
Ratio, Mixture & Alligation
6
6
4
4
7
8
6
6
Time Speed Distance, Boat & Stream Trains
4
5
6
8
4
3
4
7
Interest (CI & SI)
4
4
5
4
3
4
4
8
Geometry
18
14
15
13
15
12
13
9
Mensuration
11
15
11
13
10
13
13
10
Trigonometry, Height & Distance
9
7
10
9
10
9
11
11
DI
5
4
5
5
5
5
7
12
Algebra
7
8
10
11
10
10
5
13
Surds & Indices, Simplification
2
4
0
2
0
3
3
14
Partnership
–
–
–
–
–
2
2
15
Coordinate Geometry
–
–
–
–
–
–
2
16
Misc.
–
–
–
–
–
–
Total
100 Questions