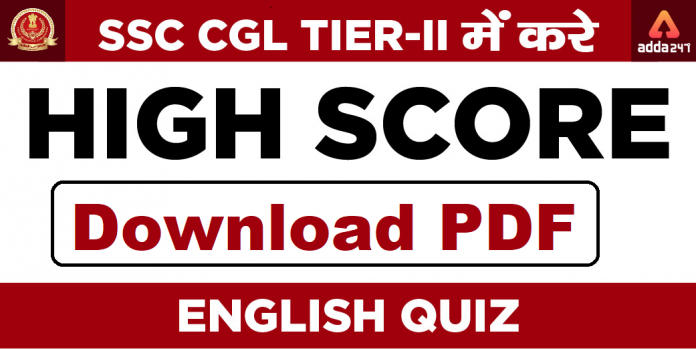 SSC CGL 2018-19 Tier 2 is to be conducted from 11 to 13 September 2019. With 200 questions for 200 marks, English Language Section plays a vital role in the final selection of a candidate.  SSC CGL Tier 2 English quizzes being provided daily on SSCADDA are in the interest of candidates qualifying for SSC CGL Tier 2 and question quality is solely based on the expected experimentation of English Question paper for CGL Mains. 
About Course:
Prepare for all SSC exams like SSC CGL,CHSL,CPO,Stenographer,MTS,Selection post and GD Constable etc from India's Best Teaching Educators!

About SSC ka Maha Pack:
SSC ka Maha Pack is a full-fledged course which incorporates all the essentials like Live online classes, Test series, Video courses, eBooks & countless unprecedented features that will help you excel in all the upcoming Teaching exams like SSC CGL,CHSL,CPO,Stenographer,MTS,Selection post and GD Constable etc

Includes:
You get access to:
200+ Hours of Live Classes

300+ Recorded Videos

500+ Total Tests

100+ Ebooks

Teacher's Class Notes/Slides.

Course Language
Classes: Hindi and English (Bilingual)
Study Material: English and Hindi
Tests: English and Hindi

Validity: 1 Month

Offer available for ADDA247 APP. Download the APP Now.
SSC Test Pack Online Test Series


1400+ Tests
Detailed Solutions and Analysis
Content by Expert Faculties
Validity
14 Months
1 Month
3 Months
BUY NOW
Direction (1-2): Choose among the following that best expresses the meaning of the given word.
Q1. Persist
(a) abandon
(b) cease
(c) remain
(d) ruin
Q2. Cogent
(a) suspicious
(b) muddled
(c) vague
(d) plausible
Direction (3-5): In the following questions, out of the four alternatives, select the word opposite in meaning to the word given.
Q3. Turbulent
(a) unsettled
(b) moderate
(c) stormy
(d) anarchic
Q4. Alluring
(a) obnoxious
(b) appealing
(c) enticing
(d) charming
Q5. Empathy
(a) rapport
(b) harmony
(c) affinity
(d) atrocity
Directions (6-7): Four alternatives are given for the Idioms/Phrase printed in bold. Choose the alternative which best expresses the meaning of Idiom/Phrase.
Q6. Pie in the sky
(a) a successful journey
(b) an empty wish
(c) feeling of excitement
(d) talkative
Q7. At one's wit's end
(a) involved in a dispute
(b) excessive desires
(c) in a state of distress
(d) in poverty
Q8. In the dark
(a) greedily
(b) covertly
(c) mannerly
(d) strongly
Direction (9-10): In the following questions, four words are given out of which one word is incorrectly spelt. Select the incorrectly spelt word.
Q9.
(a) problematic
(b) cryptic
(c) hypothesis
(d) lethergic
Q10.
(a) bucolic
(b) mechaenic
(c) patriotic
(d) gigantic
                                                                     Solutions
S1. Ans.(c)
Sol. Persist: continue to exist; be prolonged.
S2. Ans.(d)
Sol. Cogent: (of an argument or case) clear, logical, and convincing.
Plausible: (of an argument or statement) seeming reasonable or probable.
S3. Ans.(b)
Sol. Turbulent: characterized by conflict, disorder, or confusion; not stable or calm.
S4. Ans.(a)
Sol. Alluring: powerfully and mysteriously attractive or fascinating; seductive.
Obnoxious: extremely unpleasant.
S5. Ans.(d)
Sol. Empathy: the ability to understand and share the feelings of another.
Atrocity: an extremely wicked or cruel act.
S6. Ans.(b)
S7. Ans.(c)
S8. Ans.(b)
S9. Ans.(d)
S10. Ans.(b)
Got a Query? Register it here & our team will get back to you with a solution
You may also like to read:
Click on below provided YouTube Video to watch latest pattern based English Questions for SSC CGL Tier 2 2018-19. Follow ADDA247 YouTube Channel for preparation of Govt. exams.