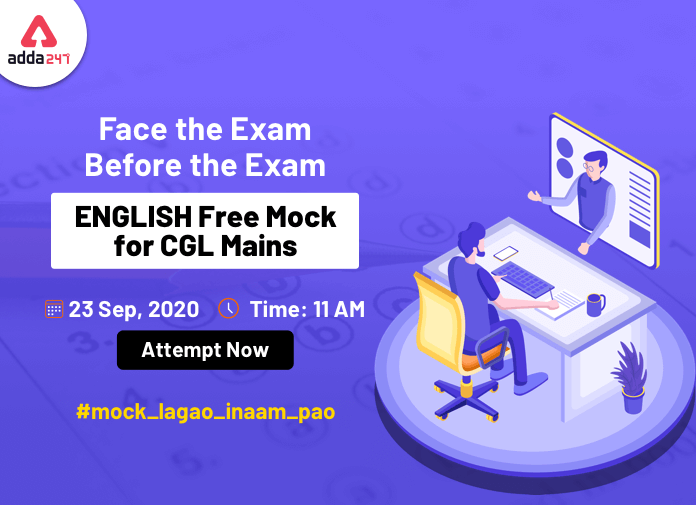 SC CGL Tier 2 is scheduled to be held from 2nd November to 5th November 2020 for the students qualifying in the SSC CGL Tier 1 exam. Paper 2 will contain 200 questions from the English Language carrying one mark each to be attempted in 2 hours. Paper 2 can be scoring in nature if practiced thoroughly on a daily basis.
To help the aspirants ace the SSC CGL Tier 2 examination and score high marks in the English section, we are conducting the SSC CGL Tier 2 English free mock for SSC CGL on 23rd Sept September 2020. Candidates can register now for the free mock and attempt the mock to check their preparation. The mock will help you get an idea about the questions asked in the exam and you can improve your speed to score high marks in the exam. Click on the link given below to register now for SSC CGL Tier 2 English free mock and win exciting prizes. #mock_lagao_inaam_pao 
About Course:
Do you Know? This package gives access to all digital study material launched over the next 12 months!
Most recommended & NRA-CET ready
Subscribe | Practice | Succeed
With SSC Test Pack Subscription, get unlimited mock tests, previous year papers, practice sets, study notes, and e-books.
Beat the competition with the SSC Test Pack.
Features of this Pack
SSC Test Package Includes
Note: We are providing a few complimentary eBooks (either English or Hindi)
MPN: SA-E-TS-2976
Validity: 12 Months
SSC CGL Tier-II Prime 2020 Online Test Series
40 Full Length Mocks
19 Previous Years' Mocks ( 2017-2018)
Detailed Solutions
BUY NOW
SSC CGL Tier-II English Mock Test 
What: SSC CGL TIER-II MAHA MOCK
When: 23rd Sept September 2020.
Time: 11 AM
Motive: To help the aspirants to practice for the SSC CGL Tier-II
Cost: Nil
Click on the above link and register yourself to attempt the SSC CGL tier II Maha mock. Aspirants can attempt the Maha Mock on Adda247 Store and Adda247 App in the time as mentioned above. Pull up your socks and be ready for the exam of the month: SSC CGL Tier II Maha Mock. 
Rules to attempt SSC CGL Tier 2 Mock
1) Students need to register here in order to attempt SSC CGL English Mock on 23rd Sept 2020.
2) Time for SSC CGL Engish Mock: 11 am [23rd Sept 2020]
3) Students would be informed of the right link; 15 mins prior to the exam starts
4) Toppers will be declared on 24th Sept, only 1st Maha Mock Attempt would be considered.