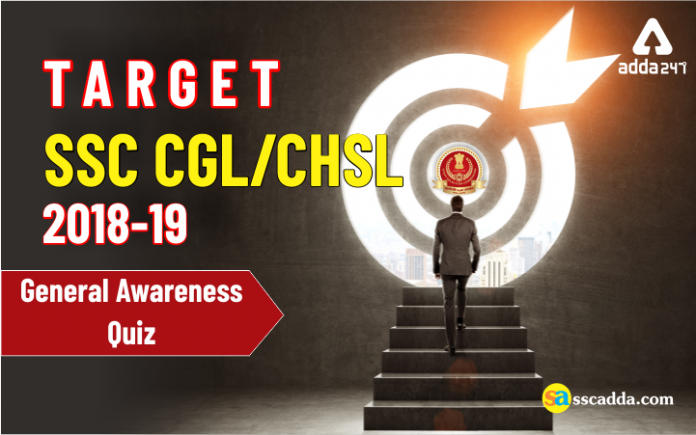 Dear Readers, GA section is taken on the light note but plays a vital role in achieving the score required to cross the cut off marks. We are providing important Static Awareness Questions for this, it will help you to score well in GA section if you regularly follow the contents provided on scaffold website and Adda247 app regarding general knowledge important questions. We wish you the best wishes for all the upcoming exams.
Q1. Export Credit Guarantee Corporation of India Ltd. ( ECGC ) is a Government of India Enterprise which provides export credit insurance facilities to exporters and banks in India. Where is the headquarter of ECGC Bank?
निर्यात क्रेडिट गारंटी निगम लिमिटेड (ECGC) भारत सरकार का एक उद्यम है जो भारत में निर्यातकों और बैंकों को निर्यात क्रेडिट बीमा सुविधाएं प्रदान करता है. ECGC बैंक का मुख्यालय कहां है?
(a) New Delhi/ नई दिल्ली
(b) Mumbai / मुंबई
(c) Kolkata/ कोलकाता
(d) Chennai/चेन्नई
S1. Ans.(b)
Sol. The ECGC Limited (Formerly Export Credit Guarantee Corporation of India Ltd) is a company wholly owned by the Government of India based in Mumbai, Maharashtra. It provides export credit insurance support to Indian exporters and is controlled by the Ministry of Commerce.
Q2. Which among the following is not a work of Rabindranath Tagore?
निम्नलिखित में से कौन सी रवींद्रनाथ टैगोर की कृति नहीं है??
(a) Gitanjali / गीतांजली
(b) Chithrangada / चित्रांगदा
(c) The Court Dancer / कोर्ट डांसर
(d) Kapala Kundala / कपाल कुंडला
Show Answer
S2. Ans.(d)
Sol. Kapalkundala, also known as Mrinmoyee, is a Bengali romance novel by Indian writer Bankim Chandra Chattopadhyay. Published in 1866, it is a story of a forest-dwelling girl named Kapalkundala, who fell in love and got married to Nabakumar, a young gentleman from Saptagram, but eventually found that she is unable to adjust herself with the city life.
Q3. The headquarters of UNESCO is in
यूनेस्को का मुख्यालय कहाँ है?
(a) New York / न्यूयॉर्क
(b) The Hague / हेग
(c) Paris / पेरिस
(d) Moscow / मॉस्को
S3. Ans.(c)
Sol. Located on the Place de Fontenoy, in Paris, the main building which houses the Headquarters of UNESCO was inaugurated on 3 November 1958. The Y-shaped design was invented by three architects of different nationalities under the direction of an international committee.
Q4. Capital of Argentina is?
अर्जेंटीना की राजधानी क्या है?
(a) Nassau/ नासाउ
(b) Bridgetown/ ब्रिजटाउन
(c) Yerevan/ येरेवान
(d) Buenos Aires/ ब्यूनस आयर्स
S4. Ans.(d)
Sol. Argentina is a massive South American nation with terrain encompassing Andes mountains, glacial lakes and Pampas grassland, the traditional grazing ground of its famed beef cattle. The country is famous for tango dance and music. Buenos Aires is Argentina's big, cosmopolitan capital city. Its center is the Plaza de Mayo, lined with stately 19th-century buildings including Casa Rosada, the iconic, balconied presidential palace. Currency is peso.
Q5. Which city is also known as Temple City of India?
किस भारतीय शहर को मंदिर शहर के रूप में भी जाना जाता ?
(a) Bhubaneswar/भुबनेश्वर
(b) Mathura/मथुरा
(c) Rishikesh/ऋषिकेश
(d) Haridwar/हरिद्वार
S5. Ans.(a)
Sol. Bhubaneswar, is the capital of the Indian state of Odisha. With many 8th-12th century CE Hindu temples, which span the entire spectrum of Kalinga architecture, Bhubaneswar is often referred to as a "Temple City of India".
Q6. Vennar subbasin of the Cauvery delta is situated in the state of ………………..?
कावेरी डेल्टा के वेनेर सबबेसिन ……………… राज्य में स्थित है?
(a) Kerala/केरल
(b) Odisha/ओडिशा
(c) Tamil Nadu /तमिल नाडू
(d) Karnataka/कर्नाटक
S6. Ans.(c)
Sol. Cauvery Delta Zone (CDZ) lies in the eastern part of Tamil Nadu. It is bounded by the Bay of Bengal on the East and the Palk straight on the South, Trichy district on the west, Perambalur, Ariyalur districts on the north west, Cuddalore district on the North and Puddukkottai district on the South West.
Q7. 'Follow-on' is used which of the following game?
'फॉलो-ऑन' का उपयोग निम्न में से किस गेम में होता है?
(a) Badminton/बैडमिंटन
(b) Tennis/टेनिस
(c) Football/फुटबॉल
(d) Cricket /क्रिकेट
S7. Ans.(d)
Sol. In cricket, a follow-on is where the team that bats second is forced to take its second batting innings immediately after its first, because the team was not able to get close enough to the score achieved by the first team batting in the first innings. If the second team to bat scores substantially fewer runs than the first team, the first team have the option of enforcing the follow-on, that is, instructing the second team to bat again immediately. In this case the sequence of batting innings will be first team, second team, second team and then, if required, the first team again.
Q8. Headquarter of Union Bank of India is in ______________
यूनियन बैंक ऑफ इंडिया का मुख्यालय ______________ में है
(a) Mumbai/मुंबई
(b) New Delhi/नई दिल्ली
(c) Kolkata/कोलकाता
(d) Chennai/चेन्नई
S8. Ans.(a)
Sol. Union Bank of India is one of the largest government-owned banks of India. It is listed on the Forbes 2000, and has assets of USD 13.45 billion. All the bank's branches have been networked with its 6909 ATMs as on 30 September 2015. Its headquater is in Mumbai.
Q9. Ustad Amjad Ali Khan belongs to
उस्ताद अमजद अली खान किस से संबंधित है?
(a) Sarod /सरोद
(b) Shehnai/शेहनाई
(c) Sarangi /सारंगी
(d) Guitar/गिटार

S9. Ans.(a)
Sol. Amjad Ali Khan is an Indian classical musician who plays the Sarod. Khan was born into a musical family and has performed internationally since the 1960s. He was awarded India's second highest civilian honor Padma Vibhushan in 2001.
Q10. The McMahon Line is a line agreed to by Britain and Tibet as part of the Shimla Accord, a treaty signed in 1914. It is the effective boundary between which country?
मैकमोहन लाइन 1914 में हस्ताक्षर किए गए एक संधि शिमला एकॉर्ड के हिस्से के रूप में ब्रिटेन और तिब्बत द्वारा सहमत एक रेखा है. यह किन देशों के बीच प्रभावी सीमा है?
(a) Pakistan and China/पाकिस्तान और चाइना
(b) India and Pakistan/भारत और पाकिस्तान
(c) India and China /भारत और चाइना
(d) Nepal and China/नेपाल और चाइना
S10. Ans. (c)
Sol. The McMahon Line is a border line between Northeast India and Tibet proposed by Henry MacMahon at the 1914 Simla Convention which was considered invalid by both Tibetans and Chinese government. It is the effective boundary between China and India, although its legal status is disputed by the Chinese government.