Dear aspirants,
As you all know, the upcoming months are lined up with various important exams like SSC CGL Mains 2018, so we are here to help you with the subject that is common to all of the given exams. We are providing daily quantitative aptitude quizzes, practice which will help you to score good marks in this section. We aim to provide the best study material to our readers with exam level questions to help them get used to the recent pattern. Attempt this quiz and check your preparation.
Q1. A man sets out to cycle from A to B, and at the same time another man starts from B to cycle to A. After passing each other they complete their journey in 3 1/3 and 4 4/5 hours respectively. At what rate does the second man cycle if the first cycle 8 km per hour?
एक व्यक्ति A से B तक साइकिल चलाने के लिए निकलता है, और उसी समय एक और आदमी B से A तक जाने के लिए शुरू होता है। एक दूसरे को पार करने के बाद वे क्रमशः 3 1/3 और 4 4/5 घंटे में अपनी यात्रा पूरी करते हैं। यदि पहला व्यक्ति 8 किमी प्रति घंटा से साइकिल चलाता हो तो दूसरा आदमी किस दर पर साइकिल चलाता है?
(a) 2 2/3 km/h
(b) 6 2/3 km/h
(c) 3 1/3 km/h
(d) 5 1/3 km/h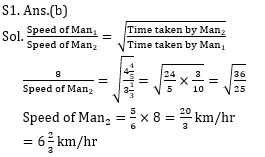 Q2. A car can cover a certain distance in 4 1/2 h. If the speed is increased by 5 km/hr, it would take 1/2 h less to cover the same distance. Find the slower speed of the car.
एक गाडी एक निश्चित दूरी 4 1/2 घंटे में तय करती है. अगर गति 5 किमी / घंटा तक बढ़ा दी जाती है, तो वह उसी दूरी को आधे घंटे कम में तय करेगी. कार की धीमी गति बताएं.
(a) 50 km/hr
(b) 40 km/hr
(c) 45 km/hr
(d) 60 km/hr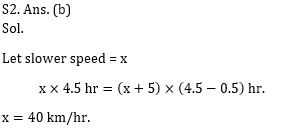 Q3. A boat moves downstream at the rate of 1 km in 7.5 minutes and upstream at the rate of 5 km an hour. Find the speed of the boat in still water.
एक नौका 7 ½ मिनट में 1 कि.मी. की चाल से धारा के अनुकूल जाती है और 1 घंटे में 5 किमी की चाल से धारा के प्रतिकूल जाती है. स्थिर जल में नौका की चाल कितनी होगी?
(a) 8.5 km/h
(b) 6.5 km/h
(c) 7.00 km/h
(d) 8.00 km/h


Q4. A car traveling at an average speed of 72 km/hr takes 9 minutes to travel a certain distance. By how much should it increase its speed (in km/hr) to travel the same distance in 8 minutes?
72 किमी / घंटा की औसत गति से यात्रा करने वाली कार को एक निश्चित दूरी तय करने में 9 मिनट का समय लगता है। 8 मिनट में समान दूरी तय करने के लिए इसकी गति (किमी / घंटा में) कितनी बढ़नी चाहिए?
(a) 8
(b) 9
(c) 7
(d) 6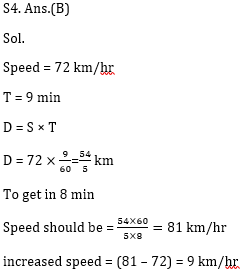 Q5. Train A takes 1 hour more than train B to travel a distance of 720 km. Due to engine trouble speed of train B falls by a third, so it takes 3 hours more than Train A to complete the same journey? What is the speed of Train A (in km/hr)?
ट्रेन A को 720 किमी की दूरी तय करने के लिए ट्रेन B से 1 घंटे अधिक समय लगता है। इंजन की समस्या के कारण ट्रेन B की गति एक तिहाई घट जाती है, इसलिए उसी यात्रा को पूरा करने में ट्रेन B को ट्रेन A से 3 घंटे अधिक समय लगता है? ट्रेन A (किमी / घंटा में) की गति क्या है?
(a) 80
(b) 90
(c) 60
(d) 70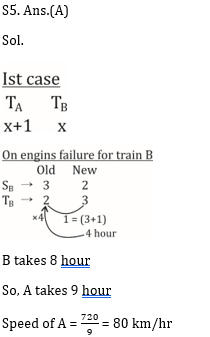 Q6. Two cars A and B travel from one city to another city, at speeds of 60 km/hr and 108 km/hr respectively. If car B takes 2 hours lesser time than car A for the journey, then what is the distance (in km) between the two cities?
दो कार A और B एक शहर से दूसरे शहर, क्रमशः 60 किमी / घंटा और 108 किमी / घंटा की गति से यात्रा करती हैं। यदि कार B यात्रा के लिए कार A की तुलना में 2 घंटे कम समय लेती है, तो दोनों शहरों के बीच की दूरी (किमी में) क्या है?
(a) 240
(b) 270
(c) 300
(d) 330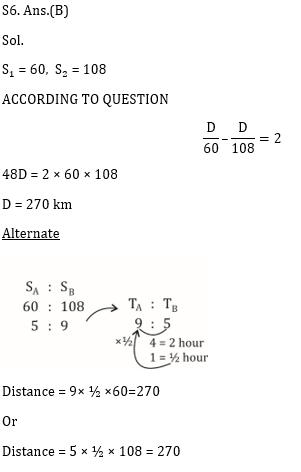 Q7. Water is flowing at the rate of 5 km/hr through a pipe of diameter 14 cm into a rectangular tank which is 50 m long and 44 m wide. Determine the time in which the level of water in the tank will rise by 7 cm (take π=22/7).
पानी 5 सेमी / घंटा की दर से 14 सेमी व्यास के पाइप के माध्यम से एक आयताकार टैंक में बह रहा है जो 50 मीटर लंबा और 44 मीटर चौड़ा है। वह समय बताएं जब टैंक में पानी का स्तर 7 सेमी बढ़ जाएगा (π = 22/7 लें)
(a) 2.1 h
(b) 2.0 h
(c) 2.5 h
(d) 2.2 h
Q8. A train traveled 75% of the way from town X to town Y by traveling for A hours at an average speed of B kmph. The train travels at an average speed of S kmph for the remaining part of the journey. Which of the following expressions represents the average speed of the entire journey?
एक ट्रेन ने B किमी/ घंटा की औसत गति से A घंटे यात्रा करके X शहर से Y शहर तक 75% रास्ते की यात्रा करी। ट्रेन शेष यात्रा के लिए S किमी/घंटा की औसत गति से यात्रा करती है। निम्न में से कौन सी अभिव्यक्ति पूरी यात्रा की औसत गति का प्रतिनिधित्व करती है?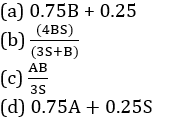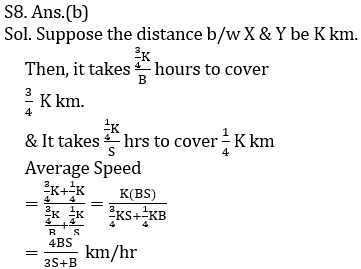 Q9. A man riding a cycle at 12 km/hr can reach a town in 4 hours 30 minute. If he delayed by 1 hr. 30 min at the start, then in order to reach his destination in time he should ride with a speed of :
12 किमी / घंटा पर साइकिल चलाने वाला एक आदमी 4 घंटे 30 मिनट में एक शहर तक पहुंच सकता है। अगर वह शुरुआत में 1 घंटे 30 मिनट की देरी करता है, फिर अपने गंतव्य तक समय पर पहुंचने के लिए उसकी गति कितनी होनी चाहिए?
(a) 15 km/hr
(b) 16 km/hr
(c) 18 km/hr
(d) 20 km/hr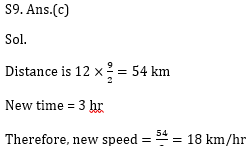 Q10. Two men are running in the same direction with a speed of 6 km per hour and 7 1/2 km per hour. A train running in the same direction crosses them in 5 sec and 5 1/2 sec respectively. The length and the speed of the train are respectively.
दो आदमी 6 किमी प्रति घंटे और 7 1/2 किमी प्रति घंटे की गति के साथ एक ही दिशा में भाग रहे हैं। उसी दिशा में चलने वाली ट्रेन उन्हें क्रमशः 5 सेकंड और 5 1/2 सेकंड में पार करती है। ट्रेन की लंबाई और गति क्रमशः कितनी है।
(a) 22.92 m (approximately) and 22 km/hr. /22.92 मीटर (लगभग) और 22 किमी / घंटा
(b) 22 m (approximately) and 22.5 km/hr. /22 मीटर (लगभग) और 22.5 किमी / घंटा
(c) 22.90 m (approximately) and 20.5 km/hr/22.90 मीटर (लगभग) और 20.5 किमी / घंटा
(d) 22.92 m (approximately) and 22.5 km/hr./ 22.92 मीटर (लगभग) और 22.5 किमी / घंटा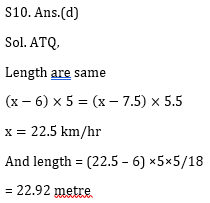 You May Also Like To Read :