Dear aspirants,
As you all know, the upcoming months are lined up with various important exams like SSC CGL Mains 2018, so we are here to help you with the subject that is common to all of the given exams. We are providing daily quantitative aptitude quizzes, practice which will help you to score good marks in this section. We aim to provide the best study material to our readers with exam level questions to help them get used to the recent pattern. Attempt this quiz and check your preparation.
Q1. A regular hexagonal base prism has height 8 cm and side of base is 4 cm. What is the total surface area (in cm²) of the prism?
एक नियमित हेक्सागोनल बेस प्रिज्म की ऊंचाई 8 सेमी और आधार की भुजा 4 सेमी है। प्रिज्म का कुल सतह क्षेत्रफल (cm² में) क्या है?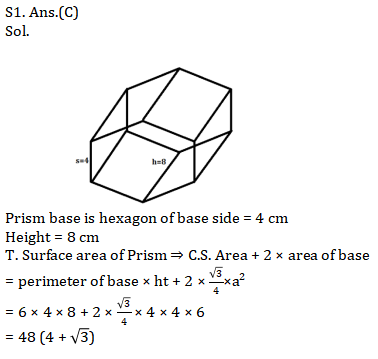 Q2. The radii of two cones are in the ratio 3 : 4 and their heights are in the ratio 8 : 3. Then the ratio of their volumes is
दो शंकु की त्रिज्या 3:4 के अनुपात और उनकी ऊंचाई 8:3 के अनुपात में है. तो उनके आयतन का अनुपात क्या होगा?
(a) 3/8
(b) 4/3
(c) 3/2
(d) 5/2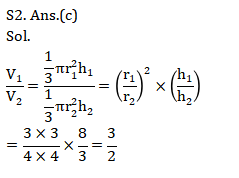 Q3. Three cubes of aluminium whose edges are 18 cm, 19cm and 21 cm respectively are melted and formed into a single cube. The edge of the new cube formed is
एल्यूमीनियम के तीन घन जिनकी भुजा क्रमशः 18 सेमी, 19 सेमी और 21 सेमी हैं उन्हें पिघलाया जाता है और एक घन बनाया जाता हैं। नए घन की भुजा ज्ञात करें
(a) 18
(b) 28
(c) 22
(d) 24

Q4. A right prism has a square base with side of base 4 cm and the height of prism is 9 cm. The prism is cut in three parts of equal heights by two planes parallel to its base. What is the ratio of the volume of the top, middle and the bottom part respectively?
एक लम्ब प्रिज्म का आधार वर्ग है जिसका आधार 4 सेमी और प्रिज़्म की ऊँचाई 9 सेमी है। प्रिज्म को उसके आधार के समानांतर दो प्लेन द्वारा समान ऊँचाई के तीन भागों में काटा जाता है। क्रमशः शीर्ष, मध्य और निचले भाग के आयतन का अनुपात क्या है?
(a) 1 : 8 : 27
(b) 1 : 1 : 1
(c) 1 : 8 : 20
(d) 1 : 7 : 20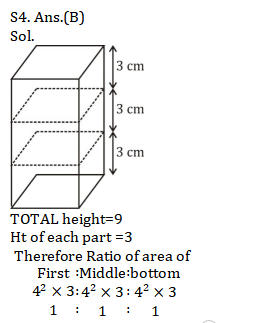 Q5. Radius of base of a hollow cone is 8 cm and its height is 15 cm. A sphere of largest radius is put inside the cone. What is the ratio of radius of base of cone to the radius of sphere?
एक खोखले शंकु के आधार की त्रिज्या 8 सेमी है और इसकी ऊंचाई 15 सेमी है। शंकु के अंदर सबसे बड़े त्रिज्या का एक गोला रखा जाता है। शंकु के आधार की त्रिज्या और गोले की त्रिज्या का अनुपात क्या है?
(a) 5 : 3
(b) 4 : 1
(c) 2 : 1
(d) 7 : 3
S5. Ans.(A)
Sol.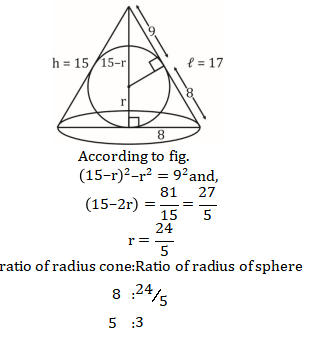 Q6. The radius of a cylindrical water container is half its height and surface area of the inner part is 3080 sq. cm. The amount of water that the container can hold approximately is (in lt)
एक बेलनाकार पानी के कंटेनर की त्रिज्या इसकी ऊंचाई से आधी है और आंतरिक भाग का सतह क्षेत्रफल 3080 वर्ग सेमी है। कंटेनर में पानी की लगभग कितनी मात्रा (लीटर में) आ सकती है?
(a) 172.48 litres/ लीटर
(b) 17.248 litres/ लीटर
(c) 1.7248 litres/ लीटर
(d) 0.017248 litres/ लीटर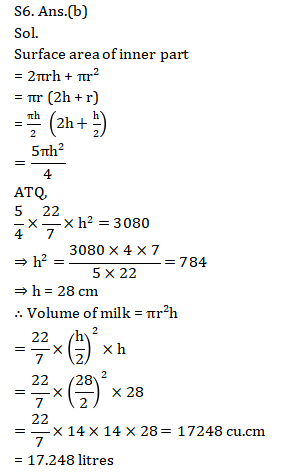 Q7. The height and the total surface area of a right circular cylinder are 8 cm and 16π sq. cm. respectively. The radius of the base of cylinder is
लम्ब वृताकार बेलन की ऊंचाई और कुल सतह शेत्रफल क्रमश: 8 सेमी और 16 π वर्ग सेमी है. बेलन के आधार की त्रिज्या क्या है?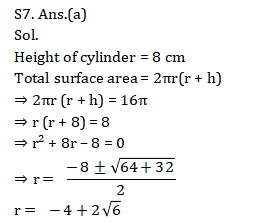 Q8. A cube is placed inside a cone of radius 20 cm and height 10 cm, one of its face being on the base of the cone and vertices of opposite face touching the cone. What is the length (in cm) of side of the cube?
एक घन को त्रिज्या 20 सेमी और ऊंचाई 10 सेमी के शंकु के अंदर रखा जाता है, इसकी एक भुजा शंकु के आधार पर है और विपरीत भुजा के किनारे शंकु को छूते हैं। घन के किनारे की लंबाई (सेमी में) क्या है?
(a) 5
(b) 6
(c) 8
(d) 9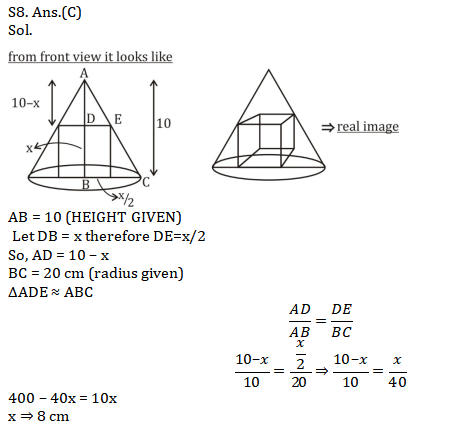 Q9. In a trapezium ABCD, AB and DC are parallel sides and ∠ADC = 90°. If AB = 17 cm, CD = 35 cm and diagonal AC = 37 cm, then the area of the trapezium ABCD is
समलम्ब ABCD में, AB और DC समानांतर भुजाएँ हैं और ∠ADC = 90°. यदि AB = 17 सेमी, CD = 35 सेमी और विकर्ण AC = 37 सेमी है, तो समलम्ब ABCD का शेत्रफल ज्ञात करें.
(a) 312 sq. cm/ वर्ग सेमी
(b) 624 sq. cm/ वर्ग सेमी
(c) 432 sq. cm/ वर्ग सेमी
(d) 156 sq. Cm/वर्ग सेमी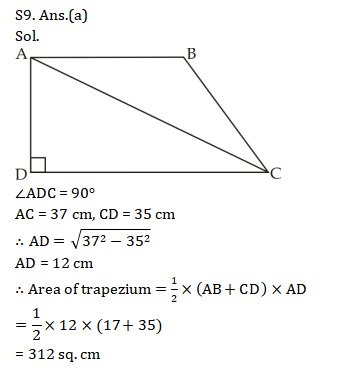 Q10. The length of a side of an equilateral triangle is 14 cm. The area of the region lying between the circum-circle and the incircle of the triangle is
एक समबाहु त्रिभुज के भुजा की लंबाई 14 सेमी है। त्रिभुज के परिवृत्त और अन्तःवृत्त के मध्य स्थित हिस्से का क्षेत्रफल ज्ञात करें.
(a) 77 cm²
(b) 154 cm²
(c) 231 cm²
(d) 308 cm²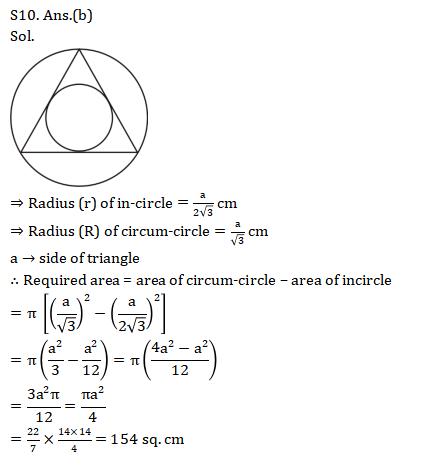 You May Also Like To Read :
Click here to watch Maths Short Trick for RRB NTPC | SSC | BANK