Dear aspirants,
As you all know, the upcoming months are lined up with various important exams like SSC CGL Mains 2018, so we are here to help you with the subject that is common to all of the given exams. We are providing daily quantitative aptitude quizzes, practice which will help you to score good marks in this section. We aim to provide the best study material to our readers with exam level questions to help them get used to the recent pattern. Attempt this quiz and check your preparation.
Q1. A cube is placed inside a cone of radius 20 cm and height 10 cm, one of its face being on the base of the cone and vertices of opposite face touching the cone. What is the length (in cm) of side of the cube?
किसी घन को 20 सेमी त्रिज्या और 10 सेमी ऊंचाई के शंकु के अंदर रखा जाता है, इसका एक चेहरा शंकु के आधार पर होता है और विपरीत चेहरे के कोने शंकु को स्पर्श करते हैं। घन के पक्ष की लंबाई (सेमी में) क्या है?
(a) 5
(b) 6
(c) 8
(d) 9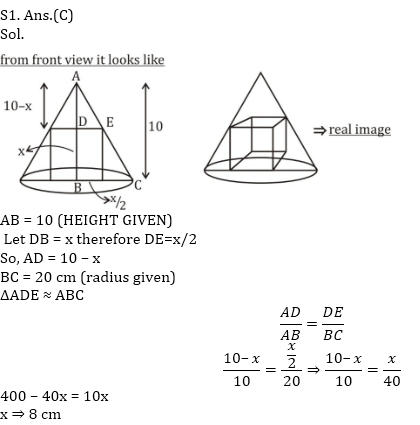 Q2. A cylinder of radius 4.5 cm and height 12 cm just fits in another cylinder completely with their axis perpendicular. What is the radius (in cm) of the second cylinder?
4.5 सेमी त्रिज्या और 12 सेमी ऊंचाई वाला एक सिलेंडर पूरी तरह से अपनी धुरी के लम्बवत दूसरे सिलेंडर में पूरी तरह से फिट आता है. दूसरे सिलेंडर की त्रिज्या (सेमी में) ज्ञात करें.
(a) 5
(b) 6
(c) 15
(d) 7.5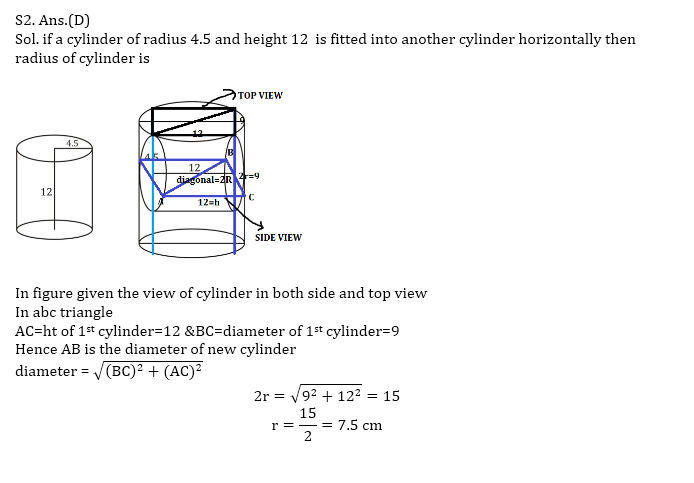 Q3. A right circular cylinder has height as 18 cm and radius as 7 cm. The cylinder is cut in three equal parts (by 2 cuts parallel to base). What is the percentage increase in total surface area?
एक लम्बवृत्तीय सिलेंडर की ऊंचाई 18 सेमी और त्रिज्या 7 सेमी है. सिलेंडर को (आधार के समानांतर 2 कट द्वारा) तीन बराबर हिस्सों में काटा जाता है. कुल सतह क्षेत्रफल में प्रतिशत वृद्धि क्या है?
(a) 62
(b) 56
(c) 48
(d) 52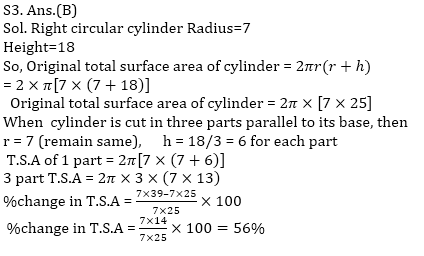 Q4. The ratio of curved surface area and volume of a cylinder is 1 : 7. The ratio of total surface area and volume is 187 : 770. What is the respective ratio of its base radius and height?
एक सिलेंडर के कुल प्रष्ठीय क्षेत्रफल और आयतन का अनुपात 1: 7 है. कुल सतह क्षेत्रफल और आयतन का अनुपात 187 : 770 है. इसके आधार त्रिज्या और ऊंचाई का संबंधित अनुपात क्या है?
(a) 5 : 8
(b) 4 : 9
(c) 3 : 7
(d) 7 : 10


Q5. Two spheres of equal radius are taken out by cutting from a solid cube of side (12 + 4√3) cm. What is the maximum volume (in cm³) of each sphere?
(12 + 4√3) सेमी भुजा के एक ठोस को काटकर समान त्रिज्या के दो गोले निकाले जाते हैं. प्रत्येक गोले का अधिकतम आयतन (सेमी³ में) क्या है?
(a) 1077.31
(b) 905.14
(c) 966.07
(d) 1007.24
S5. Ans.(B)
Sol. FROM the question two spheres of maximum sides are cut from cube of side (12 + 4√3)
For maximum condition spheres must be cut diagonally as shown in diagram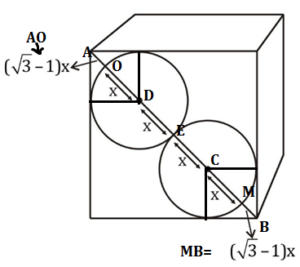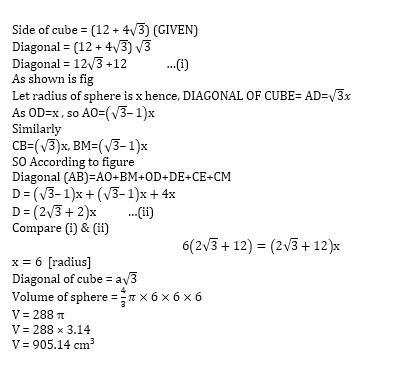 Q6. Three toys are in a shape of cylinder, hemisphere and cone. The three toys have same base. Height of each toy is 2√2cm. What is the ratio of the total surface areas of cylinder, hemisphere and cone respectively?
तीन खिलौने सिलेंडर, गोलार्द्ध और शंकु के आकार में हैं। तीनों खिलौनों का आधार समान है। प्रत्येक खिलौने की ऊंचाई 2√2 सेमी है. सिलेंडर, गोलार्द्ध और शंकु के कुल सतह क्षेत्रफल का अनुपात ज्ञात करें
(a)4 : 3 : [(√2) + 1]
(b) 4 : 3 : [2 + (√2)]
(c)4 : 3 : 2√2
(d) 2 : 1 : (1 + √2)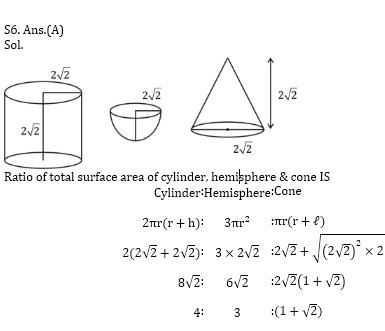 Q7. A solid cube is cut into 27 identical cubes. What is the percentage increase in the total surface area?
एक ठोस घन को 27 समान घन में काट दिया जाता है। कुल सतह क्षेत्र में प्रतिशत वृद्धि ज्ञात करें?
(a) 150
(b) 200
(c) 300
(d) 250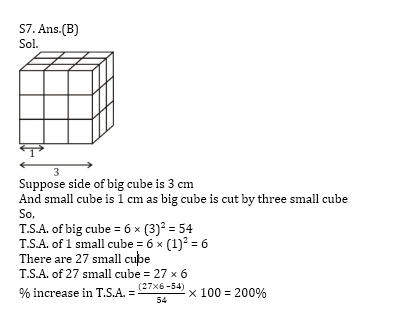 Q8. A regular square pyramid has side of its base 20 cm and height 45 cm is melted and recast into regular triangular pyramids of equilateral base of side 10cm and height 10√3 cm. What are the total numbers of regular triangular pyramid?
20 सेमी आधार और 45 सेमी ऊंचाई के एक नियमित वर्गाकार पिरामिड को पिघाल कर 10 सेमी भुजा और 10√3 सेमी ऊंचाई के समबाहु आधार के नियमित त्रिकोणीय पिरामिड में पुनरावृत्ति किया जाता है. नियमित त्रिकोणीय पिरामिड की कुल संख्या क्या है?
(a) 24
(b) 20
(c) 27
(d) 28


Q9. The ratio of total surface area and volume of a sphere is 1 : 7. This sphere is melted to form small spheres of equal size. The radius of each small sphere is 1/6th the radius of the large sphere. What is the sum (in cm²) of curved surface areas of all small spheres?
एक गोले के कुल सतह क्षेत्रफल और आयतन का अनुपात 1: 7. है। इस गोले को समान आकार के छोटे गोले बनाने के लिए पिघलाया जाता है। प्रत्येक छोटे गोले की त्रिज्या बड़े गोले की 1/6 वीं त्रिज्या के बराबर है। सभी गोले के कुल प्रष्ठीय क्षेत्रफल का योग क्या है?
(a) 31276
(b) 36194
(c) 25182
(d) 33264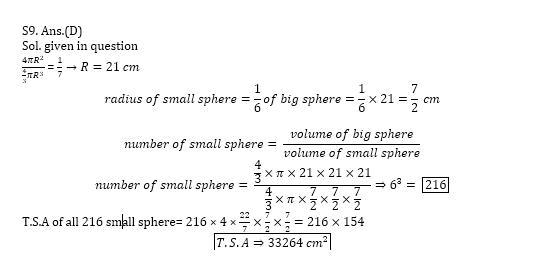 Q10. A right circular cylinder has height 28 cm and radius of base 14 cm. Two hemispheres of radius 7 cm each are cut from each of the two bases of the cylinder. What is the total surface area (in cm²) of the remaining part?
एक लम्बवृत्तीय सिलेंडर की ऊंचाई 28 सेमी और आधार की त्रिज्या 14 सेमी है. प्रत्येक सिलेंडर के दो आधारों से 7 सेमी त्रिज्या के दो गोलार्ध काटे जाते हैं. शेष हिस्से का कुल सतह शेत्रफल (सेमी2 में) क्या है?
(a) 3842
(b) 4312
(c) 3296
(d) 4436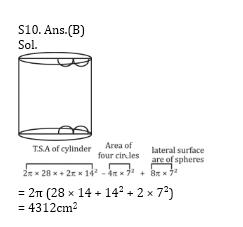 You May Also Like To Read :