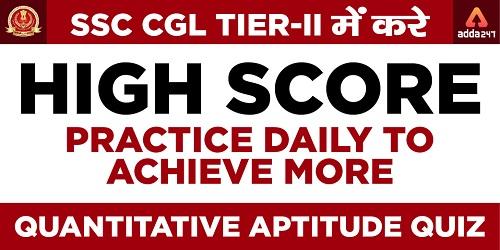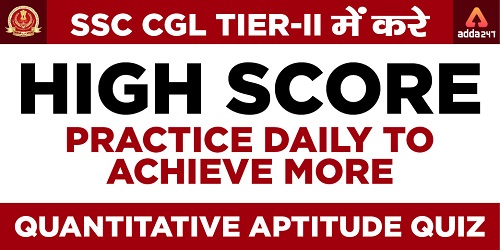 Dear aspirants,
As you all know, the upcoming months are lined up with various important exams like SSC CGL Mains 2018, so we are here to help you with the subject that is common to all of the given exams. We are providing daily quantitative aptitude quizzes, practice which will help you to score good marks in this section. We aim to provide the best study material to our readers with exam level questions to help them get used to the recent pattern. Attempt this quiz and check your preparation.
About Course:
About SSC Maha Pack
If you are preparing for more than 1 SSC exams then this is the pack we recommend you buy.
It is most cost-effective and you get access to 100% digital content for all SSC exams on Adda247.
SSC Exams Covered in this Pack
SSC CGL, SSC CHSL, SSC CPO, Stenographer, MTS, Selection Post and GD Constable, etc.
What all You Get
All Interactive Live Classes by best teachers
All Recorded Video Courses designed by experts
All Tests Series
All eBooks
Doubt Clearing by experts
Personality Development Courses like Spoken English, Interview Techniques, and more…
SSC Maha Pack Highlights
Structured course content
Recorded classes available if you miss any live class
Previous Years' Papers of all upcoming exams.
Full Length Mocks based on the latest pattern with detailed solutions (video solutions for certain topics)
Topic level knowledge tests
Strategy sessions, time management & Preparation tips from the experts
Language: English & Hindi Medium
SSC Maha Pack


Unlimited Live Classes & Recorded Video Courses
Unlimited Tests and eBooks
1 Lakh+ Selections
Validity
14 Months
8 Months
3 Months
1 Month
BUY NOW
Directions (1-5): Please read the following table carefully & mark the correct options. Given below in the table are the population of some villages & the ratio of male to female among those who voted from their villages in the Panchayat elections.
निम्नलिखित तालिका का ध्यानपूर्वक अध्ययन कीजिए और सही उत्तर चुनिए। नीचे दी गई तालिका में कुछ गांवों की जनसँख्या और पुरुषों का महिलायों से अनुपात है जिन्होनें पंचायत चुनावों में अपने गांवों से मतदान किए हैं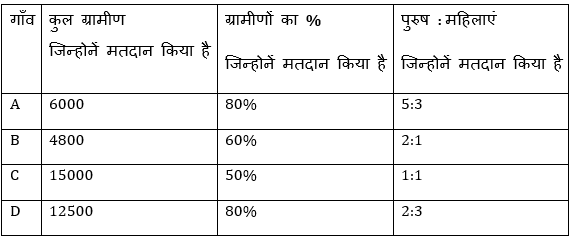 Q1. Total population of village B & D together is approximately what percent of total population of village C?
गाँव B और D को मिलाकर कुल जनसंख्या, गाँव C की कुल जनसंख्या का लगभग कितना प्रतिशत है?
(a) 79%
(b) 125%
(c) 115%
(d) 151%



Q2. Total no. of villagers who voted in village A & C together will be?
गाँव A और C में मिलाकर मतदान करने वाले ग्रामीणों की कुल संख्या कितनी होगी?
(a) 11900
(b) 12900
(c) 21000
(d) 19000



Q3. What is the total sum of difference between males & females who voted in village B & D together?
गाँव B और D में मिलाकर मतदान करने वाले पुरुषों और महिलायों के मध्य अंतर का कुल योग कितना होगा?
(a) 4100
(b) 4560
(c) 2960
(d) 2620



Q4. What no. of females gave votes in all the villages together?
सभी गांवों को मिलाकर मतदान करने वाली महिलायों की संख्या कितनी है?
(a) 21,850
(b) 16,650
(c) 18,850
(d) 19,850



Q5. What is the ratio of no. of villagers who didn't gave vote to the male villagers from A & C who gave vote?
A और C से मतदान करने वालों में से उन ग्रामीणों जिन्होनें मतदान नहीं किया, का पुरुष ग्रामीणों से अनुपात कितना होगा?
(a) 2282/1125
(b) 913/450
(c) 301/150
(d) 2/1



Directions (6-10):The table below shows the sales of milk in six different states as a percentage of total sales. In each state only two milkmen A and B sells the milk. The table below shows the sales of salesman A as percentage of total sale of milk in each state. The total sales of milk is 200000 litres.
निम्नलिखित तालिका में कुल बिक्री के प्रतिशत के रूप में 6 विभिन्न राज्यों में हुई दूध की बिक्री दर्शाई गई है. प्रत्येक राज्य में केवल दो दूधवाले A और B दूध बेचते हैं। नीचे दी गई तालिका प्रत्येक राज्य में दूध की कुल बिक्री के प्रतिशत के रूप में सेल्समैन A की बिक्री को दर्शाती है। दूध की कुल बिक्री 200000 लीटर है।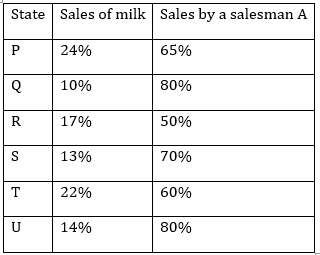 Q6. What are the average sales of milk (in litres) by the salesmen A in all the given states?
दिए गए राज्यों में विक्रेता A द्वारा दूध की औसत बिक्री (लीटर में ) कितनी है?
(a) 21866.67
(b) 26466.6
(c) 19200
(d) 26000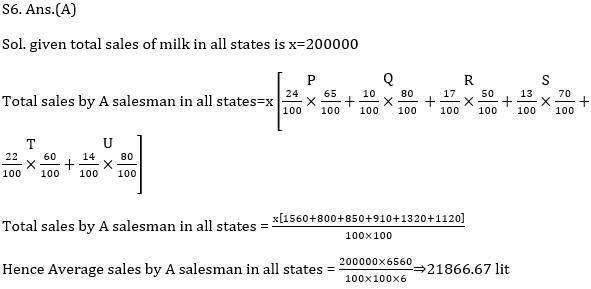 Q7. What is the respective ratio of sales of milk in state P and Q by salesmen B and the sales of milk in state R and T by salesmen A?
राज्यों P और Q में विक्रेता B द्वारा हुई दूध की बिक्री का राज्यों R और T में विक्रेता A द्वारा हुई दूध की बिक्री से सम्बंधित अनुपात कितना है?
(a) 52 : 109
(b) 104 : 217
(c) 52 : 31
(d) 31 : 57



Q8. What will be the central angle (in degrees) formed by the average sale of milk in state Q, T and S together?
राज्यों Q,T और S को मिलाकर हुई दूध की औसत बिक्री से बना केंद्रीय कोण (डिग्री में) क्या होगा?
(a) 112.6
(b) 72
(c) 36
(d) 54



Q9. What will be difference (in litres) in the sale of milk in state T by salesmen B and the total sale of milk in state R and S together?
राज्य T में विक्रेता B द्वारा दूध की बिक्री और राज्यों R और S को मिलाकर हुई दूध की कुल बिक्री के मध्य अंतर (लीटर में) क्या होगा?
(a) 17600
(b) 42400
(c) 38800
(d) 19000



Q10. What is the difference (in litres) between the sale of milk in state R by salesmen A and the sale of milk in the same state by the salesmen B?
राज्य R में विक्रेता A द्वारा हुई दूध की बिक्री और उसी राज्य में विक्रेता B द्वारा हुई दूध की बिक्री के मध्य क्या अंतर (लीटर में) है?
(a) 2000
(b) 0
(c) 12000
(d) 8000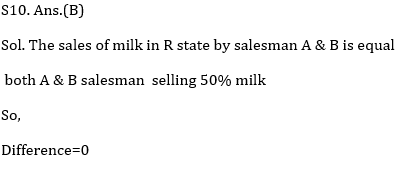 You May Also Like To Read :