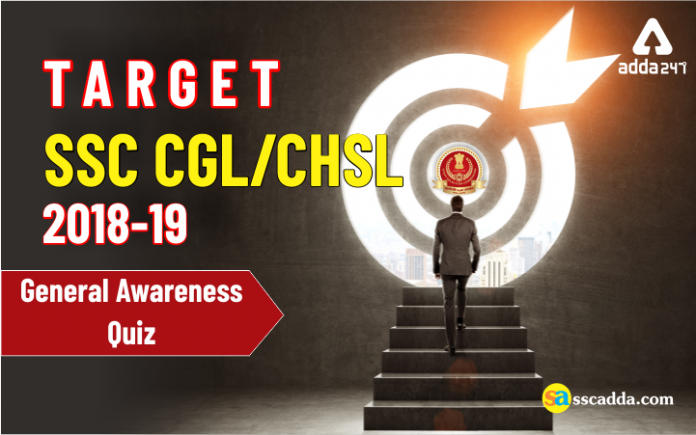 Dear Readers, GA section is taken on the light note but plays a vital role in achieving the score required to cross the cut off marks. We are providing important General Awareness Questions for this, it will help you to score well in GA section if you regularly follow the contents provided on scaffold website and Adda247 app regarding general knowledge important questions. We wish you the best wishes for all the upcoming exams.
Q1. In which year Colombia hosted the NAM summit?
किस वर्ष में कोलंबिया ने NAM शिखर सम्मेलन की मेजबानी की थी?
(a) 1994
(b) 1995
(c) 1996
(d) 1997
About Course:
Prepare for all SSC exams like SSC CGL,CHSL,CPO,Stenographer,MTS,Selection post and GD Constable etc from India's Best Teaching Educators!

About SSC ka Maha Pack:
SSC ka Maha Pack is a full-fledged course which incorporates all the essentials like Live online classes, Test series, Video courses, eBooks & countless unprecedented features that will help you excel in all the upcoming Teaching exams like SSC CGL,CHSL,CPO,Stenographer,MTS,Selection post and GD Constable etc

Includes:
You get access to:
200+ Hours of Live Classes

300+ Recorded Videos

500+ Total Tests

100+ Ebooks

Teacher's Class Notes/Slides.

Course Language
Classes: Hindi and English (Bilingual)
Study Material: English and Hindi
Tests: English and Hindi

Validity: 1 Month

Offer available for ADDA247 APP. Download the APP Now.
SSC Test Pack Online Test Series


1400+ Tests
Detailed Solutions and Analysis
Content by Expert Faculties
Validity
14 Months
1 Month
3 Months
BUY NOW
S1. Ans.(b)
Sol. The Non-Aligned Movement (NAM) is a group of states that are not formally aligned with or against any major power bloc. As of 2012, the movement has 120 members.The organization was founded in Belgrade in 1961.
Q2. World Environment Day falls on
विश्व पर्यावरण दिवस कब आता है?
(a) June 5th /जून 5
(b) October 2nd /अक्टूबर 2
(c) November 10th /नवम्बर 10
(d) November 19th /नवम्बर 19
Show Answer
S2. Ans.(a)
Sol. World Environment Day is held each year on June 5. It is one of the principal vehicles through which the United Nations (UN) stimulates worldwide awareness of the environment and enhances political attention and action.
Q3. Which among the following is the smallest country in terms of area?
क्षेत्र के संदर्भ में निम्न में से कौन सा देश सबसे छोटा है?
(a) Switzerland / स्विट्ज़रलैंड
(b) Singapore/ सिंगापुर
(c) Sweden / स्वीडन
(d) New Zealand / न्यूजीलैंड
S3. Ans.(b)
Sol. Singapore is a small, heavily urbanised, island city-state in Southeast Asia, located at the end of the Malayan Peninsula between Malaysia and Indonesia. Singapore has a total land area of 719.1 square kilometres. The Singapore area comprises mainland and other islands. The mainland of Singapore measures 50 kilometres from east to west and 27 kilometres from north to south with 193 kilometres of coastline.
Q4. Who coined the name of optical fibre?
ऑप्टिकल फाइबर नाम किसने दिया?
(a) Samuel Cohen / सैमुअल कोहेन
(b) Narinder Kapany / नरिंदर कपनी
(c) Percy L. Spencer/ पर्सी एल स्पेंसर
(d) T.H. Maimah / टी.एच. मैमाह
S4. Ans.(b)
Sol. In 1952, UK based physicist Narinder Singh Kapany invented the first actual fiber optical cable based on John Tyndall's experiments three decades earlier.He is also known as "Father of Fiber Optics". The term fibre optics was coined by Singh Kapany in 1956.
Q5. On which river has "Naranarayan Setu" been built?
किस नदी पर "नारनारायण सेतु" बनाया गया है?
(a) Ganga /गंगा
(b) Brahmaputra /ब्रह्मपुत्र
(c) Mahanadi /महानदी
(d) Godavari /गोदावरी
S5. Ans.(b)
Sol. With inauguration of the Naranarayan Setu, the third bridge over the mighty Brahmaputra river linking Jogighopa with Pancharatna in western Assam, another important milestone in the infrastructure development of the North Eastern Region has been crossed. This is the third bridge over the Red River and the second road-cum-rail bridge which opens large areas of Assam and Meghalaya to speedy communications, trade and commerce, fulfilling is a long-cherished dream.
Q6. Which programming language is developed by James A Gosling?
कौन सी प्रोग्रामिंग भाषा जेम्स ए गोसलिंग द्वारा विकसित की गई थी?
(a) ASP.Net
(b) Java
(c) PHP
(d) C
S6. Ans.(b)
Sol.Since 1984, Gosling has been with Sun Microsystems, and is generally known best as the founder of the Java programming language. He is generally credited as the inventor of the Java programming language in 1991.
Q7. The nitrogenous waste of Human Beings is
मानवों का नाइट्रोजेनस अपशिष्ट क्या है?
(a) Ammonia/ अमोनिया
(b) Urea/ यूरिया
(c) Ammonium Nitrate/ अमोनियम नाइट्रेट
(d) Uric Acid/ यूरिक एसिड
S7. Ans.(b)
Sol.Nitrogenous wastes in the body tend to form toxic ammonia, which must be excreted. Mammals such as humans excrete urea, while birds, reptiles, and some terrestrial invertebrates produce uric acid as waste.The major nitrogenous waste product in human beings is urea – mainly excreted as urine.
Q8. Equs Asinus is the scientific name of
इकस असिनस किसका वैज्ञानिक नाम है?
(a) Donkey/ गधा
(b) Cow/ गाय
(c) Deer/ हिरण
(d) Kangaroo/ कंगारू
S8. Ans.(a)
Sol.Equus asinus (donkeys) resemble horses and are characterised by their large head, long ears and cow-like tail.
Q9. ______ is used for making chemical apparatus like beakers, flasks etc.
______ का प्रयोग बीकर, फ्लास्क इत्यादि जैसे रासायनिक उपकरण बनाने के लिए किया जाता है.
(a) Potash glass/ पोटाश ग्लास
(b) Hard glass/ हार्ड ग्लास
(c) Soda glass/ सोडा ग्लास
(d) Jena glass/ जेना ग्लास

S9. Ans.(b)
Sol.Beakers made of heat-shock resistant borosilicate glass are suitable for the heating or boiling of solutions by using a Bunsen burner.Borosilicate glass is often called "Hard Glass," mainly consists of silica and boron oxide.
Q10. National Science Day is celebrated every year on
हर वर्ष राष्ट्रीय विज्ञान दिवस किस दिन मनाया जाता है?
(a) February 20 /20 फरवरी
(b) February 25/25 फरवरी
(c) April 5/ 5 अप्रैल
(d) February 28 /28 फरवरी
S10. Ans.(d)
Sol. National Science Day is celebrated all over India with great enthusiasm on 28th of February every year in order to commemorate the invention of the Raman Effect in India by the Indian physicist, Sir Chandrasekhara Venkata Raman on the same day in the year 1928. For his great success in the field of science in India, Chandrasekhara Venkata Raman was awarded and honored with the Nobel Prize in the Physics in the year 1930.