Hello, Greetings!!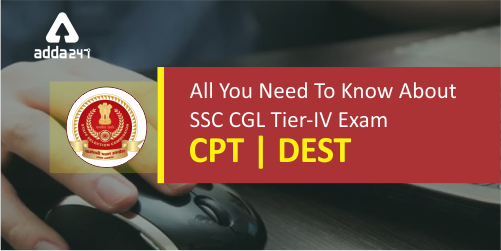 Dear Students, Staff Selection Commission has already surprised all the students with the sudden release of SSC CGL 2017 results in may 2019 after a long wait of almost a year. It comes as a sigh of relief for many aspirants who have been qualified for DV and CPT/DEST. Now the question that arises in the minds of many aspirants is what can be the next step towards the final selection in SSC CGL 2017.
It's going to be critical because if you hit and miss, you will be in trouble. Hence, you all need to understand the nature of the Tier-IV and what will be the pattern. So, in that order, we are providing a detailed article on "How to qualify CGL Tier-IV exam".   
To begin with, the heartiest congratulations on clearing Tier 1, Tier 2 and Tier 3 of the selection procedure. It's now time to pull up your socks for CPT/DEST/Document Verification which is the next and the last stage of the CGL exam.
After conducting Tier 3, SSC will now conduct CPT (Computer Proficiency Test) and DEST  (Data Entry Skill Test). Till last year, CPT was conducted for the post of CSS( Central Secretariat Services) only. But with a separate cut off being released for CSS and MEA( Ministry of External Affairs) this year, SSC has indicated that CPT needs to be qualified if a candidate wishes to join MEA too. With two very prestigious and popular posts at stake, CPT cannot be ignored. The CPT/DEST/Document Verification will be conducted from 15th June to 31st July 2019.
CPT: Computer Proficiency Test 
➤For the posts of :
CSS(Assistant),
MEA(Assistant),
Inspector (Central Excise) [CBEC]
Inspector (Preventive officer)[CBEC]
Inspector (Examiner)[CBEC]
➤Qualifying in nature. The marks obtained are not added to make the final merit list. But any candidate failing to secure a minimum standard required will be out of the race for those two posts.
➤No exemption for any category of  PH candidates.
➤Comprises Word processing, Spreadsheet and Slide Generation.
➤WORD PROCESSING: Candidates will be provided with a printed passage which they require to type on the computer. A candidate is expected to type 2000 characters or key depressions in 15 minutes. The passage consists of no formatting like Bold, Italic, Underlining etc. A regular practice on computer can ensure that you make through it easily. The paragraph typed is checked against the number of mistakes done. Accuracy is the key along with speed. Candidate should keep their accuracy level at 95%. Softwares like Typing Master will help to excel typing skills.
➤SPREADSHEETS: Candidate will be provided with a printed sheet. Candidates have to work on Microsoft Excel Software and create a spreadsheet like the one provided in the sheet in 15 minutes. Simple formulas like Multiplication, profit, percentage etc will be asked. Candidates can go through tutorials videos available on YouTube to develop a basic understanding.
➤SLIDES: Candidates will be provided a printed sheet that will have a single slide. Candidate will be required to create the same slide on Microsoft PowerPoint in 15 minute time. Candidates should be aware of basic functions like header/footer, inserting table, date and time etc.
DEST: Data Entry Skill Test
➤For the post of Tax Assistants (Central Excise and Income Tax).
➤Qualifying in nature like CPT
➤Any Candidate who takes CPT does not require to appear for DEST as part 1 of CPT (Typing) will be considered for DEST evaluation.
➤Requirement: 8000 key depression per hour, which is 2000 key depression per 15 minutes.
➤Relaxation: VH Candidates will be allowed 20 minutes.
EVALUATION OF TYPE / DEST SCRIPTS (ENGLISH / HINDI): NATURE OF MISTAKES
A. Full Mistakes: The following errors are treated as full mistakes:–
— For every omission of word/ figure.
— For every substitution of a wrong word /figure.
— For every addition of a word / figure not found in the passage.
B. Half Mistakes: The following errors are treated as half mistakes :–
(i) Spacing Errors : Where no space is provided between two words,
e.g. 'Ihope' or undesired space is provided between the words or
letters of a word e.g. hope I have, 'I hxxave'.
(ii) For every spelling error committed by way of repetition, or addition or
transposition or omission or substitution of a letter/letters, e.g. the word
'spelling' typed as 'seeplings' etc.
(iii) Wrong Capitalisation: Wrong use of capital letter for small letter
and vice-versa. (This does not apply to Hindi typewriting scripts).
NOTE-1 : Any corrections made by pen or pencil are ignored and no credit is given to such corrections.
DOCUMENTS VERIFICATION
➤Every candidate must attend document verification. Candidates failing to do so will not be considered for final selection.
➤Revised options for post preference will be allowed. Any candidate who wishes to change his/her preference will be allowed to do so. In case options are not revised, then the options submitted in the application form will be accepted as final.
➤Documents needed:
The admit card in original
Valid photo bearing ID proof
Both original and photocopy of Class 10 & 12 certificate, marksheet of every semester/year of graduation. If semester/year wise marksheet not available, then a consolidated marksheet is required.
SC/ST/OBC certificate in the prescribed format.
If seeking age relaxation, then a Central Government Employee Certificate and NOC is required.
Discharge certificate in case of Ex-Serviceman.
OH/VH/VV certificate in case of physically handicapped category.
Passport sized photographs
After CPT/DEST/Document Verification is completed, SSC will prepare an All India Merit List for each category of post. The final merit will be prepared on the basis of marks secured in Tier1, Tier 2 and Tier 3 and the preference exercised by the candidates.
NOTE: There are certain posts that require candidates to possess a certain physical standard. If any candidate thinks that he/she does not possess the desired height or weight or thinks that he/she might not qualify its physical tests are requested to keep those posts out of their preference list or at the bottom of the list. Physical standard verification are done after the final merit is prepared by the concerned department. If any candidate is unable to clear this stage, his/her selection will be canceled and no other post will be allotted in exchange.
You are just one step away from your dream job. Don't get complacent and attend Tier IV with utmost sincerity. We hope that the upcoming months be lucky for you and you land a prestigious job. Best of luck. 🙂
Click on the below links for details: