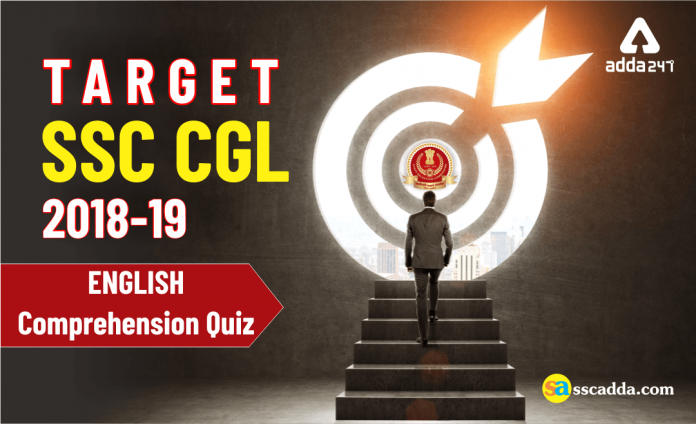 Study Plan for SSC CGL 2018-19 Exam by SSCADDA is all set to deliver the quizzes and notes on each four subjects asked in the Examination. Be a part of this study plan, visit SSCADDA website regularly to add up each day effort in your practice. Today, in this English quiz we are providing English Miscellaneous Quiz with detailed Solutions to make your practice effective. Attempt this quiz and prepare yourself flawlessly. We wish you good luck for all the upcoming Exams.
Direction (1-5): In the following question, sentences are given with blanks to be filed in with an appropriate word(s). Four alternatives are suggested for each question. Choose the correct alternative out of the four as your answer.
About Course:
About SSC Maha Pack
If you are preparing for more than 1 SSC exams then this is the pack we recommend you buy.
It is most cost-effective and you get access to 100% digital content for all SSC exams on Adda247.
SSC Exams Covered in this Pack
SSC CGL, SSC CHSL, SSC CPO, Stenographer, MTS, Selection Post and GD Constable, etc.
What all You Get
All Interactive Live Classes by best teachers
All Recorded Video Courses designed by experts
All Tests Series
All eBooks
Doubt Clearing by experts
Personality Development Courses like Spoken English, Interview Techniques, and more…
SSC Maha Pack Highlights
Structured course content
Recorded classes available if you miss any live class
Previous Years' Papers of all upcoming exams.
Full Length Mocks based on the latest pattern with detailed solutions (video solutions for certain topics)
Topic level knowledge tests
Strategy sessions, time management & Preparation tips from the experts
Language: English & Hindi Medium
SSC Maha Pack


Unlimited Live Classes & Recorded Video Courses
Unlimited Tests and eBooks
1 Lakh+ Selections
Validity
14 Months
8 Months
3 Months
1 Month
BUY NOW
Q1. Seamless stretches of rolling greens, undulating streams and misty mountains- the magic of Eastern Ghats is a stark contrast to the _________life in the city.
(a) chronicle
(b) unlawful
(c) exacting
(d) chaotic
S1. Ans.(d)
Sol. Chronicle: a historical account of events arranged in order of time usually without analysis or interpretation.
Cordial: warm and friendly.
Chaotic: in a state of complete confusion and disorder.
Hence option D fits in the context.
Q2. From banking to shopping to texting to calling, smartphone allows you to __________ multiple tasks simultaneously.
(a) expunge
(b) annul
(c) accomplish
(d) accomplice
S2. Ans.(c)
Sol. Expunge: remove completely.
Accomplish: achieve or complete successfully.
Accomplice: a person who helps another commit a crime.
Hence option C fits in the context
Q3. Towards the end of his ________ in Rome he fell violently in love with a Roman lady called Faustine, who appears in his poetry as Columba.
(a) modality
(b) sojourn
(c) marque
(d) liability
S3. Ans.(b)
Sol. Modality: a particular method or procedure.
Sojourn: a temporary stay.
Liability: the state of being legally responsible for something.
Hence option B fits in the context.
Q4. An African Safari brings life changing experiences combining thrills and _________ joy.
(a) restrained
(b) repugnant
(c) encumbered
(d) untrammelled
S4. Ans.(d)
Sol. Encumbered: restrict or impede (someone or something) in such a way that free action or movement is difficult.
Untrammeled: not deprived of freedom of action or expression; not restricted.
Hence option D fits in the context.
Q5. The sight of a Southern ground hornbills' group stealthily marching along is nice but a leopard still _______us.
(a) incurs
(b) eludes
(c) contends
(d) devolves on
S5. Ans.(b)
Sol. Incur: bring down upon oneself.
Contend: to compete in order to win something.
Devolve on: (of duties or responsibility) pass to (a body or person at a lower level).
And if something that you want eludes you, you do not succeed in achieving it.
Hence option B fits in the context.
Direction (6-10): In these questions some of the sentences have errors and some have none. Find out which part of a sentence has an error and indicate it corresponding to the appropriate letter. If there is no error, indicate corresponding to the last option
Q6. Being in awe of them, (A) / the young man followed (B) / their direction to a tee (C) / No error (D)
(a) A
(b) B
(c) C
(d) D
S6. Ans.(d)
Sol. No Error
Q7. To his innovative ideas and practices in farming (A) / he was given (B) / the Krishi Pandit Award last year. (C) / No error (D)
(a) A
(b) B
(c) C
(d) D
S7. Ans.(a)
Sol. There is a preposition related error.
Replace 'to his innovative ideas' with 'for his innovative ideas'.
Q8. For times immemorial (A) / sea shells have been used by man (B) / in many ways. (C) / No error (D)
(a) A
(b) B
(c) C
(d) D
S8. Ans.(a)
Sol. 'Since time immemorial' is an idiomatic expression which means 'from a time long before one would be able to remember; since the distant past'. Hence replace 'For times immemorial' with 'Since time immemorial'.
Q9. Oh for God sake (A) / leave me alone (B) / and go away from here. (C) / No error (D)
(a) A
(b) B
(c) C
(d) D
S9. Ans.(a)
Sol. For God's sake is an idiomatic expression which means 'an oath of exasperation, annoyance, frustration, anger, or surprise'. Hence replace 'Oh for God sake' with 'Oh for God's sake'.
Q10. The factory complex houses a shop-floor (A) / and 10 cubicles for the staff in an area (B) / of about thousand squares meters. (C) / No error (D)
(a) A
(b) B
(c) C
(d) D
S10. Ans.(c)
Sol. Replace 'squares' by 'square'.
Direction (11-13): In the following question, out of the four alternatives select the alternative which best expresses the meaning of the idiom/phrase.
Q11. Forty winks
(a) To be an idle and worthless person
(b) A nap or a brief sleep
(c) To not attend a place you are asked to
(d) To pretend something
S11. Ans.(b)
Sol. Option B is the correct meaning.
Q12. Runs its course
(a) To spoil one's happy feelings
(b) To be the person who is considered responsible for something that has gone wrong
(c) To remain loyal to someone or something
(d) To develop gradually and come to a natural end
S12. Ans.(d)
Sol. Option D is the correct meaning.
Q13. Turn the air blue
(a) To subject to drastic rearrangement or reorganization
(b) To be in an advantageous situation
(c) To use profane language with great rapidity
(d) To turn into a successful personality after a series of failures
S13. Ans.(c)
Sol. Option C is the correct meaning.
Direction (14-15): In each of the following questions, choose the correctly spelt word out of the given alternatives.
Q14.
(a) Liaison
(b) Maintainence
(c) Deductable
(d) Convalece
S14. Ans.(a)
Sol. Option A is correctly spelt.
Q15.
(a) Millenium
(b) Rhythym
(c) Harass
(d) Cemetary
S15. Ans.(c)
Sol. Option C is correctly spelt.
You may also like to read: