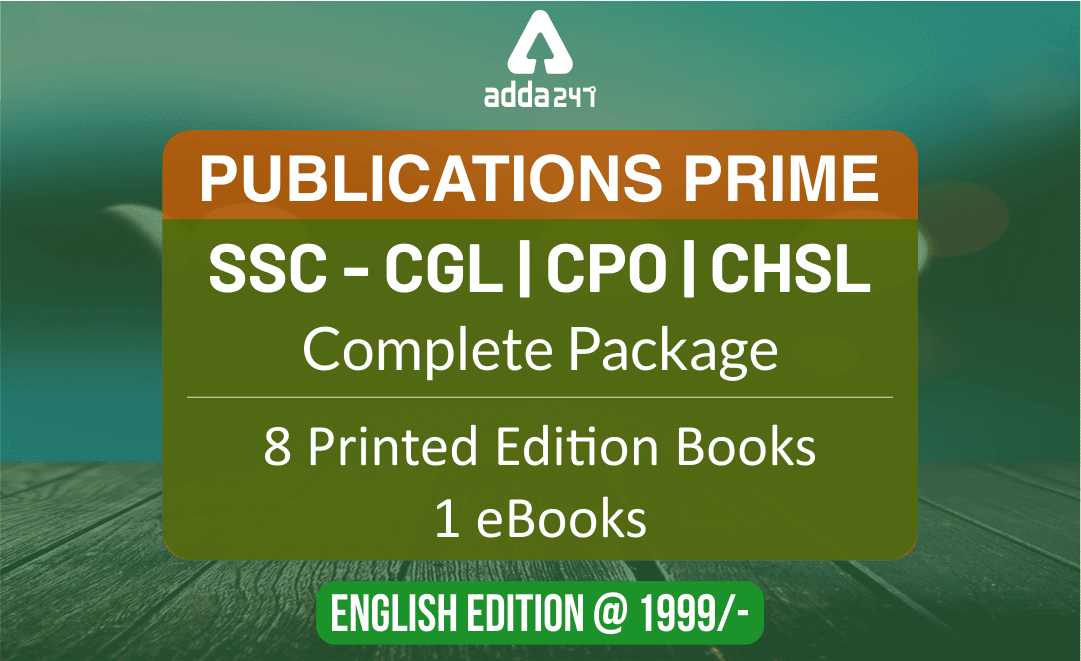 We all know that important SSC Exams are around the corner most of you would be wondering if what could be the best way to grab these opportunities without letting them slip through your fingers. Students, be at ease because Adda247 is here with SSC Publications Prime For CGL, CPO and CHSL Exams (In English Printed Edition) to be held in the year 2019. The package incorporates into it the latest pattern printed books for

 Advance, Arithmetic, Geometry, English, Reasoning, Descriptive Writing, GA and Previous Year Papers.
When you are preparing for cutthroat competition, you need to rely on study materials that are based on the latest pattern of SSC examinations and consolidate everything that could be asked in them. Adda247 Publications, in SSC Publications Prime For CGL, CPO and CHSL, provides its students with the new pattern study material with the latest theories and questions on hard copy that is real hard to find anywhere else. 
Advance (Preview Book)
Based on latest Pattern
3 Levels of Exercise
2000+ Multiple Choice Questions with 100% solution
Includes the Previous Year's Questions of all the topics
Also Includes the Questions based on SSC CGL Exams 2017-18
Arithmetic (Preview Book)
Based on latest Pattern
3 Levels of Exercise
2000+ Multiple Choice Questions with 100% solution
Includes the Previous Year's Questions of all the topics
Also Includes the Questions based on SSC CGL Exams 2017-18
English (Preview Book)
Based on latest Pattern
Topic-wise Questions
4300+ Multiple Choice Questions with 100% solutions
Includes the Previous Year Questions of all the chapters
Latest questions of SSC Exams 2016-18
Reasoning (Preview Book)
Based on latest Pattern
2300+ Multiple Choice Questions with 100% solution
Includes the Previous Year's Questions of all the topics
Also Includes the Questions based on SSC CGL Exams 2016-18
GA (Preview Book)
Based on latest Pattern
Section wise theory & Concepts
Includes Questions on Traditional General Knowledge
4500+ with 100% solution
Detailed theories on Physics, Chemistry, Biology, History, Geography, Polity and Economics
Includes the Previous Year's Questions of all the topics
Cracker Geometry (Preview Book)
800+ Questions
350+ Previous Years' Questions
Important Concepts and Formulas
10 Practice sets
8 Challenger Practice sets
100 SSC CGL Tier-I (Preview Book)
43 Mocks of SSC CGL held in 2017
35 Mocks of SSC CGL held in 2016
22 Mocks of SSC-CGL Tier-I based on latest pattern
Detailed Solutions of all subjects
20 + SSC CGL Tier-II (Preview Book)
13 SSC CGL Tier-II 2017-18 Papers
6 SSC CGL Tier-II 2016-17 Papers
2 SSC CGL Tier-II 2015 Papers
Detailed Solution
Descriptive writing (eBook)
Format and useful writing tips for Letter, Essay and Précis writing.
Incorporates all popular and expected topics for Essay writing.
Solved examples of different types of formal and informal letters asked in competitive exams.
Practice Exercise of Letter Writing.
Expected Essay Writing Topics Based on Current Affairs