Adda247 has witnessed 10,000+ selections of students in the SSC exams held over the years. It gives us immense joy to share the success stories of the candidates and be a part of their success. As SSC CGL 2019-20 is scheduled to be held from 2nd to 11th March 2020, it is really important to start preparing for the exam now as hardly 2 months are left for the exam. Get 240+ Hours of Live Interactive Classes and 140+ total mock tests for SSC CGL with Adda247 Selection Batch. 
Watch Free Demo Class Of SSC Ka SOORMA Batch by clicking on the below links:-
Selection Batch For SSC CGL | Get 50% Off | Hurry!! 
ADDA247 always stays one step ahead to provide you with premium study content to align your speed skills, learning process, time management and practice session in a much-needed direction to make you crack every prestigious govt. exam. Now get your selection guaranteed in the SSC CGL examination and become "SSC ka Soorma" with Adda247 Selection Batch. We are providing you with the SSC CGL Live batch and SSC CGL online test series @50% discount.  Hurry!!!! Get your hands over the SSC ka Soorma Selection Batch as the offer is valid till today only. 
USE COUPON CODE: RW50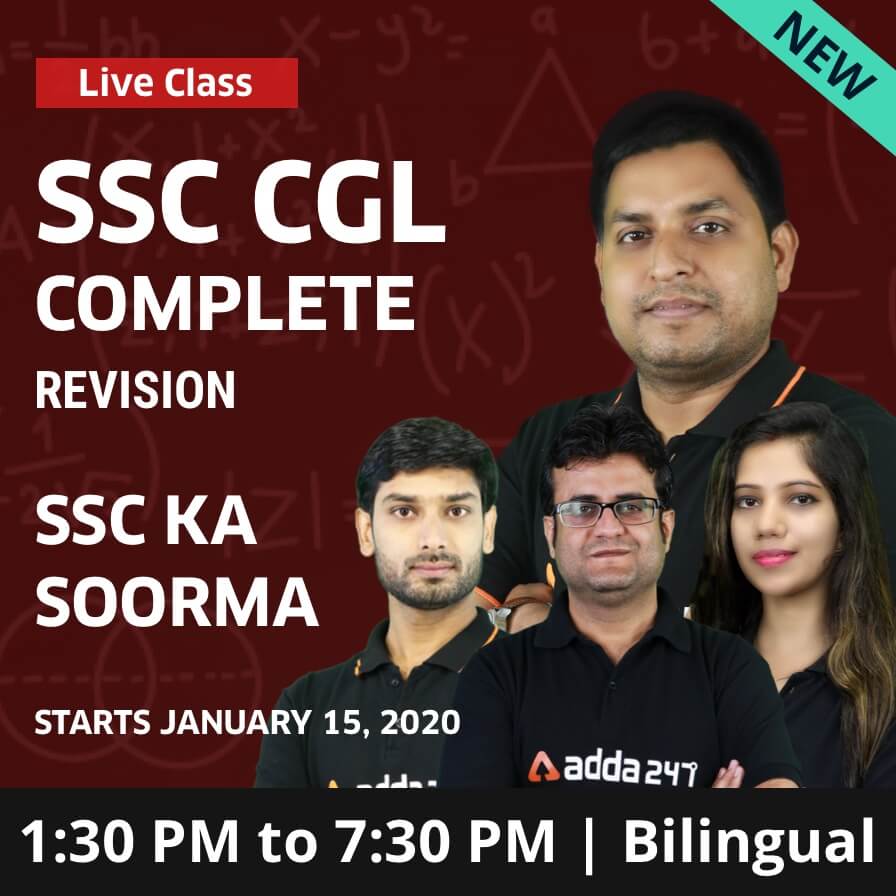 Get 240+ Hours of Live Interactive Classes:
Maths (80+ Hours)
Reasoning (40+ Hours)
English (40+ Hours)
General Awareness (80+ Hours)

Batch Start: January 15,2020 Time: 1:30PM- 7:30PM
Package Includes:
25 Full-length mocks for SSC CGL
15 Full-length Challenger mocks for SSC CGL
21 Full-length Previous Year Mocks of 2018 SSC CGL
83 Topic Wise Tests (12 Reasoning | 24 Quant | 17 Eng | 30 GA)