Dear Students,
As you all know, RRB NTPC Exam will be held in September/October 2019. We are providing daily learning quizzes, we aim to provide the best study materials to our students. Attempt this quiz and check your preparation.
1. In the following question, select the missing number from the given series.
निम्नलिखित प्रश्न में, दी गयी श्रृंखला में से अज्ञात संख्या का चयन करें



(a) 512
(b) 968
(c) 864
(d) 432
S1. Ans.(c)
Sol.
14² × 4 = 784
16² × 5 = 1280
12² × 6 = 864
Q2. In this question, choose one word which cannot be formed from the letters of the given word.
निम्नलिखित प्रश्न में, उस शब्द का चयन करें जिसे दिए गए शब्द के अक्षरों का उपयोग करके नहीं बनाया जा सकता है।
COMMUNICATION
(a) Motion
(b) Union
(c) National
(d) Common
S2. Ans.(c)
Q3. Select the related word/letters/number from the given alternatives.
दिए गए विकल्पों में से सम्बंधित शब्द/वर्ण/संख्या का चयन करें
Clever : Smart : : Apprehensive : ?
चतुर: स्मार्ट:: भयभीत:?
(a) Calm/ शांत
(b) Certain/ निश्चित
(c) Worried/ चिंतित
(d) Confident/ आत्मविश्वास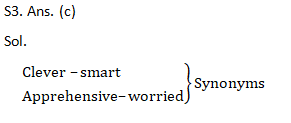 Q4. Arrange the given words in the sequence in which they occur in the dictionary.
दिए गए शब्दों को शब्दावली के अनुसार व्यवस्थित कीजिये.
i. Worrisome         ii. Wonderful
iii. Worthless        iv. Wrong
(a) iv, ii, i, iii
(b) ii, i, iii, iv
(c) ii, iii, i, iv
(d) i, iv, iii, ii
S4. Ans.(b)
Sol.
ii. wonderful
i. worrisome
iii. worthless
iv. wrong
Q5. Rahul's age is three times the age of Sumit. If Rahul is 15 years old presently, determine the age (in years) of Sumit after 12 years.
राहुल की आयु सुमित की आयु से तीन गुना है। यदि वर्तमान में राहुल 15 वर्ष का है, तो 12 वर्ष के बाद सुमित की आयु (वर्षों में) ज्ञात करें।
(a) 16
(b) 15
(c) 10
(d) 17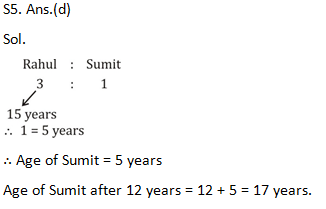 Q6. If a mirror is placed on the line MN, then which of the answer figures is the right image of the given figure?
यदि रेखा MN पर एक दर्पण रखा जाए, तो निम्नलिखित में से कौन सा उत्तर चित्र प्रश्न्चित्र कि सही छवि होगी?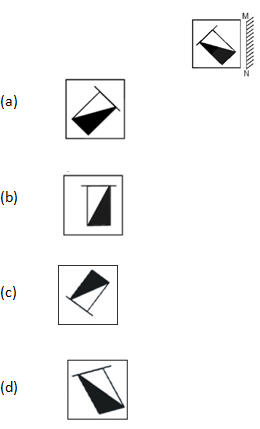 S6. Ans.(a)
Q7. In the following question, two statements are given each followed by two conclusions I and II. You have to consider the statements to be true even if they seem to be at variance from commonly known facts. You have to decide which of the given conclusions, if any, follows from the given statements.
नीचे दिए गये प्रश्न में, दो कथन दिए गए हैं जिनके नीचे दो निष्कर्ष I और II दिए गए हैं. आपको दिए गए कथनों को सत्य मानना है भले ही वे सर्वज्ञात तथ्यों से भिन्न प्रतीत होते हों. फिर आपको निर्धारित करना है कि यदि दिए गये निष्कर्षों में से कौन सा दिए गए कथनों का अनुसरण करता है.
Statements:/ कथन:
(I) Most crops are machines./ ज्यादातर फसलें मशीनें हैं
(II) Some machines are fools./ कुछ मशीनें मूर्ख हैं।
Conclusion:/निष्कर्ष:
(I) Some fools are machines./ कुछ मूर्ख मशीने हैं
(II) Some crops are fools./ कुछ फसलें मूर्ख हैं
(a) Conclusion I follows/निष्कर्ष I अनुसरण करता है
(b) Conclusion II follows/निष्कर्ष II अनुसरण करता है
(c) Neither I nor II follows/न तो I न ही II अनुसरण करता है
(d) Both I and II follows/दोनों I और II अनुसरण करते हैं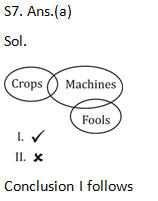 Q8. The age of Ravi is twice the age of Prakash and three times the age of Kumar. If the age of Prakash is 24 years, then what will be the age of Kumar after 4 years?
रवि की आयु प्रकाश की आयु से दोगुनी और कुमार की आयु से तीन गुना है। यदि प्रकाश की आयु 24 वर्ष है, तो 4 वर्ष बाद कुमार की आयु क्या होगी?
(a) 16 years/वर्ष
(b) 20 years/वर्ष
(c) 24 years/वर्ष
(d) 22 years/वर्ष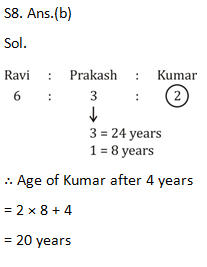 Q9. Select the related word/letters/number from the given alternatives.
दिए गए विकल्पों में से सम्बन्धित शब्द/वर्ण/संख्या का चयन करें
QRU : RQF : : GIC : ?
(a) GHJ
(b) HGH
(c) HHX
(d) IGV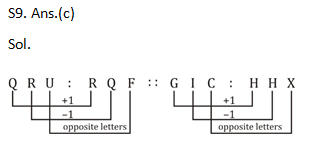 Q10. Select the related word/letters/number from the given alternatives.
दिए गए विकल्पों में से सम्बन्धित शब्द/वर्ण/संख्या का चयन करें
1331 : 11:: 13824 : ?
(a) 20
(b) 23
(c) 18
(d) 24
S10. Ans.(d)
Sol.
11³ = 1331
24³ = 13824
Get Free Study Material For RRB NTPC EXAM 2019
Important Links for RRB NTPC Recruitment 2019