Dear Students,
As you all know, RRB NTPC Exam will be held in the month of July/September 2019. We are providing daily learning quizzes, we aim to provide the best study materials to our students. Attempt this quiz and check your preparation.
Direction(1-4): Select the related word/letters/number from the given alternatives.
दिए गए विकल्पों में से सम्बंधित शब्द/वर्ण/संख्या का चयन करें
Q1. Luminous intensity : Candela : : Pressure : ?
प्रकाशमान तीव्रता : कैंडेला :: दबाव : ?
(a) Radian / रेडियन
(b) Newton / न्यूटन
(c) Pascal / पास्कल
(d) Joule/ जौल
S1.Ans (c);
Sol. The unit of luminous intensity is candela similarly, Pascal is the unit of pressure.
Q2. APPARENT : RENTAPPA : : MUSCULAR : ?
(a) ULAMMUSC
(b) ULARMUSC
(c) UMAMLUSC
(d) ULARMUCS


Q3. PEON : QRHS : : JOCK : ?
(a) NFRM
(b) NFMR
(c) NEFM
(d) NFMM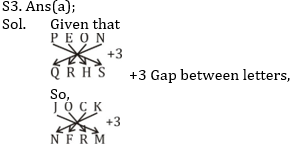 Q4. 34 : 81 : : 23 : ?
(a) 8
(b) 16
(c) 4
(d) 12


Direction(5-8): Find out the odd word / letters / number / number pair from the given alternatives.
दिए गए विकल्पों में से विषम शब्द/वर्ण/संख्या का चयन करें
Q5. (a) Tetanus /टेटनस
(b) Syphilis/ सिफिलिस
(c) Plague / प्लेग
(d) Malaria/मलेरिया
S5. Ans (d);
Sol. Malaria caused by protozoa's, and rests are due to bacteria.
Q6.
(a) QJ
(b) SH
(c) LN
(d) UF
S6. Ans (c);
Sol. The SUM of all digits are 27 excepts LN.
Q7. (a) 5125
(b) 8564
(c) 7343
(d) 6216
S7. Ans (b);
Sol. 53 = 125, 73 = 343, 63 = 216 and 83 = 512 ≠ 564.
Q8.
(a) 529
(b) 549
(c) 731
(d) 525
S8. Ans (a);
Sol. 529 is the square of 23. rets are not square of numbers.
Q9. A's weight is more than the weight of C, and A has the second highest weight. E's weigh more than A. B weighs more than D. Who is the heaviest?
A का वजन C के वजन से अधिक है, और A का वजन दूसरा उच्चतम वजन है। E का वजन A से अधिक है. B का वजन D से अधिक है। सबसे भारी कौन है?
(a) B
(b) D
(c) E
(d) A


Q10. In the following question, two statements are given each followed by two conclusions I and II. You have to consider the statement to be true even if they seem to be at variance from commonly known facts. You have to decide which of the given conclusions, if any, follows from the given statements.
नीचे दिए गये प्रश्न में, दो कथन दिए गए हैं जिनके नीचे दो निष्कर्ष I और II दिए गए हैं. आपको दिए गए कथनों को सत्य मानना है भले ही वे सर्वज्ञात तथ्यों से भिन्न प्रतीत होते हों. फिर आपको निर्धारित करना है कि यदि दिए गये निष्कर्षों में से कौन सा दिए गए कथनों का अनुसरण करता है.
Statement: / कथन:
(I) Some children are adults / (I) कुछ बच्चे वयस्क हैं
(II) Some adults are old/ कुछ वयस्क बूढ़े हैं
Conclusion: / निष्कर्ष:
(I) Some children are not old/ (I) कुछ बच्चे बूढ़े नहीं हैं
(II) Some adults are not old/कुछ वयस्क बूढ़े नहीं हैं
(a) Conclusion I follows /निष्कर्ष I अनुसरण करता है
(b) Conclusion I follows /निष्कर्ष II अनुसरण करता है
(c) Neither I nor II follows /न तो I और न ही II अनुसरण करता है
(d) Both I and II follows/ I और II दोनों अनुसरण करते है
Important Links for RRB NTPC Recruitment 2019