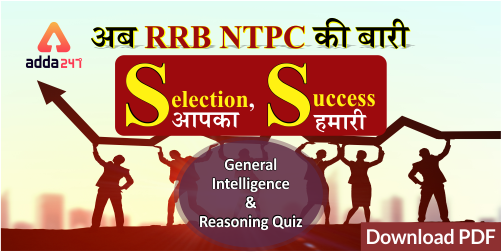 Dear Students,
As you all know, RRB NTPC Exam will be held in the month of July/September 2019. We are providing daily learning quizzes, we aim to provide the best study materials to our students. Attempt this quiz and check your preparation.
Direction (1-4): Find out the odd word/letters/number/ number pair from the given alternatives.
दिए गए विकल्पों में से विषम शब्द/वर्ण/संख्या का चयन करें
Q1. (a) Banyan/ बरगद
(b) Pine/ देवदार
(c) Spruce/ स्प्रूस
(d) Fir/फिर
Ans. (a);
Sol. Except banyan, all are coniferous plants
Q2. (a) MG
(b) QK
(c) VN
(d) UO
Ans (c);
Sol. Difference of 6 except VN (difference of 8)
Q3. (a) 4267
(b) 2498
(c) 2739
(d) 5496
Ans (b);
Sol. 42 = 6 × 7
27 = 3 × 9
54 = 9 × 6
24 ≠ 72 = 9 × 8
Q4. (a) 8912
(b) 3469
(c) 5555
(d) 6734
Ans (b);
Sol. 8 + 9 + 1 + 2 = 20
5 + 5 + 5 + 5 = 20
6 + 7 + 3 + 4 = 20
3 + 4 + 6 + 9 = 22
Q5. Which set of letters when sequentially placed at the gaps in the given letter series shall complete it?
निम्नलिखित प्रश्न में, दिए गए पत्र श्रृंखला में अंतराल पर अनुक्रमिक रूप से रखे जाने पर अक्षरों का कौन सा सेट इसे पूरा करेगा?
s_r_t_s_r
(a) trts
(b) rtst
(c) trst
(d) tsss
Ans (c);
Sol. s t r / r t s / s t r
Q6. In a compass, west direction is shown as south. As per the compass, which direction should a man go to, if he wishes to move towards the east?
कम्पास में, पश्चिम दिशा को दक्षिण के रूप में दिखाया गया है। कम्पास के अनुसार, एक आदमी को किस दिशा में जाना चाहिए, अगर वह पूर्व की ओर बढ़ना चाहता है?
(a) North/
(b) South/
(c) East/
(d) West/
Ans (a);
Sol.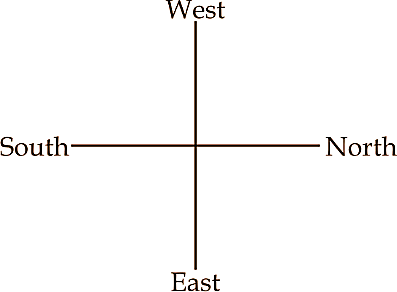 (Directions showing in compass)
Man has to go to the north, if he wishes to move towards the east.
Q7. A piece of paper is folded and punched as shown below in the question figures. From the given answer figures, indicate how it will appear when opened.
एक कागज़ के टुकड़े को मोड़ कर पंच किया गया जैसा कि नीचे दर्शाया गया है. नीचे दिए गये चित्रों से ज्ञात कीजिये कि खोले जाने पर यह किस प्रकार का दिखेगा.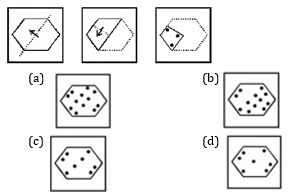 Ans (a);
Q8. Akhil is the maternal uncle of Rashmi. Rashmi is the daughter of Ramesh. How is Ramesh related to Akhil?
अखिल रश्मि का मामा है। रश्मि, रमेश की बेटी है। रमेश अखिल से कैसे संबंधित है?
(a) Brother-in-law/ब्रदर-इन-लॉ
(b) Brother/भाई
(c) Father /पिता
(d) Cousin/कजिन
Ans (a);
Sol.



Ramesh is brother-in-law to Akhil.
Q9. If a mirror is placed on the line MN, then which of the answer figures is the right-image of the given figure?
यदि रेखा MN पर एक दर्पण रखा जाए, तो निम्नलिखित में से कौन सा उत्तर चित्र प्रश्न्चित्र कि सही छवि होगी?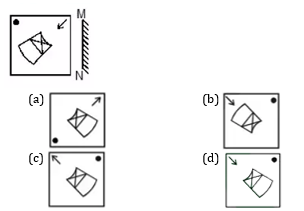 Ans (d);
Sol.
Q10. Identify the diagram that best represents the relationship among the given classes.
उस आरेख को पहचानें जो दिए गए वर्गों के बीच संबंधों का सबसे अच्छा प्रतिनिधित्व करता है।
Primary colors, Red, Black
प्राथमिक रंग, लाल, काला

Ans (d);
Sol.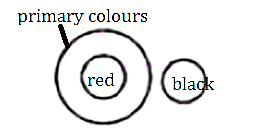 Important Links for RRB NTPC Recruitment 2019