Dear aspirants
As you all know, RRB NTPC Exam will be held in November/December 2019. We are providing daily learning quizzes, we aim to provide the best study materials to our students. Attempt this quiz and check your preparation.
Q1. Select the related word/letters/numbers from the given alternatives:
निम्नलिखित प्रत्येक प्रश्न में, दिए गए विकल्पों में से सम्बंधित अक्षर /शब्द /संख्या का चयन करें|
Calendar : Dates : : Dictionary: ?
कैलेंडर: दिनांक:: शब्दकोश:?
(a) Words/ शब्द
(b) Books /किताबें
(c) Language/भाषा
(d) Vocabulary/शब्दज्ञान
Q2. Select the related word/letters/numbers from the given alternatives:
निम्नलिखित प्रत्येक प्रश्न में, दिए गए विकल्पों में से सम्बंधित अक्षर /शब्द /संख्या का चयन करें|
ACEG : BDFH : : PRTV : ?
(a) QSUW
(b) WUSQ
(c) OQSU
(d) CEGI
Q3. Select the related word/letters/numbers from the given alternatives:
निम्नलिखित प्रत्येक प्रश्न में, दिए गए विकल्पों में से सम्बंधित अक्षर /शब्द /संख्या का चयन करें|
15 : 225 : : 12 : ?
(a) 144
(b) 122
(c) 112
(d) 222
Q4. Find the odd word/letters/number pair from the given alternatives.
निम्नलिखित प्रत्येक प्रश्न में, दिए गए विकल्पों में से विषम अक्षर /शब्द /संख्या युग्म का चयन करें|
(a) Teacher and Student/ शिक्षक और छात्र
(b) Chemistry and Science/ रसायन विज्ञान और विज्ञान
(c) History and Mathematics/ इतिहास और गणित
(d) Air and Oxygen/ वायु और ऑक्सीजन
Directions (5-6): For the following questions. Find the odd word/letters/number from the given alternatives.
निम्नलिखित प्रत्येक प्रश्न में, दिए गए विकल्पों में से विषम अक्षर /शब्द /संख्या युग्म का चयन करें|
Q5.
(a) DGI
(b) JMO
(c) PRT
(d) TWY
Q6.
(a) 343
(b) 64
(c) 75
(d) 27
Q7. Arrange the following words as per the order in a dictionary.
दिए गये शब्दों को शब्दकोष के क्रम के अनुसार व्यवस्थित कीजिये.
1. Drum
2. Drubbing
3. Drunken
4. Drudgery
5. Duster
(a) 3, 1, 5, 4, 2
(b) 2, 4, 1, 3, 5
(c) 1, 3, 4, 5, 2
(d) 2, 1, 4, 3, 5
Q8. A series is given, with one term missing. Choose the correct alternative from the given ones that will complete the series.
नीचे एक श्रृंखला दी गयी है, जिसमे एक पद लुप्त है. विकल्पों में से उस पद का चयन कीजिये, जो श्रृंखला का पूरा करेगा.
BMY, DNW, FOU, ?
(a) GHO
(b) HGO
(c) HPS
(d) HPT
Q9. A series is given, with one term missing. Choose the correct alternative from the given ones that will complete the series.
नीचे एक श्रृंखला दी गयी है, जिसमे एक पद लुप्त है. विकल्पों में से उस पद का चयन कीजिये, जो श्रृंखला का पूरा करेगा.
(3, 5), (5, 7) ( ? ), (11, 13)
(a) (7, 9)
(b) (7, 11)
(c) (9, 11)
(d) (9, 13)
Q10. I go 5 km East, then turn right and go 8km. Then I turn left and go 5 km and then I turn left and go 8 km. At what distance am I from the starting point?
मैं पूर्व में 5 किमी जाता हूँ, उसके बाद दायें मुड़कर 8 किमी जाता हूँ, फिर मैं बाएं मुड़कर 5 किमी जाता हूँ, तथा मैं बाएं मुड़कर 8 किमी जाता हूँ, मैं अपने आरम्भिक बिंदु से कितनी दूरी पर हूँ?
(a) 8
(b) 0
(c) 10
(d) 5
Solutions :-
S1. Ans.(a)
Sol. Dates Consists in calendar. Similarly, words are consists in Dictionary.
S2. Ans.(a)
Sol. There is +1 gap of letter to other letter.

S4. Ans.(c)
Sol. History and mathematics are different subjects.
S5. Ans.(c)
Sol. PRT having different letter gap between letters.
S6. Ans.(c)
Sol. 75 is not cube of any integer number
S7. Ans.(b)
Sol. The correct sequence is – 2,4,1,3,5
S8. Ans.(c)
Sol. B + 2 = D, M + 1=N & Y – 2 = W
Similarly, HPS is correct answer.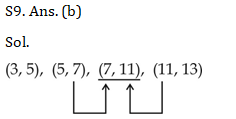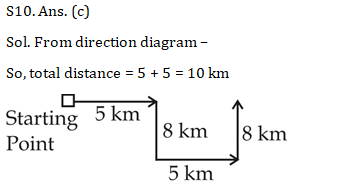 Get Free Study Material For RRB NTPC EXAM 2019
Important Links for RRB NTPC Recruitment 2019